resTORbio has put enrolment for the fifth cohort of RTB101's Phase Ib/IIa Parkinson's disease (PD) trial on hold amid the Covid-19 (coronavirus) pandemic.
Free Case Study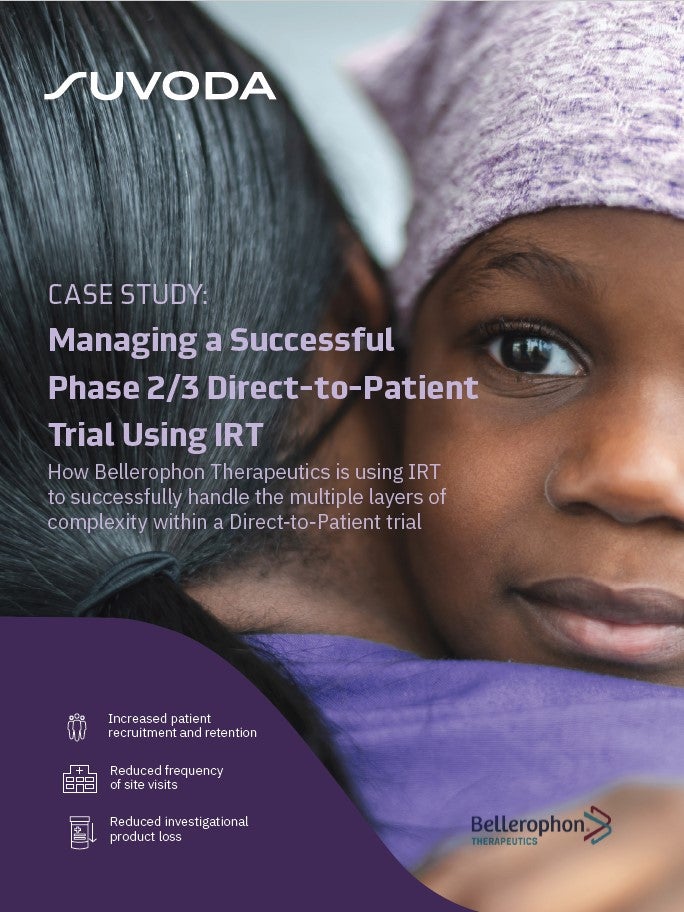 Direct-to-Patient Trials: How IRT Plays an Important Role in Bellerophon's Direct-to-Patient Trials
As the industry strengthens its focus on patient centricity, Direct-to-Patient clinical trials have emerged as a popular trial design that have the potential to increase patient recruitment and retention. IRT plays a crucial role in the success of a Direct-to-Patient trial. Because drug supplies are being managed and shipped from distribution facilities directly to patients' homes, a sponsor must have a high-quality system in place to accurately track the chain of custody, ensure patient-blinding and handle other logistical challenges. What You Will Learn Benefits and challenges associated with the Direct-to-Patient model Bellerophon's top considerations when implementing this trial design How IRT can equip study teams to successfully track chain of custody, ensure patient blinding, and handle logistical challenges
by Suvoda
The company attributed the patient recruitment delay to the level 4 alert issued in New Zealand, where the trial is being conducted. This alert calls for the closure of all non-essential services and the self-isolation of people at home.
resTORbio co-founder and chief medical officer Dr Joan Mannick said: "We want to ensure the safety of our clinical trial participants, many of whom are older adults at high risk of Covid-19 morbidity and mortality.
"Therefore, we have postponed enrollment in the fifth cohort of our ongoing Phase Ib/IIa clinical trial of RTB101 in patients with PD. Enrolment in the first four cohorts has been completed, and we are actively monitoring the situation in New Zealand so that we may resume our clinical activity when the time is appropriate."
RTB101 is an oral, small molecule candidate designed to inhibit the target of rapamycin complex 1 (TORC1) when given as a monotherapy or in combination with sirolimus.
The multi-centre, randomised, double-blind, placebo-controlled Phase Ib/IIa trial is being conducted to assess the safety and tolerability of RTB101 alone and with escalating sirolimus doses in Parkinson's disease patients.
In February this year, resTORbio reported positive findings from three cohorts in the trial. Participants were treated with 300mg RTB101 alone, 2mg of sirolimus alone, or 300mg of RTB101 plus 2mg of sirolimus.
According to the results, the three dosing regimens were well-tolerated and the 300mg once-weekly dose crossed the blood-brain barrier.
RTB101 concentrations in cerebrospinal fluid (CSF) in patients administered with a 300mg dose were higher when compared to preclinical models. These concentrations are believed to have the potential to trigger autophagy in the brain.
Free Case Study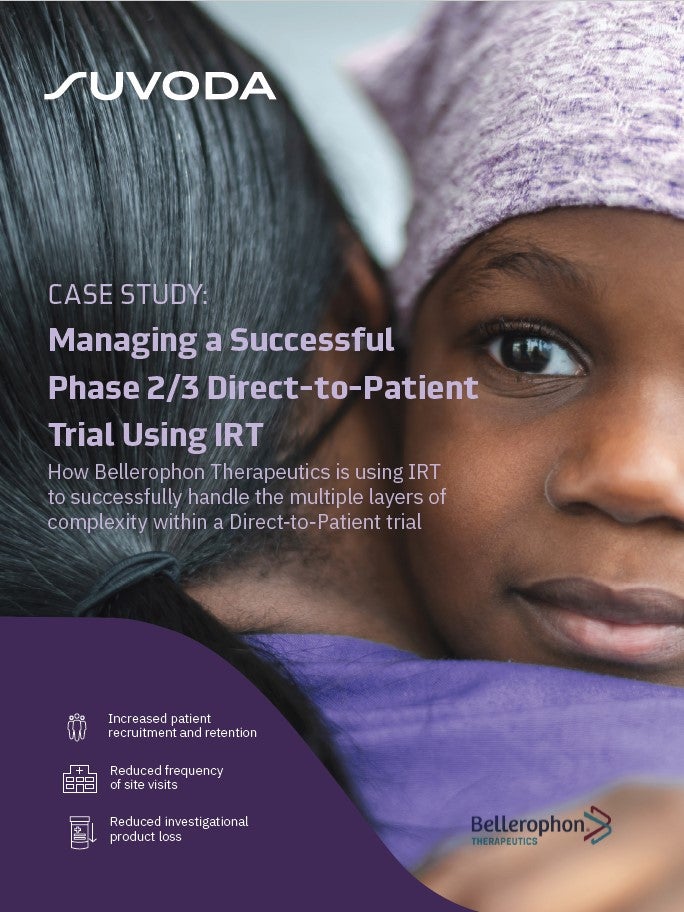 Direct-to-Patient Trials: How IRT Plays an Important Role in Bellerophon's Direct-to-Patient Trials
As the industry strengthens its focus on patient centricity, Direct-to-Patient clinical trials have emerged as a popular trial design that have the potential to increase patient recruitment and retention. IRT plays a crucial role in the success of a Direct-to-Patient trial. Because drug supplies are being managed and shipped from distribution facilities directly to patients' homes, a sponsor must have a high-quality system in place to accurately track the chain of custody, ensure patient-blinding and handle other logistical challenges. What You Will Learn Benefits and challenges associated with the Direct-to-Patient model Bellerophon's top considerations when implementing this trial design How IRT can equip study teams to successfully track chain of custody, ensure patient blinding, and handle logistical challenges
by Suvoda