Resverlogix has obtained approval from the Health Research Ethics Board (HREB) – Biomedical Panel at the University of Alberta in Canada to commence a clinical trial of its new therapy, apabetalone (RVX-208), for Covid-19 in the country.
Free Case Study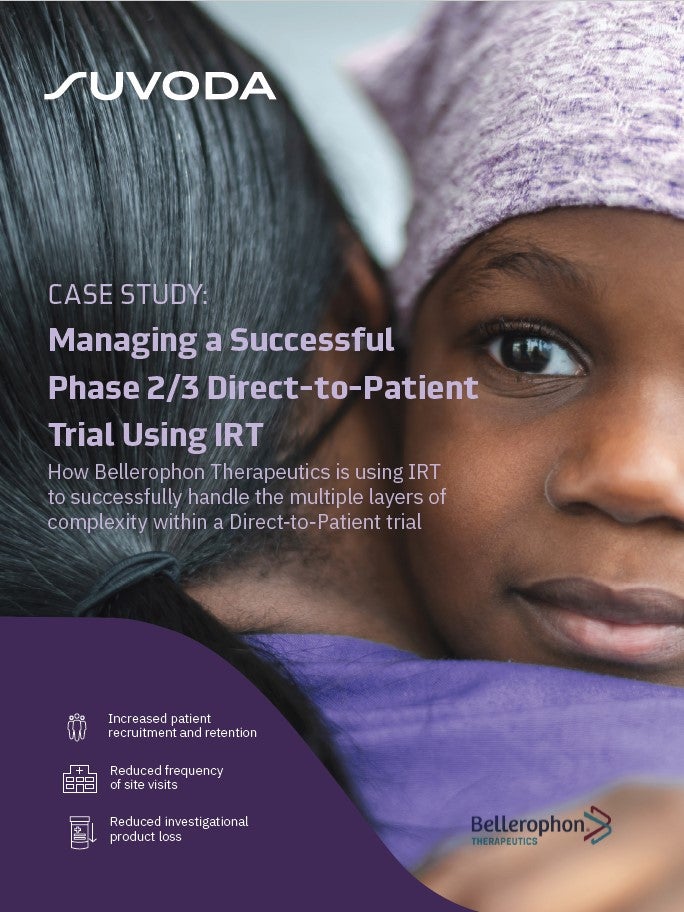 Direct-to-Patient Trials: How IRT Plays an Important Role in Bellerophon's Direct-to-Patient Trials
As the industry strengthens its focus on patient centricity, Direct-to-Patient clinical trials have emerged as a popular trial design that have the potential to increase patient recruitment and retention. IRT plays a crucial role in the success of a Direct-to-Patient trial. Because drug supplies are being managed and shipped from distribution facilities directly to patients' homes, a sponsor must have a high-quality system in place to accurately track the chain of custody, ensure patient-blinding and handle other logistical challenges. What You Will Learn Benefits and challenges associated with the Direct-to-Patient model Bellerophon's top considerations when implementing this trial design How IRT can equip study teams to successfully track chain of custody, ensure patient blinding, and handle logistical challenges
by Suvoda
With the approval, the company can now start enrolling subjects in the trial.
An epigenetic small molecule, or gene-regulating therapeutic candidate, apabetalone can selectively inhibit bromodomain and extra-terminal (BET).
It aids in disease prevention by regulating gene expression by turning on and/or off genes.
The open-label, exploratory trial will analyse the safety and effect on the clinical course of oral apabetalone in Covid-19 patients in the hospital.
It plans to enrol a total of 100 adult subjects aged 18 years and above at several trial centres in Canada and Brazil.
Subjects will be given either twice-daily doses of apabetalone for up to four weeks plus standard of care or standard of care alone.
The change in the World Health Organization Ordinal Scale for Clinical Improvement will be the trial's primary goal.
Resverlogix president and CEO Donald McCaffrey said: "The ethics board approval is an important step towards bringing apabetalone to market to help fight the ongoing Covid-19 pandemic.
"The approved trial design closely follows the World Health Organization's blueprint for best practices in Covid-19 clinical trials and meets all requirements to safely and ethically evaluate apabetalone as a potential new therapy."
The company noted that apabetalone is the only therapy of its class to possess a well-established safety record in human trials, with more than 4,200 patient-years on drugs across ten trials.
According to the studies, apabetalone can potentially target SARS-CoV-2 with a peculiar dual-mechanism of preventing viral entry to cells and its replication, and by stopping runaway inflammatory reactions.
Free Case Study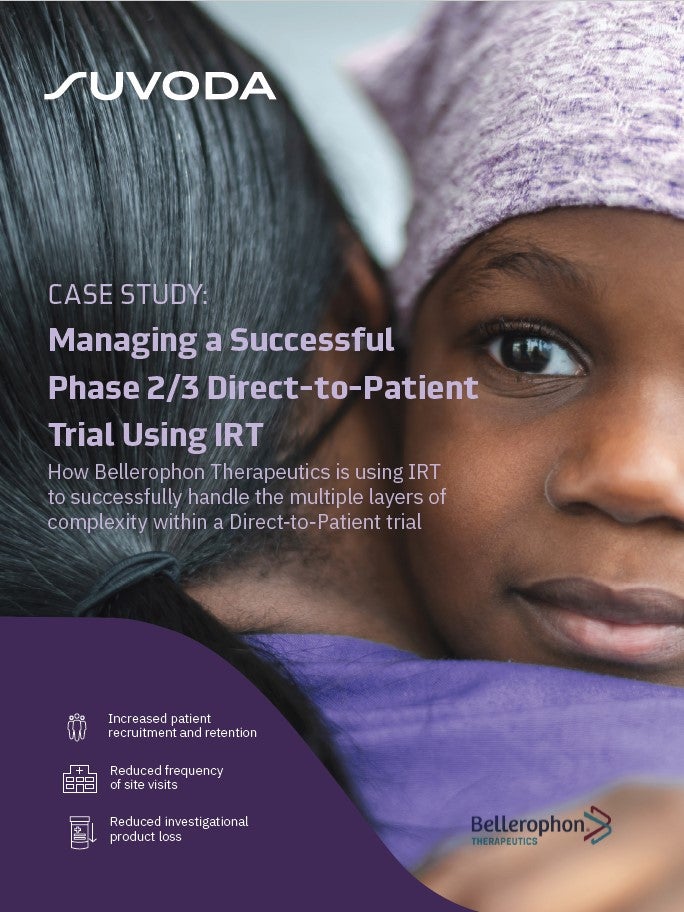 Direct-to-Patient Trials: How IRT Plays an Important Role in Bellerophon's Direct-to-Patient Trials
As the industry strengthens its focus on patient centricity, Direct-to-Patient clinical trials have emerged as a popular trial design that have the potential to increase patient recruitment and retention. IRT plays a crucial role in the success of a Direct-to-Patient trial. Because drug supplies are being managed and shipped from distribution facilities directly to patients' homes, a sponsor must have a high-quality system in place to accurately track the chain of custody, ensure patient-blinding and handle other logistical challenges. What You Will Learn Benefits and challenges associated with the Direct-to-Patient model Bellerophon's top considerations when implementing this trial design How IRT can equip study teams to successfully track chain of custody, ensure patient blinding, and handle logistical challenges
by Suvoda