Biohaven Pharmaceutical has commenced patient enrolment in a Phase II clinical trial of its calcitonin gene-related peptide (CGRP) receptor antagonist rimegepant to treat refractory trigeminal neuralgia.
Free Case Study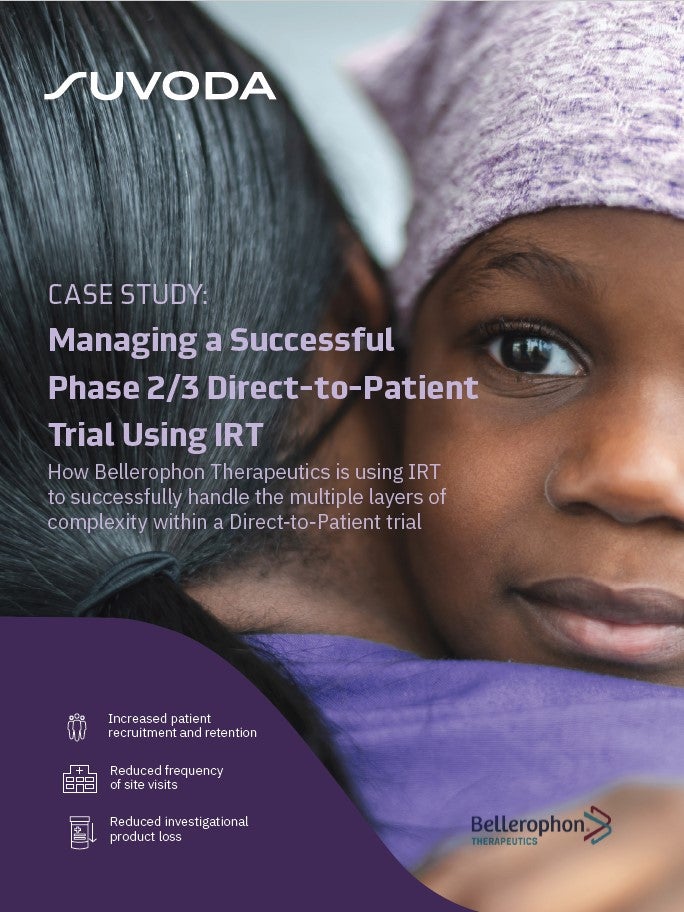 Direct-to-Patient Trials: How IRT Plays an Important Role in Bellerophon's Direct-to-Patient Trials
As the industry strengthens its focus on patient centricity, Direct-to-Patient clinical trials have emerged as a popular trial design that have the potential to increase patient recruitment and retention. IRT plays a crucial role in the success of a Direct-to-Patient trial. Because drug supplies are being managed and shipped from distribution facilities directly to patients' homes, a sponsor must have a high-quality system in place to accurately track the chain of custody, ensure patient-blinding and handle other logistical challenges. What You Will Learn Benefits and challenges associated with the Direct-to-Patient model Bellerophon's top considerations when implementing this trial design How IRT can equip study teams to successfully track chain of custody, ensure patient blinding, and handle logistical challenges
by Suvoda
Trigeminal neuralgia is a neuropathic pain disorder that causes recurrent, paroxysmal, lancinating pain in one or more branches of the trigeminal nerve.
Abnormal release of CGRP neuropeptide from the trigeminal nerve is believed to be involved in trigeminal neuralgia's pathophysiology.
CGRP neuropeptide is associated with neuronal sensitisation and neuropathic pain.
Rimegepant has been designed as a selective and potent small molecule antagonist of CGRP receptor.
Biohaven Pharmaceutical Neurology chief development officer Robert Croop said: "Emerging evidence suggests that aberrant release of CGRP from the trigeminal ganglion plays a critical role in the development of pain syndromes such as trigeminal neuralgia.
"We believe this study is the oral first CGRP receptor antagonist being studied for use as a potential treatment of trigeminal neuralgia and extends our CGRP clinical research beyond migraine."
The double-blind, placebo-controlled, crossover Phase II study will investigate the safety and efficacy of rimegepant in trigeminal neuralgia patients who did not have adequate response to pharmacotherapy.
Conducted at Johns Hopkins Medical Center, the trial is expected to enrol around 60 subjects.
Primary outcome measure of the Phase II trial is the change in a patient's average Numeric Pain Rating Scale between two treatment phases, while secondary outcomes include incidence of treatment-emergent adverse events and other efficacy measures.
Biohaven is also developing rimegepant for the acute treatment of migraine. The drug's efficacy and safety has already been studied in a Phase IIb study and three pivotal Phase III trials.
Based on the findings from these four trials, the company intends to submit a new drug application (NDA) seeking US Food and Drug Administration (FDA) approval in migraine indication.
Free Case Study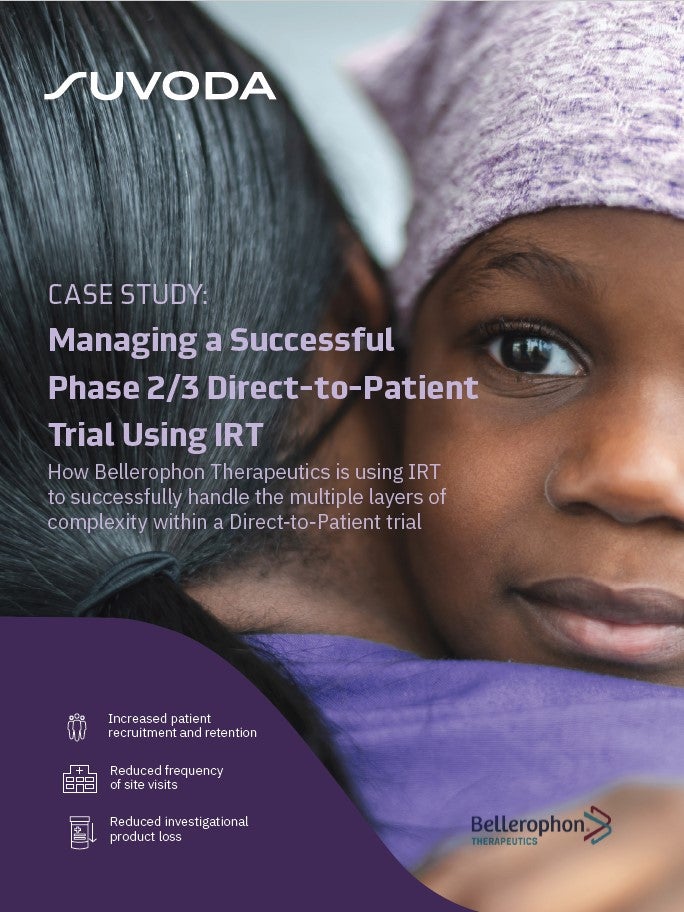 Direct-to-Patient Trials: How IRT Plays an Important Role in Bellerophon's Direct-to-Patient Trials
As the industry strengthens its focus on patient centricity, Direct-to-Patient clinical trials have emerged as a popular trial design that have the potential to increase patient recruitment and retention. IRT plays a crucial role in the success of a Direct-to-Patient trial. Because drug supplies are being managed and shipped from distribution facilities directly to patients' homes, a sponsor must have a high-quality system in place to accurately track the chain of custody, ensure patient-blinding and handle other logistical challenges. What You Will Learn Benefits and challenges associated with the Direct-to-Patient model Bellerophon's top considerations when implementing this trial design How IRT can equip study teams to successfully track chain of custody, ensure patient blinding, and handle logistical challenges
by Suvoda