Roche has reported interim assessment data from the Phase III HAVEN 6 clinical trial where its Hemlibra (emicizumab) therapy showed effective control in bleeding in moderate or mild haemophilia A patients without factor VIII inhibitors.
Free Case Study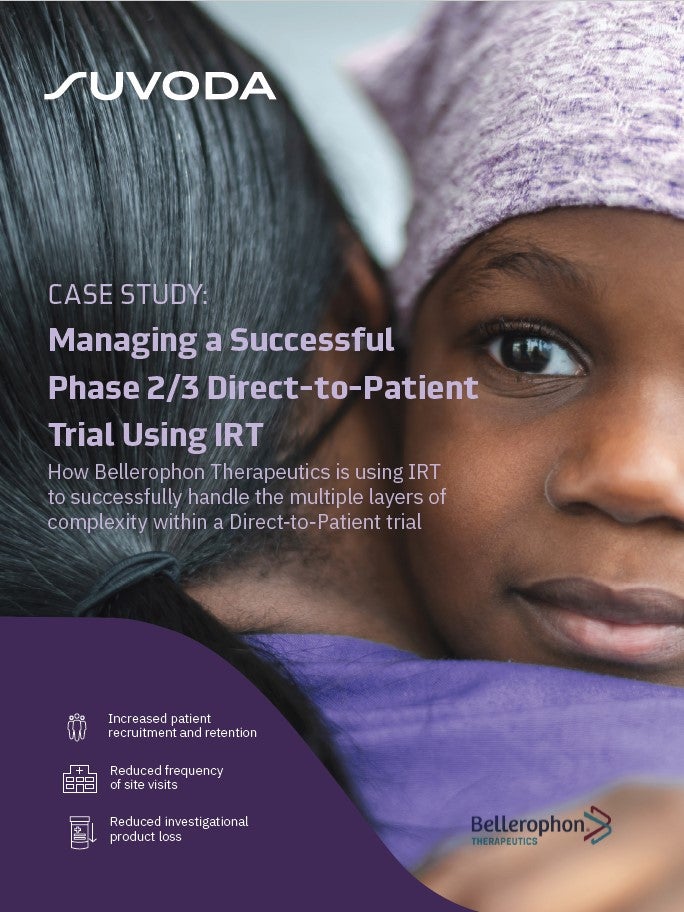 Direct-to-Patient Trials: How IRT Plays an Important Role in Bellerophon's Direct-to-Patient Trials
As the industry strengthens its focus on patient centricity, Direct-to-Patient clinical trials have emerged as a popular trial design that have the potential to increase patient recruitment and retention. IRT plays a crucial role in the success of a Direct-to-Patient trial. Because drug supplies are being managed and shipped from distribution facilities directly to patients' homes, a sponsor must have a high-quality system in place to accurately track the chain of custody, ensure patient-blinding and handle other logistical challenges. What You Will Learn Benefits and challenges associated with the Direct-to-Patient model Bellerophon's top considerations when implementing this trial design How IRT can equip study teams to successfully track chain of custody, ensure patient blinding, and handle logistical challenges
by Suvoda
A bispecific factor IXa-directed and factor X-directed antibody, Hemlibra was created by Chugai Pharmaceutical and is being jointly developed worldwide by the company, along with Roche and Genentech.
Intended to be administered subcutaneously as prophylactic (preventative) therapy, it can potentially reinstate the blood clotting process in haemophilia A patients.
The Phase III trial is assessing the safety, efficacy, pharmacodynamics and pharmacokinetics of Hemlibra in moderate or mild haemophilia A patients without factor VIII inhibitors.
According to the interim analysis results from 71 subjects, Hemlibra was found to have an encouraging safety profile and efficient bleeding control.
Findings showed that 80.3% of subjects had no bleeding episodes that need treatment while 90.1% reported no joint bleeds that needed therapeutic intervention.
Annualised bleeding rates (ABR) were found to be low and in line with data reported earlier in the HAVEN 1 to HAVEN 4 trials.
In the trial, headache and local injection site reactions were observed to be the most common adverse events (AEs).
No cases of death or thrombotic microangiopathy or major thrombotic events were reported in the trial so far, supporting the favourable safety profile of Hemlibra.
Roche Global Product Development head and chief medical officer Levi Garraway said: "We are pleased to see that Hemlibra continues to show benefit in additional haemophilia A populations, regardless of severity.
"The clinical evidence for Hemlibra derives from one of the largest pivotal clinical trial programmes in haemophilia A, with and without factor VIII inhibitors."
This July, the company reported data from the final analysis of the Phase IIIb STASEY trial, establishing the favourable safety profile of Hemlibra for haemophilia A treatment.
Free Case Study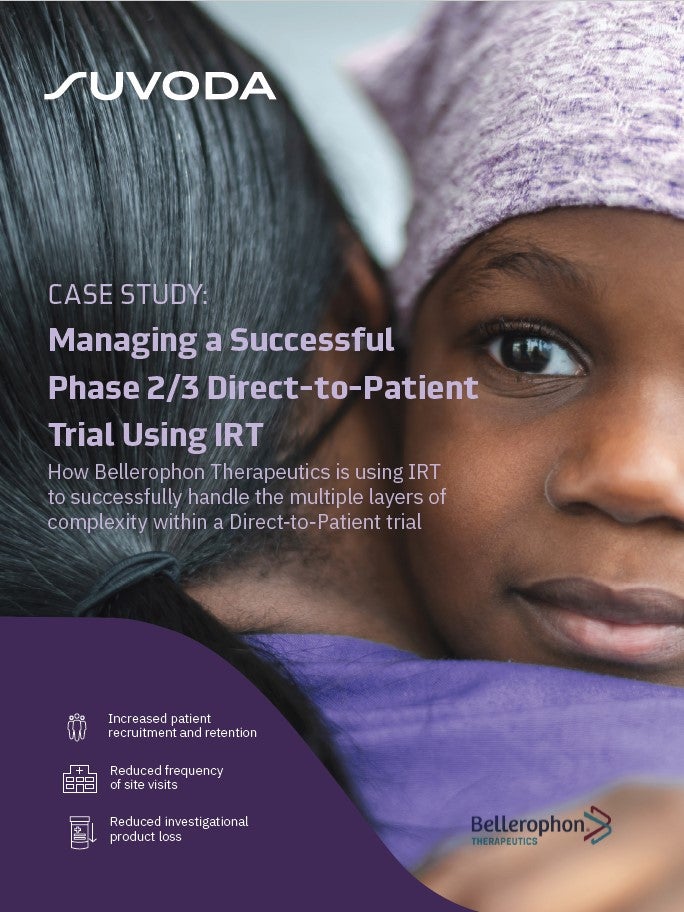 Direct-to-Patient Trials: How IRT Plays an Important Role in Bellerophon's Direct-to-Patient Trials
As the industry strengthens its focus on patient centricity, Direct-to-Patient clinical trials have emerged as a popular trial design that have the potential to increase patient recruitment and retention. IRT plays a crucial role in the success of a Direct-to-Patient trial. Because drug supplies are being managed and shipped from distribution facilities directly to patients' homes, a sponsor must have a high-quality system in place to accurately track the chain of custody, ensure patient-blinding and handle other logistical challenges. What You Will Learn Benefits and challenges associated with the Direct-to-Patient model Bellerophon's top considerations when implementing this trial design How IRT can equip study teams to successfully track chain of custody, ensure patient blinding, and handle logistical challenges
by Suvoda