Ryvu Therapeutics has received approval from the Polish Office for Registration of Medicinal Products, Medical Devices and Biocidal Products for a Phase I/II clinical trial of RVU120 (SEL120) to treat solid tumours.
Free Case Study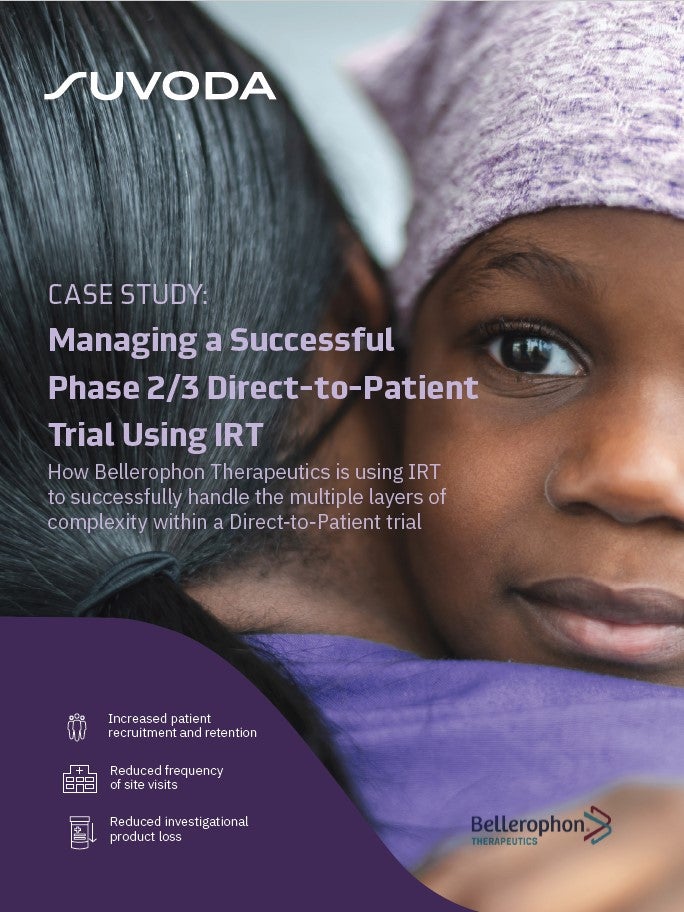 Direct-to-Patient Trials: How IRT Plays an Important Role in Bellerophon's Direct-to-Patient Trials
As the industry strengthens its focus on patient centricity, Direct-to-Patient clinical trials have emerged as a popular trial design that have the potential to increase patient recruitment and retention. IRT plays a crucial role in the success of a Direct-to-Patient trial. Because drug supplies are being managed and shipped from distribution facilities directly to patients' homes, a sponsor must have a high-quality system in place to accurately track the chain of custody, ensure patient-blinding and handle other logistical challenges. What You Will Learn Benefits and challenges associated with the Direct-to-Patient model Bellerophon's top considerations when implementing this trial design How IRT can equip study teams to successfully track chain of custody, ensure patient blinding, and handle logistical challenges
by Suvoda
The company also secured the relevant Central Ethics Committee approval to launch the study.
RVU120 is designed to specifically block cyclin-dependent kinase (CDK8)/CDK19. In vitro and in vivo, the drug candidate showed efficacy in various solid tumors and onco-haematological malignancies.
The new study in Poland will evaluate RVU120's safety, tolerability, pharmacokinetics (PK), pharmacodynamics (PD) and preliminary anti-tumour activity in dose-escalating cohorts of its Phase I portion.
It will also identify the recommended Phase II dose (RP2D). In the Phase II portion of the trial, patients with select tumours will be enrolled, including triple-negative breast cancer (TNBC).
Ryvu Therapeutics chief medical officer and executive vice-president Setareh Shamsili said: "With approvals from Polish Office for Registration of Medicinal Products, Medical Devices, and Biocidal Products and Central Ethics Committee, we are making another important step in the clinical development of our flagship RVU120 (SEL120) programme."
The company will also submit trial applications in other European countries in the coming months.
In March last year, RVU120 obtained orphan drug designation from the US Food and Drug Administration (FDA) to treat acute myeloid leukaemia (AML).
A Phase I trial of the drug in relapsed or refractory AML or high-risk myelodysplastic syndromes (MDS) is now enrolling patients in five investigational sites in the US.
Last month, the FDA placed a partial hold on the Phase Ib, dose-escalation trial of the drug candidate in patients with relapsed/refractory AML and high-risk MDS.
Patients currently on RVU120 could continue treatment. The company is working with the US regulator to lift the partial clinical hold and restart enrolment in the trial.
Free Case Study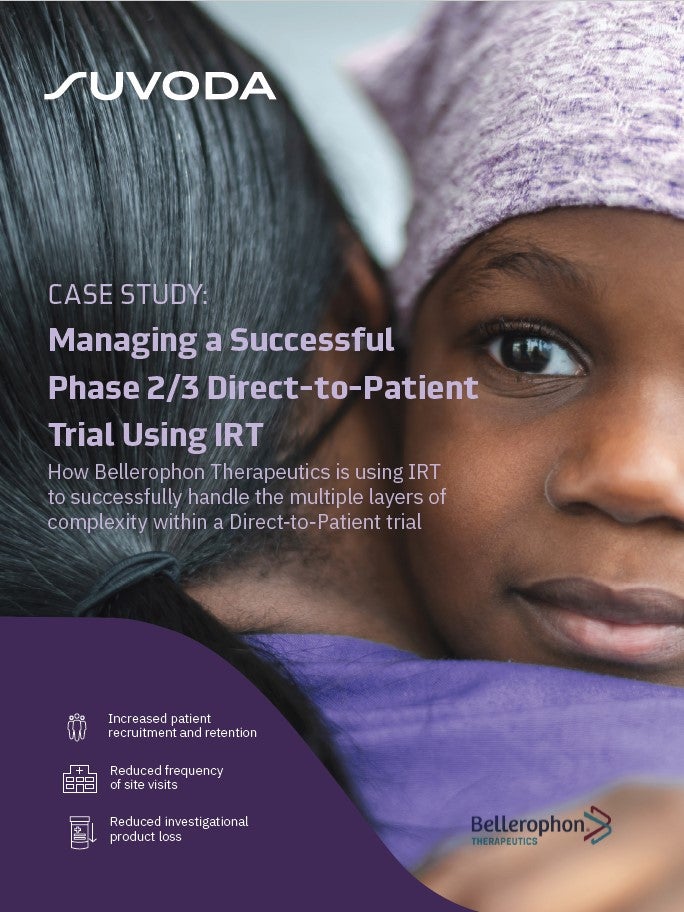 Direct-to-Patient Trials: How IRT Plays an Important Role in Bellerophon's Direct-to-Patient Trials
As the industry strengthens its focus on patient centricity, Direct-to-Patient clinical trials have emerged as a popular trial design that have the potential to increase patient recruitment and retention. IRT plays a crucial role in the success of a Direct-to-Patient trial. Because drug supplies are being managed and shipped from distribution facilities directly to patients' homes, a sponsor must have a high-quality system in place to accurately track the chain of custody, ensure patient-blinding and handle other logistical challenges. What You Will Learn Benefits and challenges associated with the Direct-to-Patient model Bellerophon's top considerations when implementing this trial design How IRT can equip study teams to successfully track chain of custody, ensure patient blinding, and handle logistical challenges
by Suvoda