SAB Biotherapeutics has dosed the first patient in the Phase III ACTIV-2 clinical trial to evaluate SAB-185, a fully human polyclonal antibody therapeutic to treat Covid-19.
Free Case Study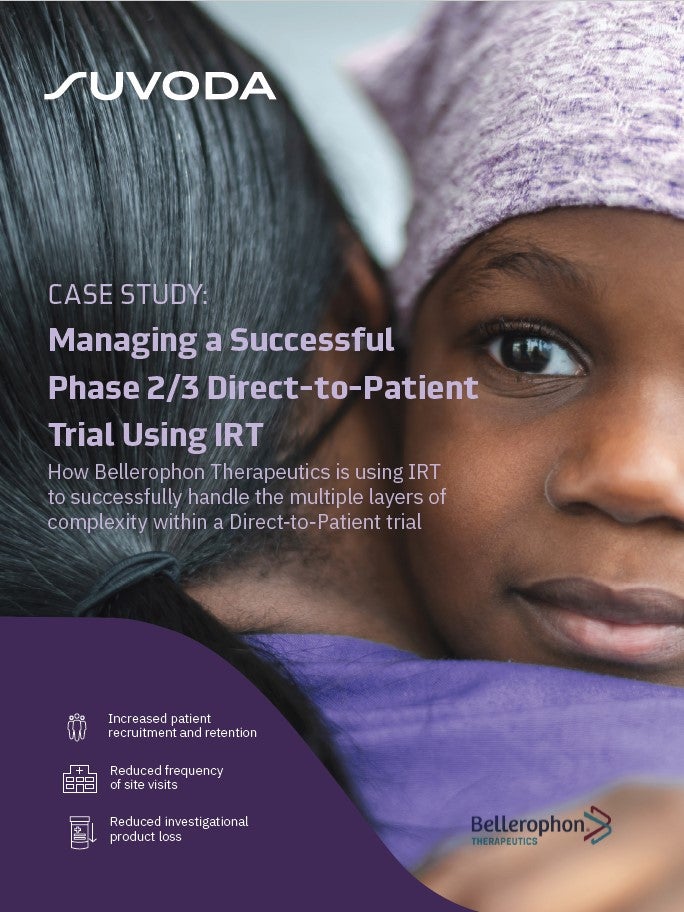 Direct-to-Patient Trials: How IRT Plays an Important Role in Bellerophon's Direct-to-Patient Trials
As the industry strengthens its focus on patient centricity, Direct-to-Patient clinical trials have emerged as a popular trial design that have the potential to increase patient recruitment and retention. IRT plays a crucial role in the success of a Direct-to-Patient trial. Because drug supplies are being managed and shipped from distribution facilities directly to patients' homes, a sponsor must have a high-quality system in place to accurately track the chain of custody, ensure patient-blinding and handle other logistical challenges. What You Will Learn Benefits and challenges associated with the Direct-to-Patient model Bellerophon's top considerations when implementing this trial design How IRT can equip study teams to successfully track chain of custody, ensure patient blinding, and handle logistical challenges
by Suvoda
SAB-18 is a broadly neutralising therapeutic candidate developed using SAB's DiversitAb platform.
The specifically targeted antibody is intended to treat non-hospitalised patients with mild to moderate Covid-19.
Led by the National Institute of Allergy and Infectious Diseases (NIAID), the ACTIV-2 clinical trial is evaluating the multiple investigational agent to treat the early symptomatic non-hospitalised individuals.
The candidate met the pre-defined efficacy goal and progressed from Phase II to the Phase III part of the ACTIV-2 clinical trial.
It is said to be the first polyclonal antibody therapeutic candidate in the trial and the second agent to advance to Phase III.
SAB Biotherapeutics co-founder, president, and CEO Eddie Sullivan said: "We are delighted that the Phase III trial is underway, just days after the decision by the independent Data Safety Monitoring Board to advance SAB-185 to Phase III.
"The joint decision with NIAID to evaluate the lower dose of SAB-185 in the Phase III trial is a testament to the potency of our human polyclonal antibody therapeutic candidate, which has demonstrated neutralization of multiple emerging SARS-CoV-2 variants in recently published nonclinical studies."
As part of the randomised, unblinded, active comparator-controlled adaptive platform non-inferiority Phase III study, the company is evaluating SAB-185's safety and efficacy as against active control monoclonal antibody treatment in Covid-19 patients at higher risk for progression to hospitalisation.
Nearly 600 participants are being enrolled to receive SAB-185 and 600 subjects will be given an active comparator.
Safety and non-inferiority to avoid a composite endpoint of either hospitalisation or death of a subject until study day 28 are included in the trial's primary outcome measures.
Free Case Study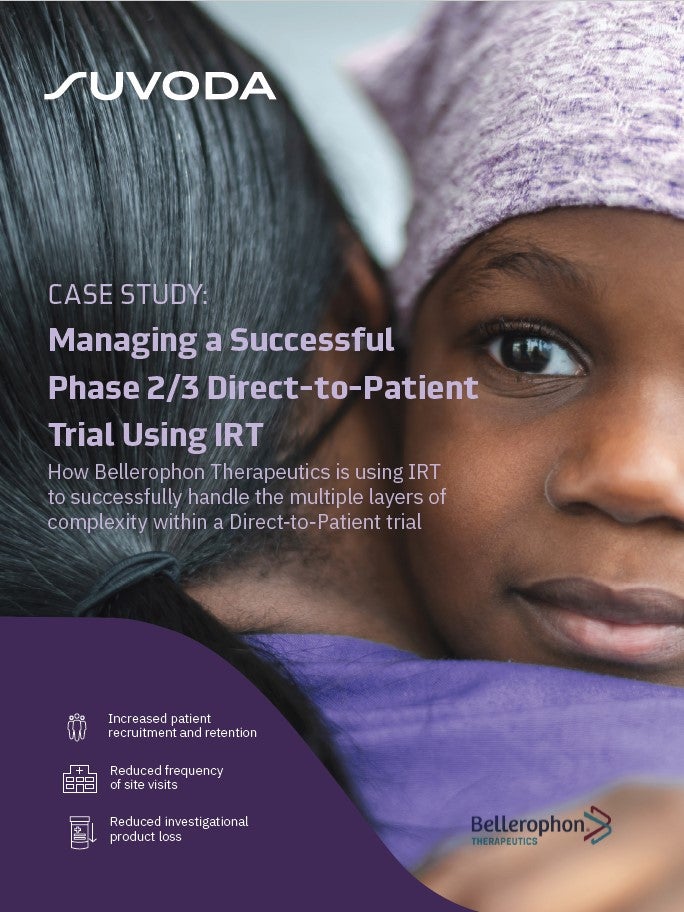 Direct-to-Patient Trials: How IRT Plays an Important Role in Bellerophon's Direct-to-Patient Trials
As the industry strengthens its focus on patient centricity, Direct-to-Patient clinical trials have emerged as a popular trial design that have the potential to increase patient recruitment and retention. IRT plays a crucial role in the success of a Direct-to-Patient trial. Because drug supplies are being managed and shipped from distribution facilities directly to patients' homes, a sponsor must have a high-quality system in place to accurately track the chain of custody, ensure patient-blinding and handle other logistical challenges. What You Will Learn Benefits and challenges associated with the Direct-to-Patient model Bellerophon's top considerations when implementing this trial design How IRT can equip study teams to successfully track chain of custody, ensure patient blinding, and handle logistical challenges
by Suvoda