Sanofi has reported that its drug, Dupixent (dupilumab), met the primary and all key secondary goals at 24 weeks in pivotal Phase III clinical trial (Study A) in moderate-to-severe chronic spontaneous urticaria (CSU) patients.
Free Case Study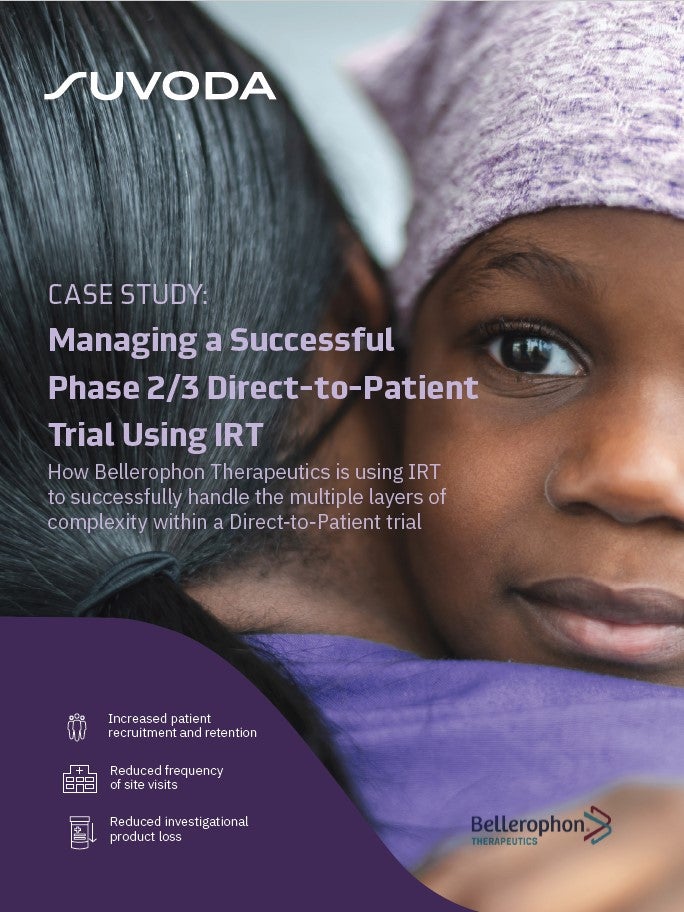 Direct-to-Patient Trials: How IRT Plays an Important Role in Bellerophon's Direct-to-Patient Trials
As the industry strengthens its focus on patient centricity, Direct-to-Patient clinical trials have emerged as a popular trial design that have the potential to increase patient recruitment and retention. IRT plays a crucial role in the success of a Direct-to-Patient trial. Because drug supplies are being managed and shipped from distribution facilities directly to patients' homes, a sponsor must have a high-quality system in place to accurately track the chain of custody, ensure patient-blinding and handle other logistical challenges. What You Will Learn Benefits and challenges associated with the Direct-to-Patient model Bellerophon's top considerations when implementing this trial design How IRT can equip study teams to successfully track chain of custody, ensure patient blinding, and handle logistical challenges
by Suvoda
A fully human monoclonal antibody, Dupixent hinders the signalling of interleukin-4 (IL-4) and interleukin-13 (IL-13) pathways, which are major drivers of type 2 inflammation.
Sanofi is co-developing the drug with Regeneron as part of a global partnership agreement.
Study A of the randomised, double-blind, placebo-controlled Phase III LIBERTY CUPID programme compared the efficacy and safety of Dupixent as an add-on treatment to standard-of-care (SoC) of H1 antihistamines as against antihistamines alone.
This trial enrolled a total of 138 CSU patients aged six years or above, who still had symptoms even after using antihistamines and did not receive anti-IgE treatments.
The change from baseline in itch at 24 weeks and the change from baseline in itch and hives at 24 weeks were the trial's primary goals.
Data from Study A showed that Dupixent plus SoC antihistamines substantially lowered itch and hives for biologic-naïve subjects versus those in the placebo arm receiving antihistamines alone.
Furthermore, Dupixent offered a 63% decline in itch severity compared to 35% in the placebo arm, meeting the primary goal in the US and the secondary goal in the EU. The improvement was maintained to week 24 of the trial.
On the primary goal in the EU and the secondary goal in the US, the antibody provided a 65% decrease in the severity of urticaria activity, which includes itch and hives, versus 37% in the placebo arm.
Safety data of Dupixent was in line with its known safety profile in already approved indications.
Treatment-emergent adverse events (AEs) were comparable between Dupixent and placebo arms while injection site reactions were noted to be the most common AE.
Sanofi Research and Development global head John Reed said: "This is the fifth inflammatory disease in which Dupixent has demonstrated a significant improvement in symptoms and disease manifestations in Phase III pivotal studies.
"The success of this trial underscores the agility of our clinical operations team considering the pandemic conditions and underscores our ability to deliver on an aggressive timeline for addressing a significant unmet need for this patient population."
Sanofi and Regeneron plan to initiate submissions of Dupixent for CSU indication next year, after obtaining data from Study B of the LIBERTY CUPID programme.
Earlier this month, Sanofi reported that its single-dose vaccine, MenQuadfi, met all primary and secondary endpoints in Phase III MEQ00065 study in healthy toddlers for preventing invasive meningococcal disease.
Free Case Study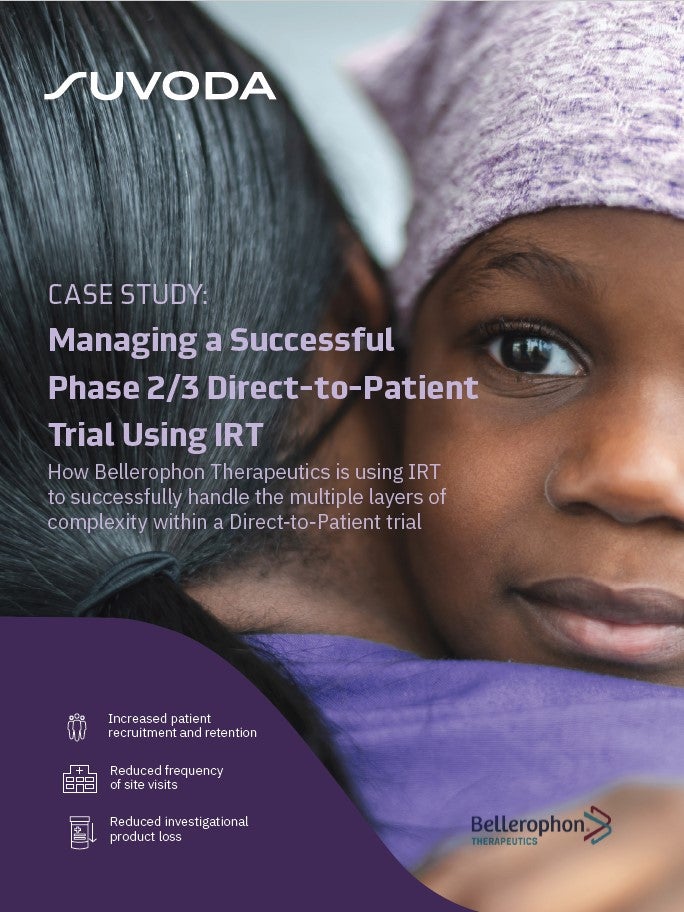 Direct-to-Patient Trials: How IRT Plays an Important Role in Bellerophon's Direct-to-Patient Trials
As the industry strengthens its focus on patient centricity, Direct-to-Patient clinical trials have emerged as a popular trial design that have the potential to increase patient recruitment and retention. IRT plays a crucial role in the success of a Direct-to-Patient trial. Because drug supplies are being managed and shipped from distribution facilities directly to patients' homes, a sponsor must have a high-quality system in place to accurately track the chain of custody, ensure patient-blinding and handle other logistical challenges. What You Will Learn Benefits and challenges associated with the Direct-to-Patient model Bellerophon's top considerations when implementing this trial design How IRT can equip study teams to successfully track chain of custody, ensure patient blinding, and handle logistical challenges
by Suvoda