Virtual clinical trials firm Science 37 has partnered with AiCure, an artificial intelligence (AI) and advanced data analytics firm, for virtual trials technology.
Free Case Study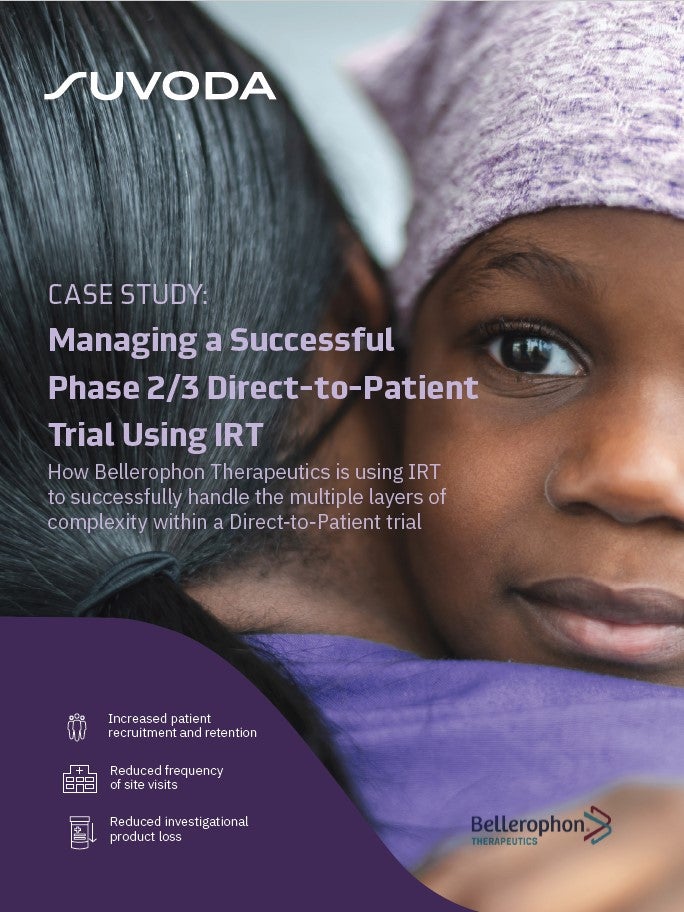 Direct-to-Patient Trials: How IRT Plays an Important Role in Bellerophon's Direct-to-Patient Trials
As the industry strengthens its focus on patient centricity, Direct-to-Patient clinical trials have emerged as a popular trial design that have the potential to increase patient recruitment and retention. IRT plays a crucial role in the success of a Direct-to-Patient trial. Because drug supplies are being managed and shipped from distribution facilities directly to patients' homes, a sponsor must have a high-quality system in place to accurately track the chain of custody, ensure patient-blinding and handle other logistical challenges. What You Will Learn Benefits and challenges associated with the Direct-to-Patient model Bellerophon's top considerations when implementing this trial design How IRT can equip study teams to successfully track chain of custody, ensure patient blinding, and handle logistical challenges
by Suvoda
The partners will initially leverage a virtual or decentralised research model to enable at-home participation in a clinical trial that will assess an experimental drug for major depressive disorder (MDD).
Science 37 will use its virtual model and own network of investigators and mobile nurses to enrol and support participants in the trial, which is designed for 150 adult patients in the US.
The company will also contribute via eConsent, eSource, ePRO and telemedicine expertise using its clinical trial platform.
This virtual approach is said to offer additional privacy for patients, who can remain at home, and better efficiency for researchers as Science 37 investigators could perform various common psychiatric assessments through telemedicine.
Science 37 CEO David Coman said: "Combining our comprehensive, integrated platform with AiCure's unique AI technology will enable sponsors to develop even more meaningful data for their research."
As part of the collaboration, AiCure will boost data quality and cut the time and cost of a trial by allowing the real-time monitoring of patient dosing.
The company's platform can be used to track dosing adherence and measure digital biomarkers, such as facial and vocal expressivity, to assess depression in participants.
The AiCure platform also facilitates remote registration, training and micro-reimbursements to patients for increased participation.
It offers real-time access to patient-quality metrics, which deliver data-driven amendments to trial requirements and enhance the predictability of trial timelines.
AiCure CEO Dr Ed Ikeguchi said: "Virtual clinical trials offer a huge opportunity for both patients and sponsors by reducing the burden of having participants have to travel on-site, while also reducing the costs and duration of studies.
"Having the right tools in place can ensure patients remain engaged for the duration of a trial and help sponsors get critical and accurate data throughout."
Free Case Study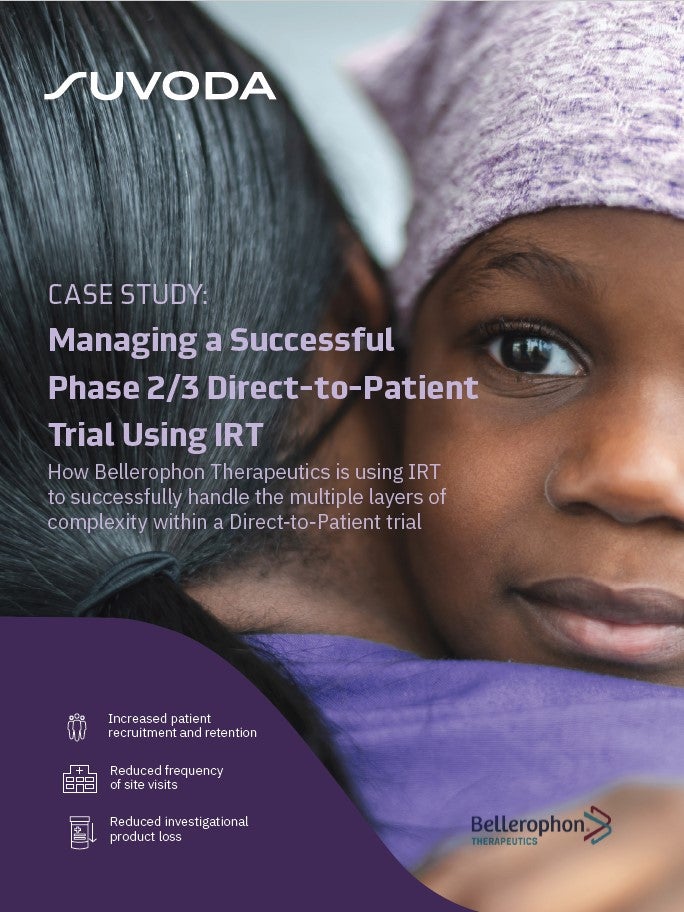 Direct-to-Patient Trials: How IRT Plays an Important Role in Bellerophon's Direct-to-Patient Trials
As the industry strengthens its focus on patient centricity, Direct-to-Patient clinical trials have emerged as a popular trial design that have the potential to increase patient recruitment and retention. IRT plays a crucial role in the success of a Direct-to-Patient trial. Because drug supplies are being managed and shipped from distribution facilities directly to patients' homes, a sponsor must have a high-quality system in place to accurately track the chain of custody, ensure patient-blinding and handle other logistical challenges. What You Will Learn Benefits and challenges associated with the Direct-to-Patient model Bellerophon's top considerations when implementing this trial design How IRT can equip study teams to successfully track chain of custody, ensure patient blinding, and handle logistical challenges
by Suvoda