Science 37 has collaborated with Japan's contract research organisation (CRO) CMIC to advance decentralised clinical trials and accelerate drug development.
Free Case Study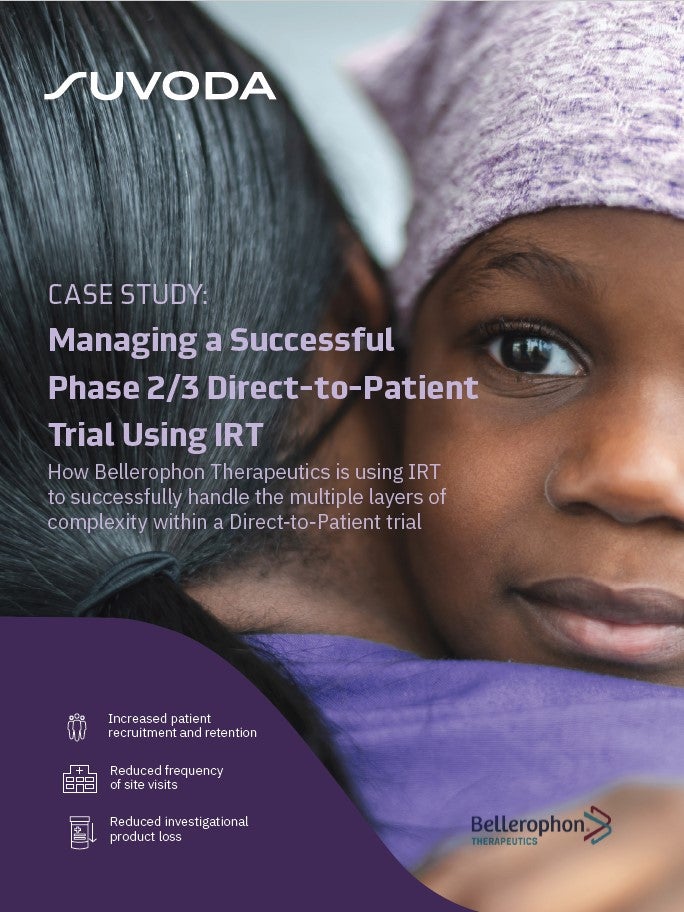 Direct-to-Patient Trials: How IRT Plays an Important Role in Bellerophon's Direct-to-Patient Trials
As the industry strengthens its focus on patient centricity, Direct-to-Patient clinical trials have emerged as a popular trial design that have the potential to increase patient recruitment and retention. IRT plays a crucial role in the success of a Direct-to-Patient trial. Because drug supplies are being managed and shipped from distribution facilities directly to patients' homes, a sponsor must have a high-quality system in place to accurately track the chain of custody, ensure patient-blinding and handle other logistical challenges. What You Will Learn Benefits and challenges associated with the Direct-to-Patient model Bellerophon's top considerations when implementing this trial design How IRT can equip study teams to successfully track chain of custody, ensure patient blinding, and handle logistical challenges
by Suvoda
As part of the partnership, CMIC will leverage Science 37's clinical trial operating system (OS), as well as its end-to-end technology platform.
These two services will help CMIC to arrange workflows, generate evidence and match data for decentralised clinical studies worldwide, which will help to expedite study timelines.
According to Science 37, it becomes difficult for subjects to enrol in clinical trials as the biopharmaceutical sponsors are limited by geography and location in a traditional site-based model.
Technology-enabled decentralised clinical studies help in decreasing costs while improving efficiency and allowing more patients to take part in the trials.
CMIC Clinical Operation executive vice-president Yoshihito Kondo said: "With our partnership and utilising the Science 37 operating system and technology platform, we are able to more effectively orchestrate the user experience and workflows for patients, telemedicine investigators and mobile nurses, generate requisite evidence and harmonise data all in one place.
"This partnership will also allow for the smooth conduct of global trials including Japan and/or APAC using a unified platform, which will help with CMIC's efforts to lead the growth of the developing decentralised clinical trial movements in the East."
This collaboration will allow CMIC to become part of Science 37's CRO-Certified network.
The network has been designed to empower CROs by providing commercial support, training and access for successful decentralised clinical studies delivery at scale.
Science 37 CEO David Coman said: "Our technology platform will provide CMIC with the capability to more effectively execute decentralised studies with our operating system, which enables access to patient communities, telemedicine investigators, remote coordinator and connected device networks."
Free Case Study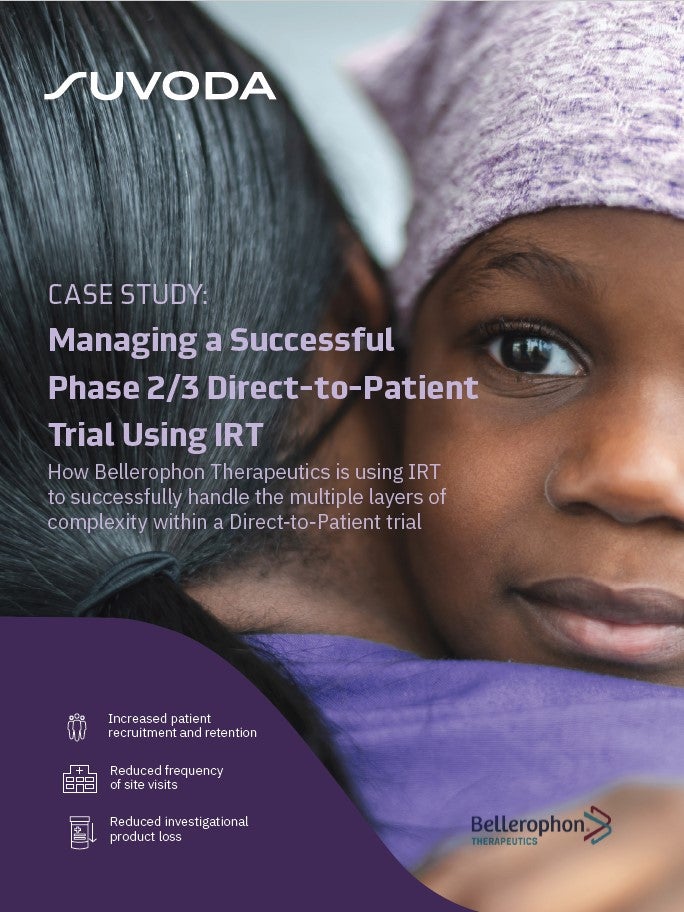 Direct-to-Patient Trials: How IRT Plays an Important Role in Bellerophon's Direct-to-Patient Trials
As the industry strengthens its focus on patient centricity, Direct-to-Patient clinical trials have emerged as a popular trial design that have the potential to increase patient recruitment and retention. IRT plays a crucial role in the success of a Direct-to-Patient trial. Because drug supplies are being managed and shipped from distribution facilities directly to patients' homes, a sponsor must have a high-quality system in place to accurately track the chain of custody, ensure patient-blinding and handle other logistical challenges. What You Will Learn Benefits and challenges associated with the Direct-to-Patient model Bellerophon's top considerations when implementing this trial design How IRT can equip study teams to successfully track chain of custody, ensure patient blinding, and handle logistical challenges
by Suvoda