UDG Healthcare unit Sharp Clinical Services has signed a central pharmacy partnership deal with European central pharmacy Hubertus, Germany.
Free Case Study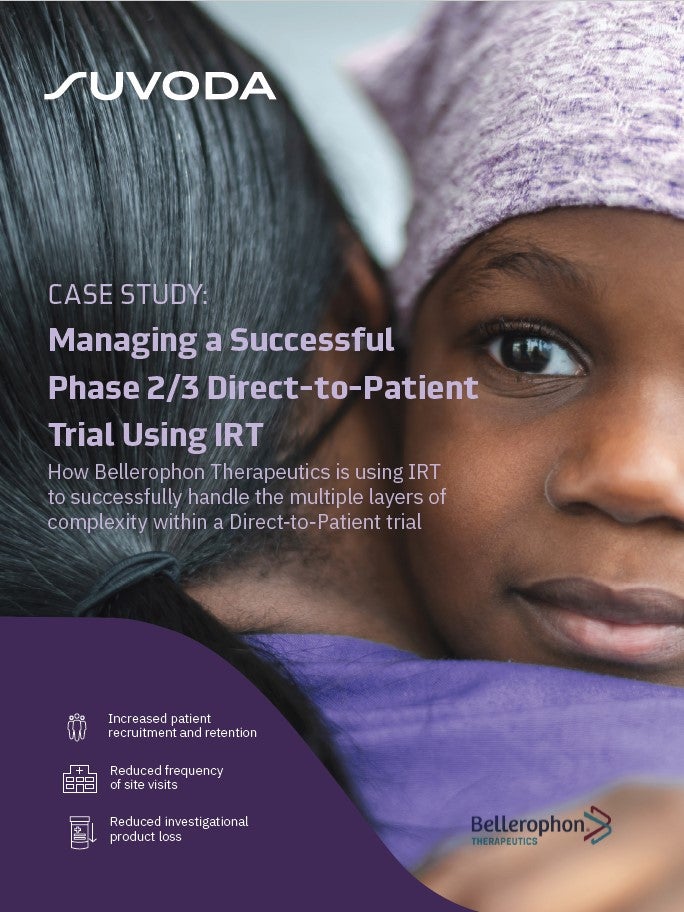 Direct-to-Patient Trials: How IRT Plays an Important Role in Bellerophon's Direct-to-Patient Trials
As the industry strengthens its focus on patient centricity, Direct-to-Patient clinical trials have emerged as a popular trial design that have the potential to increase patient recruitment and retention. IRT plays a crucial role in the success of a Direct-to-Patient trial. Because drug supplies are being managed and shipped from distribution facilities directly to patients' homes, a sponsor must have a high-quality system in place to accurately track the chain of custody, ensure patient-blinding and handle other logistical challenges. What You Will Learn Benefits and challenges associated with the Direct-to-Patient model Bellerophon's top considerations when implementing this trial design How IRT can equip study teams to successfully track chain of custody, ensure patient blinding, and handle logistical challenges
by Suvoda
It also developed a holistic patient support programme with its sister company Ashfield, a healthcare advisory firm.
The central pharmacy partnership deal will support Sharp's direct-to-patient logistics service for its clinical trial customers in Europe and the surrounding nations.
Sharp Clinical Service Business Development global head Sascha Sonnenberg said: "I'm excited to see how we have successfully worked together with our partners and colleagues to establish a comprehensive solution to the benefit of our clients and patients participating in clinical trials.
"This is not just a temporary option during the Covid-19 situation, but will experience an increasing demand in a post-pandemic era."
Sharp has also joined forces with the Patient Solutions business unit of Ashfield.
The service, according to Sharp, will provide clinical educator-led ministering in injection training, infusions, as well as blood pressure monitoring to patients in their home.
Sharp said that this service can either be delivered via in-person visits in Europe or remotely in both the US and Europe for clinical study sponsors.
Sascha added: "The breadth and depth of this solution is a unique offering to sponsors in the clinical services market. We can now provide a holistic solution delivering drugs directly to trial participants, as well as supporting them throughout their participation."
Sharp Clinical is a global provider of clinical trial services, including analytical, formulation development, clinical manufacturing and packaging, as well as storage and distribution.
Free Case Study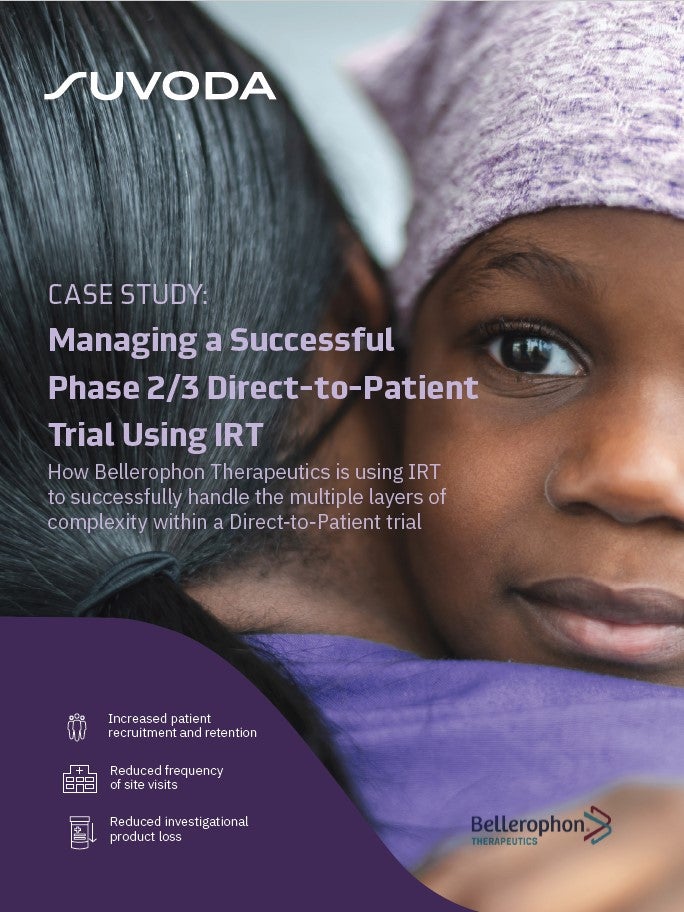 Direct-to-Patient Trials: How IRT Plays an Important Role in Bellerophon's Direct-to-Patient Trials
As the industry strengthens its focus on patient centricity, Direct-to-Patient clinical trials have emerged as a popular trial design that have the potential to increase patient recruitment and retention. IRT plays a crucial role in the success of a Direct-to-Patient trial. Because drug supplies are being managed and shipped from distribution facilities directly to patients' homes, a sponsor must have a high-quality system in place to accurately track the chain of custody, ensure patient-blinding and handle other logistical challenges. What You Will Learn Benefits and challenges associated with the Direct-to-Patient model Bellerophon's top considerations when implementing this trial design How IRT can equip study teams to successfully track chain of custody, ensure patient blinding, and handle logistical challenges
by Suvoda