Japanese pharmaceutical company Shionogi has launched a Phase I clinical trial of an oral antiviral drug, S-217622, for the treatment of Covid-19.
Free Case Study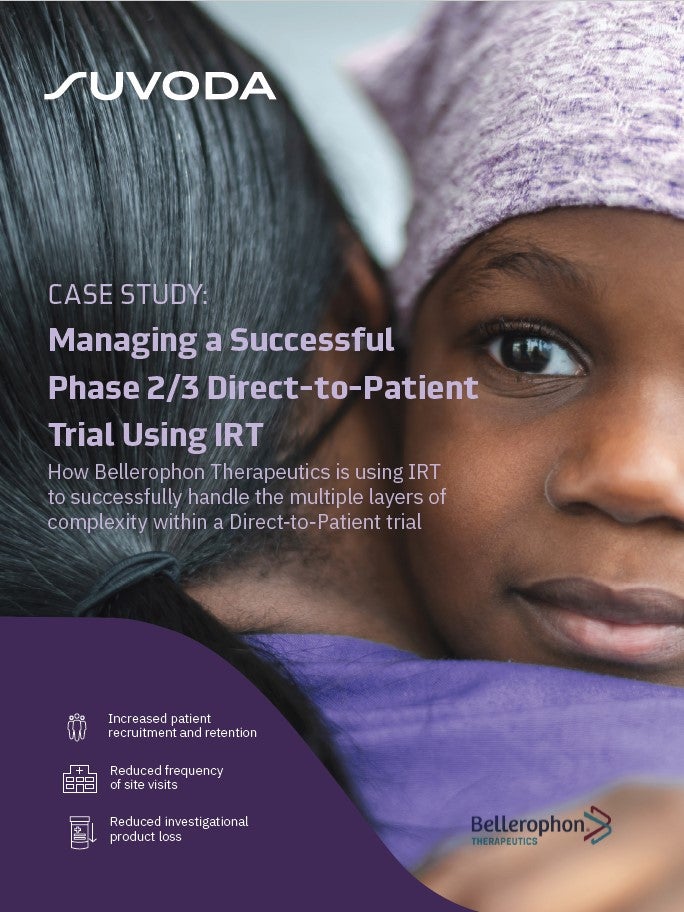 Direct-to-Patient Trials: How IRT Plays an Important Role in Bellerophon's Direct-to-Patient Trials
As the industry strengthens its focus on patient centricity, Direct-to-Patient clinical trials have emerged as a popular trial design that have the potential to increase patient recruitment and retention. IRT plays a crucial role in the success of a Direct-to-Patient trial. Because drug supplies are being managed and shipped from distribution facilities directly to patients' homes, a sponsor must have a high-quality system in place to accurately track the chain of custody, ensure patient-blinding and handle other logistical challenges. What You Will Learn Benefits and challenges associated with the Direct-to-Patient model Bellerophon's top considerations when implementing this trial design How IRT can equip study teams to successfully track chain of custody, ensure patient blinding, and handle logistical challenges
by Suvoda
The first dose in the trial was given on 22 July 2021 and no safety concerns have been reported so far.
Discovered by Shionogi, S-217622 is an inhibitor of 3CL protease, which is an enzyme required by the SARS-CoV-2 virus for its replication.
The antiviral drug suppresses the viral replication via selective hindrance of the enzyme.
In studies involving animals infected with SARS-CoV-2, S-217622 showed the ability to decrease the viral load quickly and significantly.
The new Phase I trial in Japan will assess the safety, tolerability and pharmacokinetics of the antiviral drug in healthy adult volunteers.
Multiple countries are carrying out vaccination campaigns to combat the ongoing Covid-19 pandemic.
However, a risk of infection and disease onset exists even after inoculation and the current vaccines may or may not be effective if a new SARS-CoV-2 variant spreads, Shionogi noted.
Also, the fast development and supply of an effective vaccine for new variants may not be possible.
Hence, antiviral drugs that could rapidly decrease the viral load in the body and, on early use, could prevent clinical symptoms and severe exacerbations are required.
These drugs are expected to be beneficial as Covid-19 can swiftly develop into a more severe disease even in cases that are asymptomatic or mild during the early infection stages.
In a statement, Shionogi added: "Therefore, there is a need for safe and convenient antiviral drugs that can be administered to many infected patients.
"Since this compound is a small molecule oral antiviral drug, it is expected to meet the needs of society and healthcare practitioners."
Shionogi commenced the Phase I/II clinical trial of a prophylactic Covid-19 vaccine candidate and administered the first dose in December last year.
Last week, the company signed a licence agreement with HanaVax to develop nasal Covid-19 vaccine candidates by leveraging the latter's cationic nanogel delivery system.
Free Case Study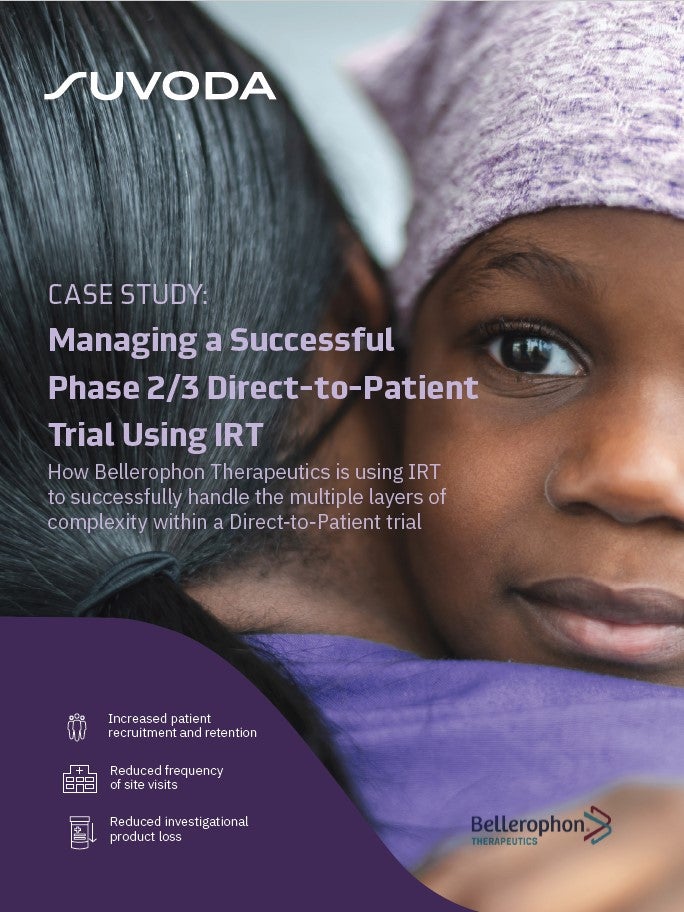 Direct-to-Patient Trials: How IRT Plays an Important Role in Bellerophon's Direct-to-Patient Trials
As the industry strengthens its focus on patient centricity, Direct-to-Patient clinical trials have emerged as a popular trial design that have the potential to increase patient recruitment and retention. IRT plays a crucial role in the success of a Direct-to-Patient trial. Because drug supplies are being managed and shipped from distribution facilities directly to patients' homes, a sponsor must have a high-quality system in place to accurately track the chain of custody, ensure patient-blinding and handle other logistical challenges. What You Will Learn Benefits and challenges associated with the Direct-to-Patient model Bellerophon's top considerations when implementing this trial design How IRT can equip study teams to successfully track chain of custody, ensure patient blinding, and handle logistical challenges
by Suvoda