Sirnaomics has reported that a cohort, which received a 180μg dose level of STP705 in the Phase II clinical trial, attained a 100% complete response (CR) to treat cutaneous basal cell carcinoma (BCC), a kind of nonmelanoma skin cancer (NMSC).
The open-label, dose-escalation trial is intended to assess the safety, tolerability and efficacy of varying dose levels of STP705 given as a localised injection in BCC patients.
According to the trial findings from five subjects who received the treatment in the 180μg dose cohort, enhanced or steady cosmetic results were reported.
In addition, the therapy had an exceptional safety profile without any adverse events as well as no substantial cutaneous skin reactions.
The trial will extend the number of participating cohorts to assess various doses of STP705.
The company plans to report the final data from the trial in the first quarter of next year.
A small interfering RNA (siRNA) therapy, STP705 comprises two siRNA oligonucleotides that act on the TGF-β1 and COX-2 messenger ribonucleic acid (mRNA) expression, respectively.
It has obtained investigational new drug application approvals from the US Food and Drug Administration and the Chinese National Medical Products Administration for treating NMSC, cholangiocarcinoma and hypertrophic scar.
At present, the product candidate is being analysed in seven trials for various indications such as squamous cell carcinoma in situ (isSCC), facial isSCC, BCC, keloid scarring, liver cancer (basket), hypertrophic scar, and for medical cosmetology therapy.
Sirnaomics founder, board chairman, executive director, president and CEO Dr Patrick Lu said: "The latest results from the Phase II clinical study of STP705 for BCC treatment, showing an incredible efficacy without any drug-related AEs and SAEs, further validated the broad potential of this drug candidate for treatment of non-melanoma skin cancers and beyond.
"Based on the successes of both BCC and isSCC clinical studies, Sirnaomics is spearheading the development of the novel polypeptide-based siRNA therapeutics for various types of cancers."
Earlier, the company dosed the first subject in the Phase I/II trial of STP705 for treating facial isSCC.
Cell & Gene Therapy coverage on Clinical Trials Arena is supported by Cytiva.
Editorial content is independently produced and follows the highest standards of journalistic integrity. Topic sponsors are not involved in the creation of editorial content.
Free Whitepaper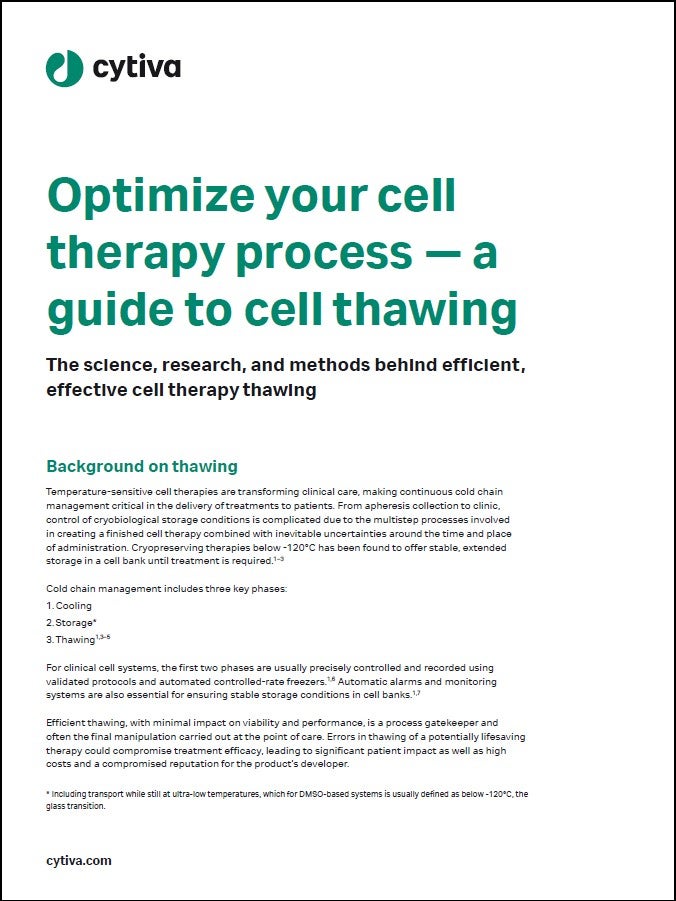 Optimise your cell therapy process: a guide to cell thawing
Typically carried out at the point of care, errors in cell therapy thawing could compromise treatment efficacy, leading to significant patient impact as well as high costs and a compromised reputation for the product's developer. This guide addresses how cell thawing has historically developed into the new techniques used today, along with the physical and biological implications of key metrics and components such as warming rate and ice structure. Also included are reviews of key studies from scientific literature and a consideration of the interactions between cooling and warming rates, as applicable to cell and gene therapies.
by Cytiva Thematic
By clicking the Download Free Whitepaper button, you accept the terms and conditions and acknowledge that your data will be used as described in the Cytiva Thematic privacy policy By downloading this Whitepaper, you acknowledge that we may share your information with our white paper partners/sponsors who may contact you directly with information on their products and services.

Visit our privacy policy for more information about our services, how we may use, process and share your personal data, including information on your rights in respect of your personal data and how you can unsubscribe from future marketing communications. Our services are intended for corporate subscribers and you warrant that the email address submitted is your corporate email address.