SiteOne Therapeutics has initiated dosing in Phase I study of its experimental intravenous, non-opioid analgesic, ST-2427, for managing moderate to severe pain.
Free Case Study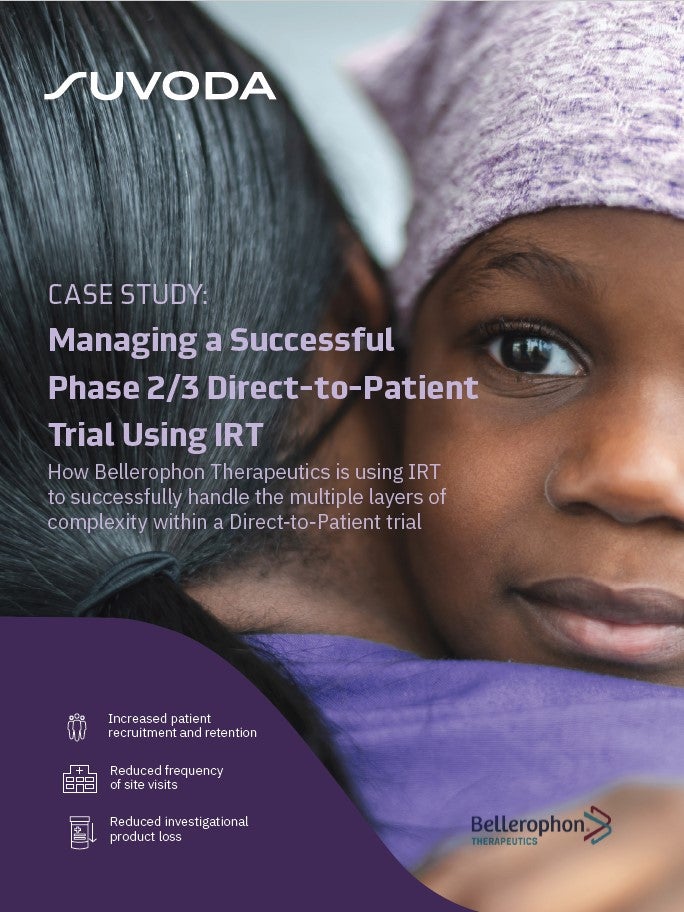 Direct-to-Patient Trials: How IRT Plays an Important Role in Bellerophon's Direct-to-Patient Trials
As the industry strengthens its focus on patient centricity, Direct-to-Patient clinical trials have emerged as a popular trial design that have the potential to increase patient recruitment and retention. IRT plays a crucial role in the success of a Direct-to-Patient trial. Because drug supplies are being managed and shipped from distribution facilities directly to patients' homes, a sponsor must have a high-quality system in place to accurately track the chain of custody, ensure patient-blinding and handle other logistical challenges. What You Will Learn Benefits and challenges associated with the Direct-to-Patient model Bellerophon's top considerations when implementing this trial design How IRT can equip study teams to successfully track chain of custody, ensure patient blinding, and handle logistical challenges
by Suvoda
ST-2427 is a highly selective inhibitor of sodium ion channel 1.7 (NaV1.7) that is highly expressed in peripheral nerve fibres. It is established as a target for pain treatment by human genetics.
People who lack this protein cannot experience pain, so by selectively targeting NaV1.7, ST-2427 can potentially prevent the electrical signals responsible for pain from reaching the central nervous system (CNS).
The randomised, double-blind, placebo-controlled, dose-escalation study will assess the safety, tolerability, and pharmacokinetics of ST-2427 in healthy adults.
The trial is currently enrolling participants at AltaSciences in Overland Park, Kansas, US. They will be randomly given a single dose of ST-2427 or placebo.
It will evaluate the effects of the treatment on vital signs, such as cardiac and respiratory function and body temperature over varying doses of ST-2427.
The safety, tolerability and pharmacokinetics data will be used to detect the doses and study design for Phase II studies in individuals with acute pain.
SiteOne Therapeutics CEO John Mulcahy said: "There is an urgent, unmet need to develop effective non-opioid therapies for pain.
"Our lead compound, ST-2427, addresses that need by targeting the peripheral nerve fibres that conduct pain signals without the potential for CNS side effects, addiction and abuse liability of opioid medications."
The company recently announced plans to expand its technology platform and clinical development works to include hypersensitivity disorders more broadly in both the peripheral and central nervous systems. Such disorders include chronic cough, neuropathic pain, ocular discomfort, and pruritus.
SiteOne Therapeutics chief development officer Debra Odink said: "SiteOne has discovered exquisitely selective modulators of multiple sodium channel subtypes, and we are now advancing development candidates for a number of indications, starting off by addressing acute pain."
Free Case Study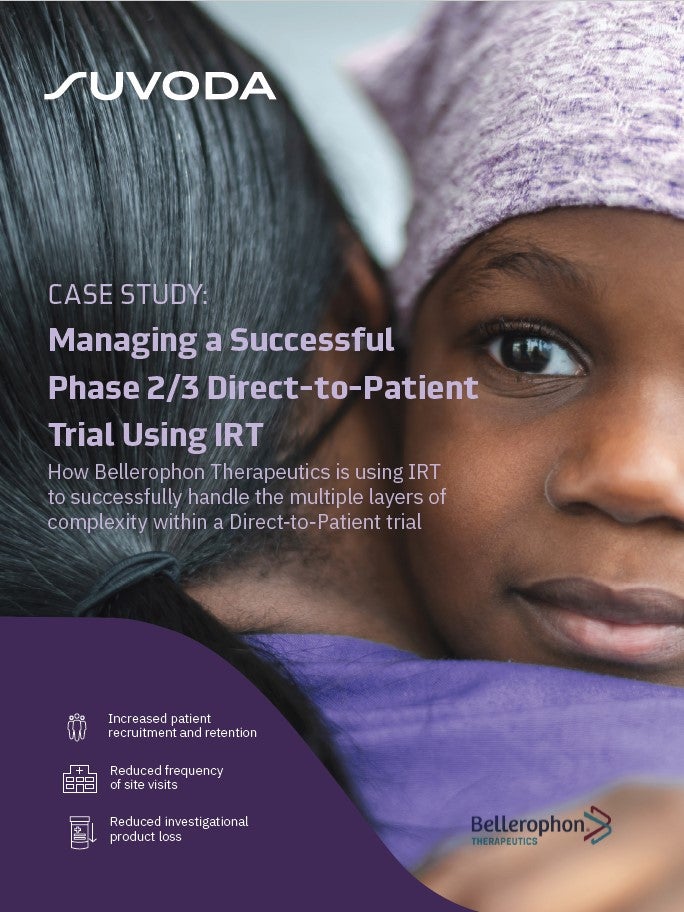 Direct-to-Patient Trials: How IRT Plays an Important Role in Bellerophon's Direct-to-Patient Trials
As the industry strengthens its focus on patient centricity, Direct-to-Patient clinical trials have emerged as a popular trial design that have the potential to increase patient recruitment and retention. IRT plays a crucial role in the success of a Direct-to-Patient trial. Because drug supplies are being managed and shipped from distribution facilities directly to patients' homes, a sponsor must have a high-quality system in place to accurately track the chain of custody, ensure patient-blinding and handle other logistical challenges. What You Will Learn Benefits and challenges associated with the Direct-to-Patient model Bellerophon's top considerations when implementing this trial design How IRT can equip study teams to successfully track chain of custody, ensure patient blinding, and handle logistical challenges
by Suvoda