Clinical-stage biopharmaceutical firm Sojournix has started a Phase II trial to evaluate the efficacy of SJX-653, a once-daily regimen for moderate to severe vasomotor symptoms (VMS), hot flashes, and night sweats associated with the menopause.
Free Case Study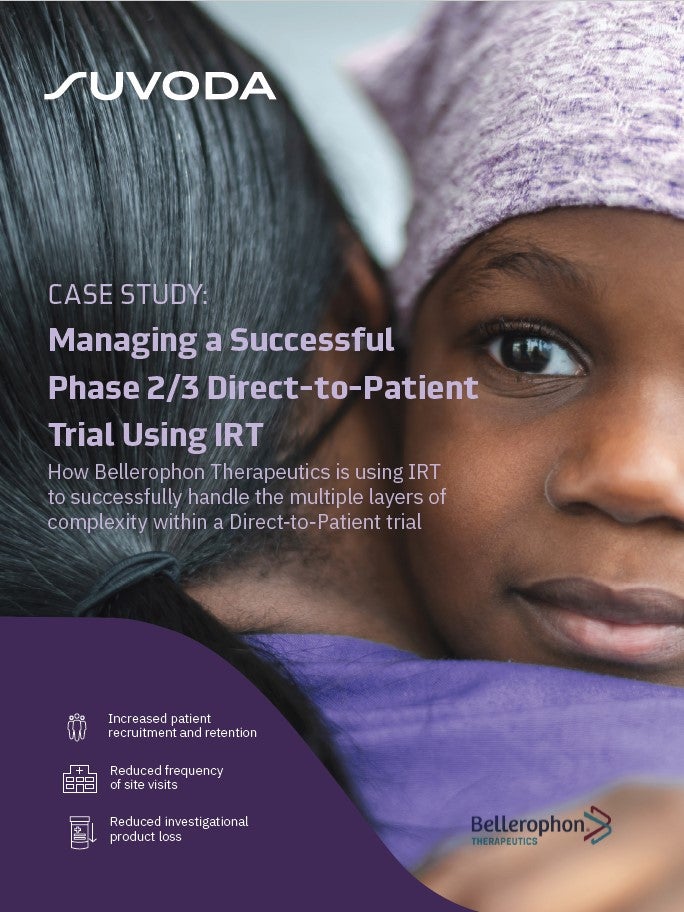 Direct-to-Patient Trials: How IRT Plays an Important Role in Bellerophon's Direct-to-Patient Trials
As the industry strengthens its focus on patient centricity, Direct-to-Patient clinical trials have emerged as a popular trial design that have the potential to increase patient recruitment and retention. IRT plays a crucial role in the success of a Direct-to-Patient trial. Because drug supplies are being managed and shipped from distribution facilities directly to patients' homes, a sponsor must have a high-quality system in place to accurately track the chain of custody, ensure patient-blinding and handle other logistical challenges. What You Will Learn Benefits and challenges associated with the Direct-to-Patient model Bellerophon's top considerations when implementing this trial design How IRT can equip study teams to successfully track chain of custody, ensure patient blinding, and handle logistical challenges
by Suvoda
SJX-653 is a novel, potent, selective neurokinin 3 (NK3) antagonist in clinical development and is used as a non-hormonal treatment for VMS.
Sojournix chief medical officer Ruth Thieroff-Ekerdt said: "Though millions of women suffer from hot flashes, unfortunately, current therapies for VMS often leave women searching for better alternatives.
"Many women choose to avoid hormone therapy, and current non-hormonal options often provide unsatisfactory symptom relief. Women and their doctors need new non-hormonal treatment options with meaningful clinical efficacy, and SJX-653 aims to address this important unmet medical need."
The 12-week, multi-centered, randomised, double-blind, and placebo-controlled Phase II trial will evaluate SJX-653 in reducing the frequency and severity of VMS due to the menopause and also to improve measures of sleep in the patient.
Under the trial, selected subjects will be randomised to receive one of two doses of SJX-653 or placebo through oral administration each morning.
The trial is expected to enroll about 130 postmenopausal women experiencing moderate to severe VMS.
Sojournix CEO and president Daniel Grau said: "The progression of SJX-653 into this Phase II clinical trial represents a significant milestone in bringing SJX-653 to patients.
"NK3 antagonism is a well-validated mechanism of action, and we believe SJX-653 has the potential to become a new standard of care medicine for menopausal women seeking non-hormonal treatment options for VMS."
Free Case Study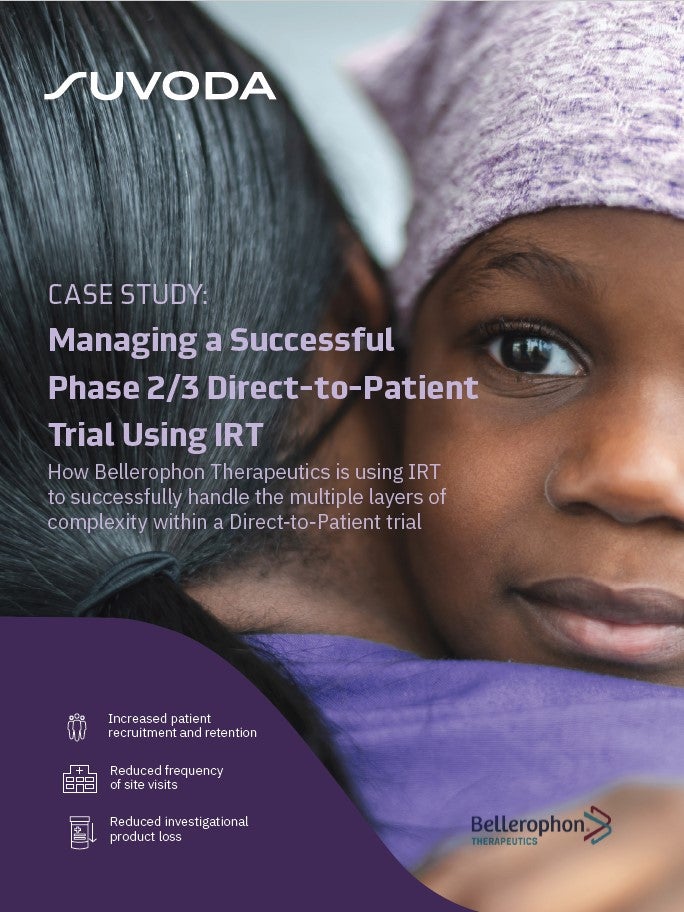 Direct-to-Patient Trials: How IRT Plays an Important Role in Bellerophon's Direct-to-Patient Trials
As the industry strengthens its focus on patient centricity, Direct-to-Patient clinical trials have emerged as a popular trial design that have the potential to increase patient recruitment and retention. IRT plays a crucial role in the success of a Direct-to-Patient trial. Because drug supplies are being managed and shipped from distribution facilities directly to patients' homes, a sponsor must have a high-quality system in place to accurately track the chain of custody, ensure patient-blinding and handle other logistical challenges. What You Will Learn Benefits and challenges associated with the Direct-to-Patient model Bellerophon's top considerations when implementing this trial design How IRT can equip study teams to successfully track chain of custody, ensure patient blinding, and handle logistical challenges
by Suvoda