The UK Medicines and Healthcare products Regulatory Agency (MHRA) has permitted Sorrento Therapeutics to commence a Phase II efficacy trial of its product candidate, COVI-DROPS, to treat Covid-19 in the outpatient setting.
Free Case Study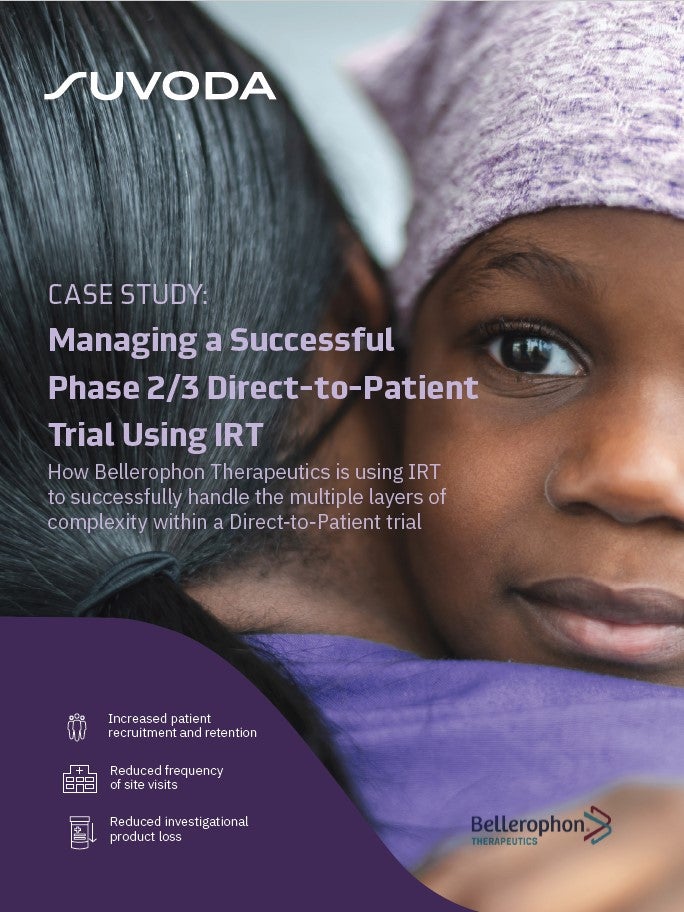 Direct-to-Patient Trials: How IRT Plays an Important Role in Bellerophon's Direct-to-Patient Trials
As the industry strengthens its focus on patient centricity, Direct-to-Patient clinical trials have emerged as a popular trial design that have the potential to increase patient recruitment and retention. IRT plays a crucial role in the success of a Direct-to-Patient trial. Because drug supplies are being managed and shipped from distribution facilities directly to patients' homes, a sponsor must have a high-quality system in place to accurately track the chain of custody, ensure patient-blinding and handle other logistical challenges. What You Will Learn Benefits and challenges associated with the Direct-to-Patient model Bellerophon's top considerations when implementing this trial design How IRT can equip study teams to successfully track chain of custody, ensure patient blinding, and handle logistical challenges
by Suvoda
Administered intranasally, COVI-DROPS contain a neutralising antibody that potentially works against the original SARS-CoV-2 virus and the UK/Alpha and India/Delta variants.
Sorrento submitted the Phase II trial application through a rolling submission approach and received MHRA clearance in under a month from its first filing with the regulatory agency.
The submission was backed by the safety data from a US study in healthy subjects, where the product candidate demonstrated a safety profile comparable to placebo with doses of up to 60mg.
Furthermore, no serious adverse effects or dose-limiting toxicities were noted in the study, with all adverse effects being mild.
The company noted that the maximum tolerated dose was not reached.
The large, randomised, double-blind, Phase II efficacy trial will enrol 350 asymptomatic or mildly symptomatic outpatients with Covid-19.
Participants will be categorised in a 2:2:1 ratio to receive either a 10mg or 20mg dose of the product or placebo.
Sorrento noted that the latest trial will support a Phase II study in the US and a separate trial in Mexico.
The Phase II efficacy trial results in the UK will be merged with the data from the US and Mexico studies.
If COVI-DROPS is found to be safe and effective against SARS-CoV-2, Sorrento plans to seek emergency use authorisation in the US, India, UK, Mexico, EU, and other regions.
In a separate development, the US Food and Drug Administration (FDA) has accepted the investigational new drug (IND) application of Vicore Pharma's lead candidate, C21, for treating Covid-19.
The active IND aids in commencing Phase III ATTRACT-3 trial of the angiotensin II type 2 receptor (AT2R) agonist at various centres in the US.
Free Case Study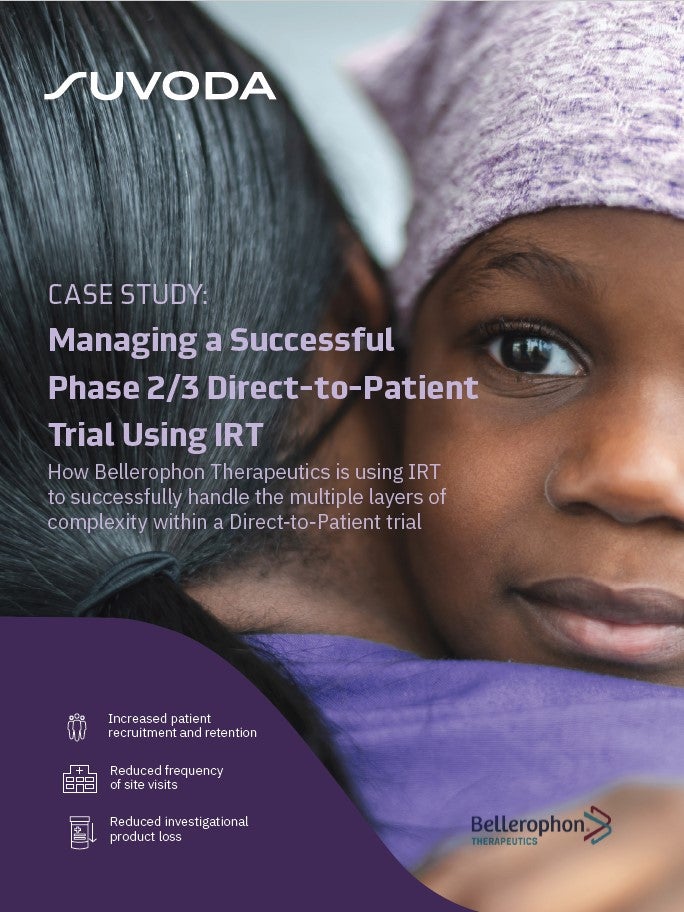 Direct-to-Patient Trials: How IRT Plays an Important Role in Bellerophon's Direct-to-Patient Trials
As the industry strengthens its focus on patient centricity, Direct-to-Patient clinical trials have emerged as a popular trial design that have the potential to increase patient recruitment and retention. IRT plays a crucial role in the success of a Direct-to-Patient trial. Because drug supplies are being managed and shipped from distribution facilities directly to patients' homes, a sponsor must have a high-quality system in place to accurately track the chain of custody, ensure patient-blinding and handle other logistical challenges. What You Will Learn Benefits and challenges associated with the Direct-to-Patient model Bellerophon's top considerations when implementing this trial design How IRT can equip study teams to successfully track chain of custody, ensure patient blinding, and handle logistical challenges
by Suvoda