Southern Oncology Specialists has signed an agreement with Deep Lens to use the latter's AI-based technology and other services for the expansion of its clinical trial offering to patients.
Free Case Study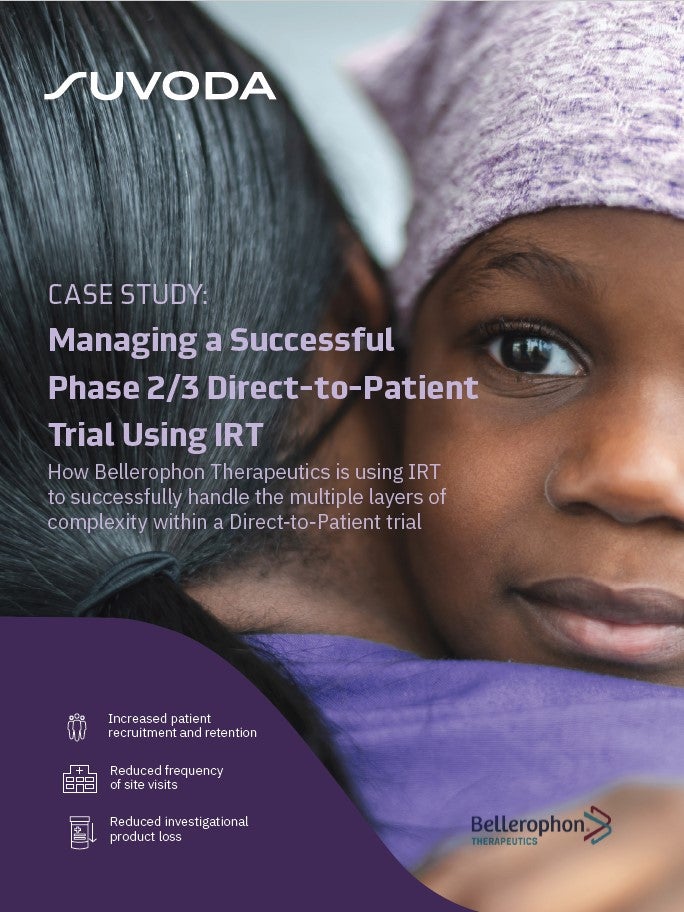 Direct-to-Patient Trials: How IRT Plays an Important Role in Bellerophon's Direct-to-Patient Trials
As the industry strengthens its focus on patient centricity, Direct-to-Patient clinical trials have emerged as a popular trial design that have the potential to increase patient recruitment and retention. IRT plays a crucial role in the success of a Direct-to-Patient trial. Because drug supplies are being managed and shipped from distribution facilities directly to patients' homes, a sponsor must have a high-quality system in place to accurately track the chain of custody, ensure patient-blinding and handle other logistical challenges. What You Will Learn Benefits and challenges associated with the Direct-to-Patient model Bellerophon's top considerations when implementing this trial design How IRT can equip study teams to successfully track chain of custody, ensure patient blinding, and handle logistical challenges
by Suvoda
Deep Lens' AI-based integrated Cloud platform VIPER will be used to automate the process of identifying potentially eligible participants during diagnosis and match them to relevant clinical trials thereafter.
In order to identify the best available clinical trials for the specific diagnosis of a participant, VIPER searches the customised matching engine.
It sends real-time notifications to the entire care team in the narrow enrolment window regarding the eligibility of a patient for available trials, through workflow integration.
VIPER will pre-screen all patients from EMR (OncoEMR) of Southern Oncology Specialists and then merge molecular data feeds from Foundation Medicine, Caris Life Sciences, Guardant Health and Tempus, and all pathology feeds for automatic detection of participants who are qualified for trials.
Deep Lens sales provider vice-president Tyrone Richardson said: "Most oncology clinical trials will fail because they cannot enrol enough patients.
"This is largely due to the increase in precision medicine trials, which frequently have complex eligibility criteria that can be challenging for a site to manage in the often very narrow window of time that is required.
"Deep Lens services are designed to minimise the labour demands of the practice and ensure patients are matched immediately to the right trials, right upon diagnosis."
Set to bring precision medical trials to Southern Oncology Specialists, the collaboration will also expand its existing research programme.
The comprehensive cancer practice provides oncology and haematology care throughout the Carolinas, the US.
Free Case Study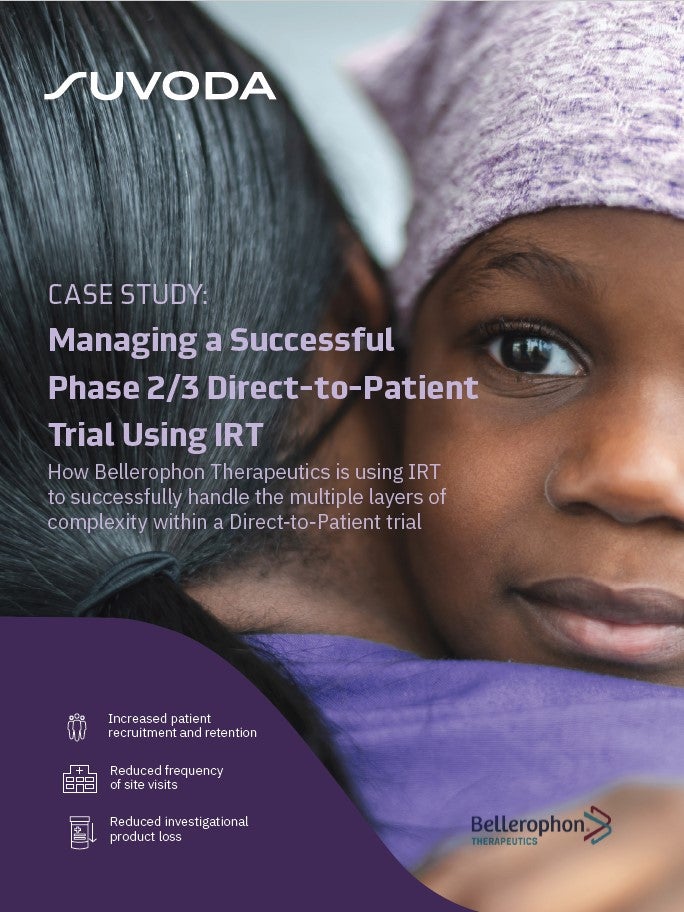 Direct-to-Patient Trials: How IRT Plays an Important Role in Bellerophon's Direct-to-Patient Trials
As the industry strengthens its focus on patient centricity, Direct-to-Patient clinical trials have emerged as a popular trial design that have the potential to increase patient recruitment and retention. IRT plays a crucial role in the success of a Direct-to-Patient trial. Because drug supplies are being managed and shipped from distribution facilities directly to patients' homes, a sponsor must have a high-quality system in place to accurately track the chain of custody, ensure patient-blinding and handle other logistical challenges. What You Will Learn Benefits and challenges associated with the Direct-to-Patient model Bellerophon's top considerations when implementing this trial design How IRT can equip study teams to successfully track chain of custody, ensure patient blinding, and handle logistical challenges
by Suvoda