Spectrum Pharmaceuticals has expanded its Phase ll clinical trial of poziotinib for non-small cell lung cancer (NSCLC) by adding two new cohorts of first-line NSCLC patients with EGFR or HER2 exon 20 insertion mutations.
Free Case Study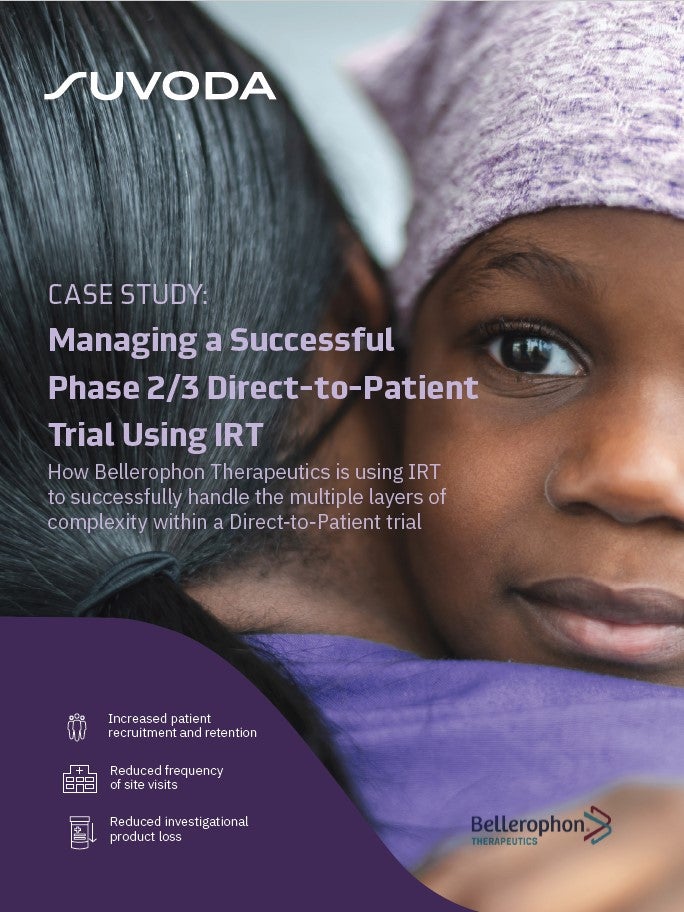 Direct-to-Patient Trials: How IRT Plays an Important Role in Bellerophon's Direct-to-Patient Trials
As the industry strengthens its focus on patient centricity, Direct-to-Patient clinical trials have emerged as a popular trial design that have the potential to increase patient recruitment and retention. IRT plays a crucial role in the success of a Direct-to-Patient trial. Because drug supplies are being managed and shipped from distribution facilities directly to patients' homes, a sponsor must have a high-quality system in place to accurately track the chain of custody, ensure patient-blinding and handle other logistical challenges. What You Will Learn Benefits and challenges associated with the Direct-to-Patient model Bellerophon's top considerations when implementing this trial design How IRT can equip study teams to successfully track chain of custody, ensure patient blinding, and handle logistical challenges
by Suvoda
The addition has brought the total number of cohorts in the study to four and is based on recommendation from the US Food and Drug Administration (FDA).
Spectrum has also dosed the first patient in the newly added patient cohort.
Each of the trial's cohorts will be studied independently with pre-specified statistical hypotheses and statistical power.
The poziotinib NSCLC clinical programme currently features a Phase ll pivotal, Spectrum-sponsored, multi-centre global study (ZENITH20), and a Phase ll investigator-initiated study at the University of Texas MD Anderson Cancer Center in the US.
The ZENITH20 trial is currently being conducted at various sites in the US and plans to include new sites in Canada and Europe in the future.
"Current available therapies for NSCLC patients with exon 20 insertion mutations have been shown to be minimally effective."
The trial's existing cohorts will enrol up to 87 patients each, while the two new first-line cohorts will include up to 70 patients each.
For each cohort, the primary goal is objective response rate, while the secondary endpoints are disease control rate, duration of response, safety and tolerability.
The exploratory endpoints comprise progression-free survival and quality of life.
UCLA Health Thoracic Oncology Clinical Trials director Jonathan Goldman said: "Current available therapies for NSCLC patients with exon 20 insertion mutations have been shown to be minimally effective.
"We do not have good options for these patients as we do in other settings with actionable mutations."
Poziotinib is a new, orally administered Epidermal Growth Factor Receptor Tyrosine Kinase Inhibitor (EGFR TKI) that is designed to inhibit the tyrosine kinase activity of EGFR (HER1), HER2 and HER4.
Free Case Study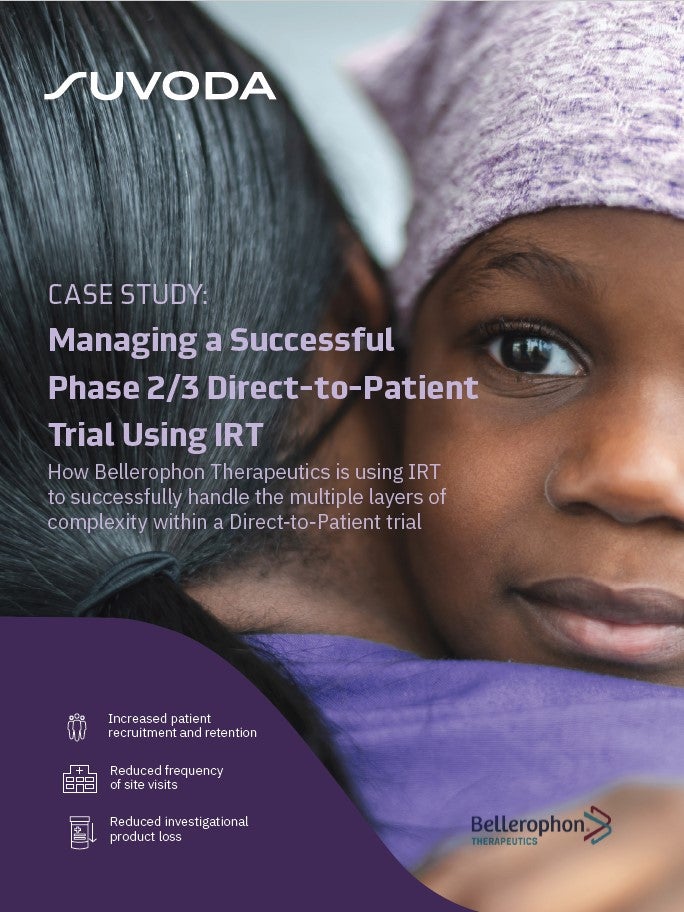 Direct-to-Patient Trials: How IRT Plays an Important Role in Bellerophon's Direct-to-Patient Trials
As the industry strengthens its focus on patient centricity, Direct-to-Patient clinical trials have emerged as a popular trial design that have the potential to increase patient recruitment and retention. IRT plays a crucial role in the success of a Direct-to-Patient trial. Because drug supplies are being managed and shipped from distribution facilities directly to patients' homes, a sponsor must have a high-quality system in place to accurately track the chain of custody, ensure patient-blinding and handle other logistical challenges. What You Will Learn Benefits and challenges associated with the Direct-to-Patient model Bellerophon's top considerations when implementing this trial design How IRT can equip study teams to successfully track chain of custody, ensure patient blinding, and handle logistical challenges
by Suvoda