Researchers at Stanford Medicine in the US are starting a clinical trial to evaluate oral favipiravir for reducing symptoms and viral shedding in people with Covid-19.
Free Case Study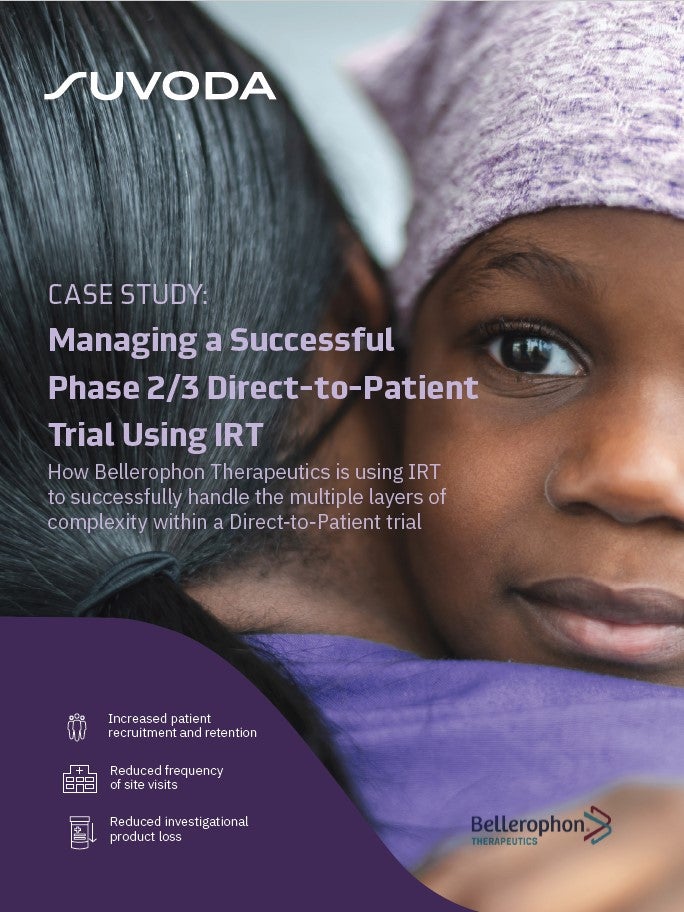 Direct-to-Patient Trials: How IRT Plays an Important Role in Bellerophon's Direct-to-Patient Trials
As the industry strengthens its focus on patient centricity, Direct-to-Patient clinical trials have emerged as a popular trial design that have the potential to increase patient recruitment and retention. IRT plays a crucial role in the success of a Direct-to-Patient trial. Because drug supplies are being managed and shipped from distribution facilities directly to patients' homes, a sponsor must have a high-quality system in place to accurately track the chain of custody, ensure patient-blinding and handle other logistical challenges. What You Will Learn Benefits and challenges associated with the Direct-to-Patient model Bellerophon's top considerations when implementing this trial design How IRT can equip study teams to successfully track chain of custody, ensure patient blinding, and handle logistical challenges
by Suvoda
Starting 6 July, the team will recruit 120 participants who have been recently diagnosed but not been hospitalised with the viral disease.
Favipiravir is originally approved in Japan to treat influenza. It is now expected to effectively mitigate the severity of symptoms and shorten the duration of Covid-19.
Stanford Medicine clinical professor Aruna Subramanian said: "We hope that this drug can help to reduce transmission within families, groups and school. Plus, it would be really nice to have pills that can be given early on to make people get better faster."
Yet to be approved by the US Food and Drug Administration (FDA), the drug is being assessed in others trials in the country. However, this double-blind, placebo-controlled trial is the first study to involve Covid-19 outpatients.
The drug has already secured approval for treating Covid-19 in Russia, China and India.
Stanford Medicine infectious disease clinical associate professor Marisa Holubar said: "These early-phase studies are important to inform larger clinical trials. We need to understand if favipiravir shortens the duration of viral shedding. It could be a key to protecting both ourselves and the broader community."
Previously, Stanford researchers were part of a clinical trial that assessed remdesivir and found the drug to be effective in treating Covid-19.
At a molecular level, favipiravir is known to act by inhibiting a viral enzyme that makes viral RNA, preventing the virus from replicating.
Researchers are recruiting participants who have been diagnosed with Covid-19 within the past 72 hours. Participant will be given a ten-day course of favipiravir or a placebo and will be monitored for health outcomes over 28 days.
Free Case Study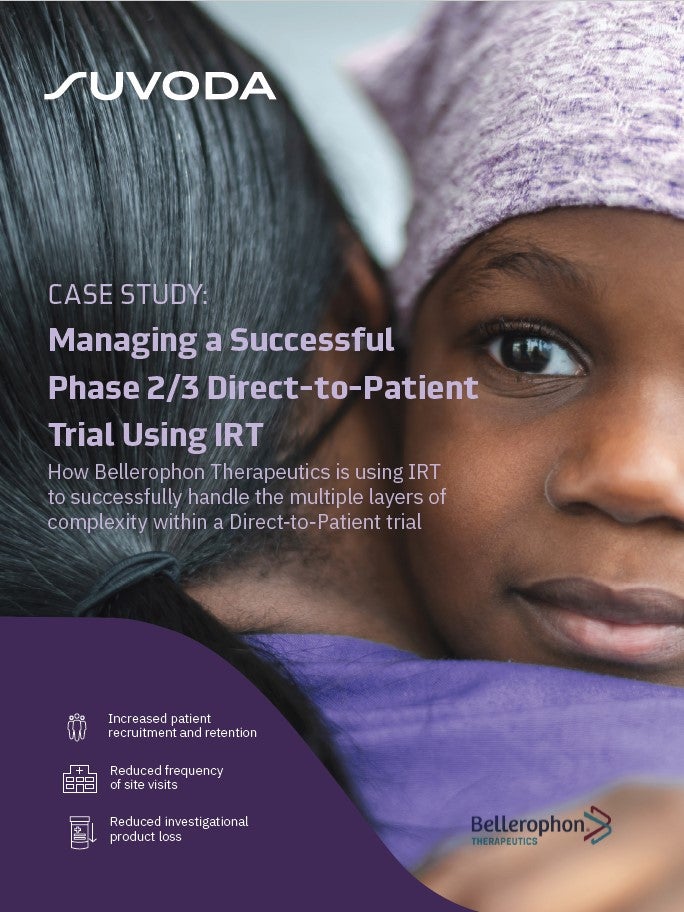 Direct-to-Patient Trials: How IRT Plays an Important Role in Bellerophon's Direct-to-Patient Trials
As the industry strengthens its focus on patient centricity, Direct-to-Patient clinical trials have emerged as a popular trial design that have the potential to increase patient recruitment and retention. IRT plays a crucial role in the success of a Direct-to-Patient trial. Because drug supplies are being managed and shipped from distribution facilities directly to patients' homes, a sponsor must have a high-quality system in place to accurately track the chain of custody, ensure patient-blinding and handle other logistical challenges. What You Will Learn Benefits and challenges associated with the Direct-to-Patient model Bellerophon's top considerations when implementing this trial design How IRT can equip study teams to successfully track chain of custody, ensure patient blinding, and handle logistical challenges
by Suvoda