UK-based charity commission Brain Tumour Charity has announced that the STELLAR trial, which will test the safety and efficacy of eflornithine, is now open for patients to enrol.
Free Case Study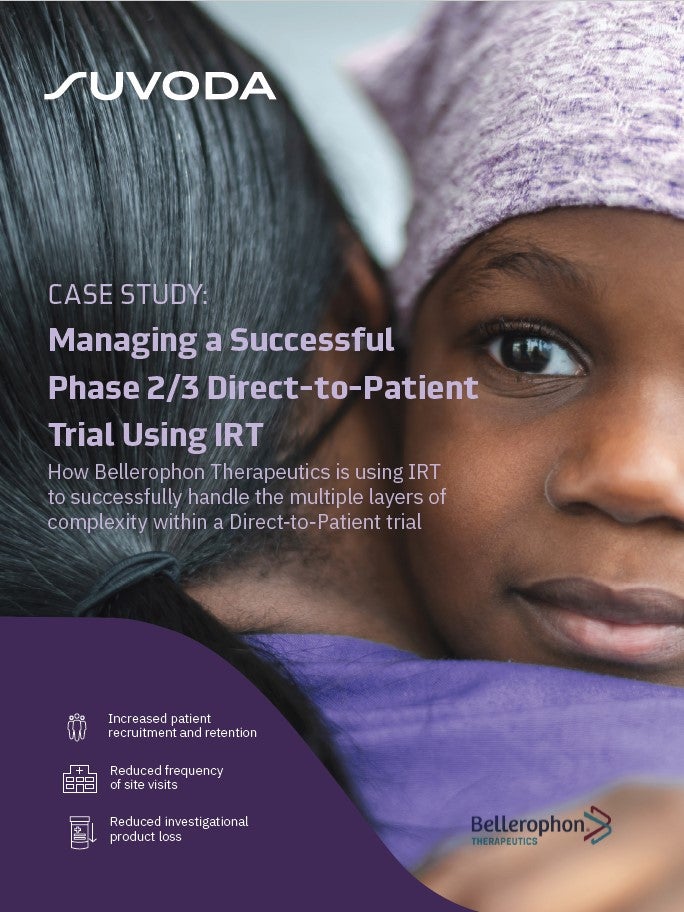 Direct-to-Patient Trials: How IRT Plays an Important Role in Bellerophon's Direct-to-Patient Trials
As the industry strengthens its focus on patient centricity, Direct-to-Patient clinical trials have emerged as a popular trial design that have the potential to increase patient recruitment and retention. IRT plays a crucial role in the success of a Direct-to-Patient trial. Because drug supplies are being managed and shipped from distribution facilities directly to patients' homes, a sponsor must have a high-quality system in place to accurately track the chain of custody, ensure patient-blinding and handle other logistical challenges. What You Will Learn Benefits and challenges associated with the Direct-to-Patient model Bellerophon's top considerations when implementing this trial design How IRT can equip study teams to successfully track chain of custody, ensure patient blinding, and handle logistical challenges
by Suvoda
Eflornithine is an oral regimen used to treat patients identified with recurring anaplastic astrocytoma.
The STELLAR trial is a Phase III clinical trial that aims to study oral eflornithine as a possible novel treatment for recurrent anaplastic astrocytoma.
Funded by Orbus Therapeutices, the trial is now open to eligible patients for enrolment across North America, Europe and selected sites in the UK.
The Brain Tumour Charity commission said in a statement: "Anaplastic astrocytoma brain tumours are most common in adults aged 30 to 50 years, although it can affect all ages if they recur after surgery, chemotherapy or radiotherapy there are currently few treatments available, something the STELLAR trial aims to investigate."
This Phase III clinical trial is designed to show if eflornithine can inhibit malignant tumour growth, including intracerebral high-grade gliomas.
Under this trial, eflornithine will be administered orally and will target a key enzyme called ornithine decarboxylase. This enzyme plays a major role in the growth of cancer cells in the brain.
In 2014, eflornithine received breakthrough therapy designation from the US Food and Drug Administration (FDA) for the treatment of patients with anaplastic glioma.
Free Case Study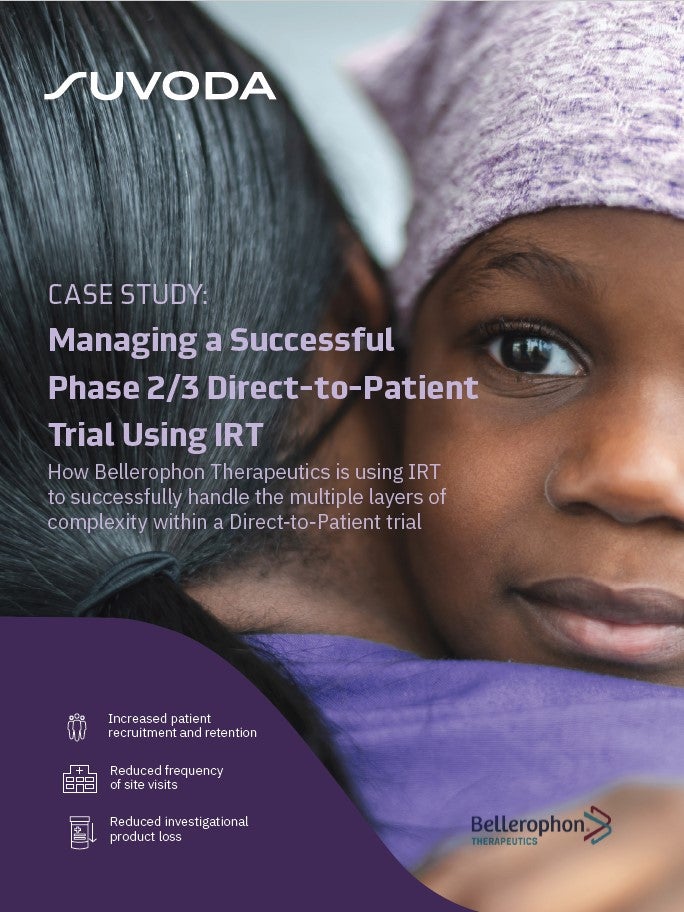 Direct-to-Patient Trials: How IRT Plays an Important Role in Bellerophon's Direct-to-Patient Trials
As the industry strengthens its focus on patient centricity, Direct-to-Patient clinical trials have emerged as a popular trial design that have the potential to increase patient recruitment and retention. IRT plays a crucial role in the success of a Direct-to-Patient trial. Because drug supplies are being managed and shipped from distribution facilities directly to patients' homes, a sponsor must have a high-quality system in place to accurately track the chain of custody, ensure patient-blinding and handle other logistical challenges. What You Will Learn Benefits and challenges associated with the Direct-to-Patient model Bellerophon's top considerations when implementing this trial design How IRT can equip study teams to successfully track chain of custody, ensure patient blinding, and handle logistical challenges
by Suvoda