Biotech company Stoke Therapeutics is set to commence dosing in the ongoing Phase I/IIa MONARCH trial of STK-001 in children and adolescents with Dravet syndrome.
Free Case Study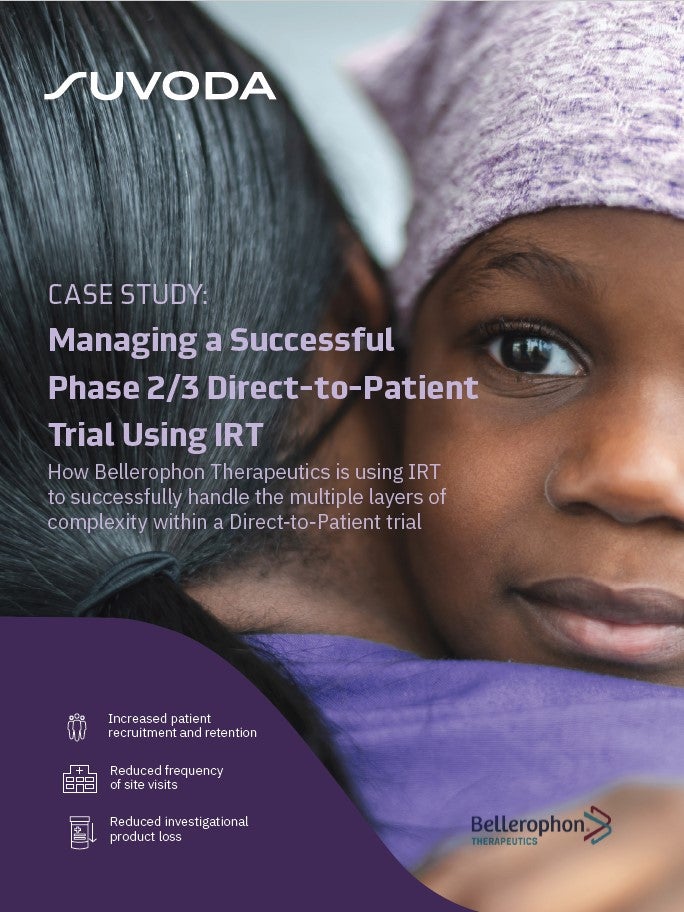 Direct-to-Patient Trials: How IRT Plays an Important Role in Bellerophon's Direct-to-Patient Trials
As the industry strengthens its focus on patient centricity, Direct-to-Patient clinical trials have emerged as a popular trial design that have the potential to increase patient recruitment and retention. IRT plays a crucial role in the success of a Direct-to-Patient trial. Because drug supplies are being managed and shipped from distribution facilities directly to patients' homes, a sponsor must have a high-quality system in place to accurately track the chain of custody, ensure patient-blinding and handle other logistical challenges. What You Will Learn Benefits and challenges associated with the Direct-to-Patient model Bellerophon's top considerations when implementing this trial design How IRT can equip study teams to successfully track chain of custody, ensure patient blinding, and handle logistical challenges
by Suvoda
Dravet syndrome is a progressive genetic epilepsy that causes frequent, prolonged and refractory seizures. STK-001, an antisense oligonucleotide (ASO), is expected to be the first disease-modifying treatment to target the disease's genetic cause.
The open-label MONARCH trial will be conducted in patients aged two to 18 with evidence of a pathogenic mutation in the SCN1A gene. As many as 48 patients across 20 sites in the US will be enrolled for the study.
The primary objectives will be the safety and tolerability of the drug candidate, and to analyse human pharmacokinetics.
Efficacy of STK-001 as an adjunctive antiepileptic treatment determined as the percentage change from baseline in convulsive seizure frequency over 12 weeks will be assessed as a secondary outcome.
Additional secondary endpoints include non-seizure aspects of the disease, such as quality of life.
In March this year, the US Food and Drug Administration (FDA) imposed a partial clinical hold on administration of doses above 30mg of STK-001 in the study. This clinical hold continues.
After discussions with the regulator, the company is set to add an additional higher dose level to the single ascending dose (SAD) part of the trial (previously Part A).
Currently, 10mg, 20mg and 30mg dose levels will be investigated in this part of the trial.
Stoke, on getting FDA approval, also plans to include a multiple ascending dose (MAD) portion to the study, replacing Part B.
This addition of MAD is backed by new preclinical repeat-dose toxicology data that was reviewed by the FDA. No adverse effects were noted in the non-human primate (NHP) repeat dose study.
Stroke will submit a protocol amendment to the FDA highlighting the new changes to the SAD and MAD portions.
Stoke Therapeutics CEO Edward Kaye said: "We appreciate the FDA's timely review of our additional data and look forward to evaluating a total of three individual dose levels in the single ascending dose portion of the study.
"In addition, we are encouraged by preclinical data that demonstrated the ability to safely achieve greater exposure levels with multiple doses of STK-001."
Early safety and pharmacokinetic results from the trial are expected to be reported next year.
Free Case Study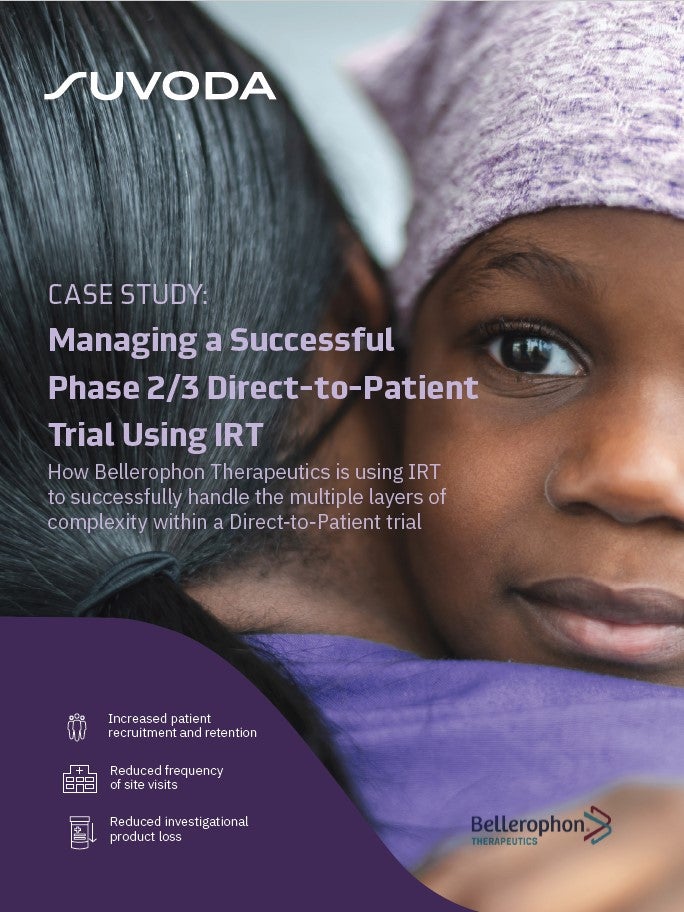 Direct-to-Patient Trials: How IRT Plays an Important Role in Bellerophon's Direct-to-Patient Trials
As the industry strengthens its focus on patient centricity, Direct-to-Patient clinical trials have emerged as a popular trial design that have the potential to increase patient recruitment and retention. IRT plays a crucial role in the success of a Direct-to-Patient trial. Because drug supplies are being managed and shipped from distribution facilities directly to patients' homes, a sponsor must have a high-quality system in place to accurately track the chain of custody, ensure patient-blinding and handle other logistical challenges. What You Will Learn Benefits and challenges associated with the Direct-to-Patient model Bellerophon's top considerations when implementing this trial design How IRT can equip study teams to successfully track chain of custody, ensure patient blinding, and handle logistical challenges
by Suvoda