Strides Pharma Science has obtained approval from the Drug Controller General of India (DCGI) to conduct trials of antiviral drug Favipiravir as a potential Covid-19 treatment in the country.
Free Case Study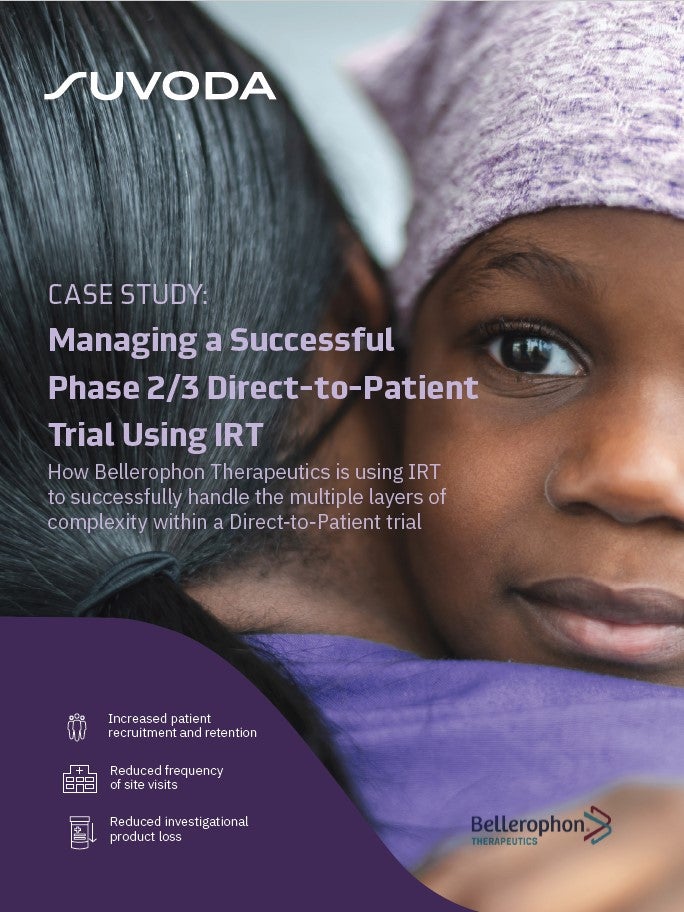 Direct-to-Patient Trials: How IRT Plays an Important Role in Bellerophon's Direct-to-Patient Trials
As the industry strengthens its focus on patient centricity, Direct-to-Patient clinical trials have emerged as a popular trial design that have the potential to increase patient recruitment and retention. IRT plays a crucial role in the success of a Direct-to-Patient trial. Because drug supplies are being managed and shipped from distribution facilities directly to patients' homes, a sponsor must have a high-quality system in place to accurately track the chain of custody, ensure patient-blinding and handle other logistical challenges. What You Will Learn Benefits and challenges associated with the Direct-to-Patient model Bellerophon's top considerations when implementing this trial design How IRT can equip study teams to successfully track chain of custody, ensure patient blinding, and handle logistical challenges
by Suvoda
The approval is for a bio-equivalence study, which is expected to launch soon.
Favipiravir is a generic version of Avigan, which was initially developed in Japan by Fujifilm to treat influenza. The drug is being currently studied in multiple trials for the treatment of patients infected with Covid-19.
Strides Pharma has been manufacturing and exporting the drug to Gulf countries to treat patients under a programme for Covid-19.
The company is producing Favipiravir at its facility in Bengaluru, which can manufacture up to six billion units of solid orals per year, according to Business Standard news agency.
Strides is the second Indian company to receive regulatory approval for studying Favipiravir in Covid-19 trials, following Glenmark Pharmaceuticals, which commenced Phase III trials earlier this month.
Glenmark developed the drug's API and formulations internally. If commercialised in India, the medicine will be available under the brand name 'FabiFlu'.
According to the approved study protocol, Glenmark's trial will enrol 150 patients with mild to moderate Covid-19. More than ten government and private hospitals in India are being recruited for the trial.
Furthermore, Russian scientists reported positive data for the drug in a multi-centre trial involving Covid-19 patients. ChemRar Group and The Russian Direct Investment Fund (RDIF) reported that 60% of 40 patients treated with the drug tested negative for coronavirus following five days of therapy.
The findings are said to be consistent with results from studies performed in China, which also showed a decrease in the disease duration from 11 days to four-five days.
Free Case Study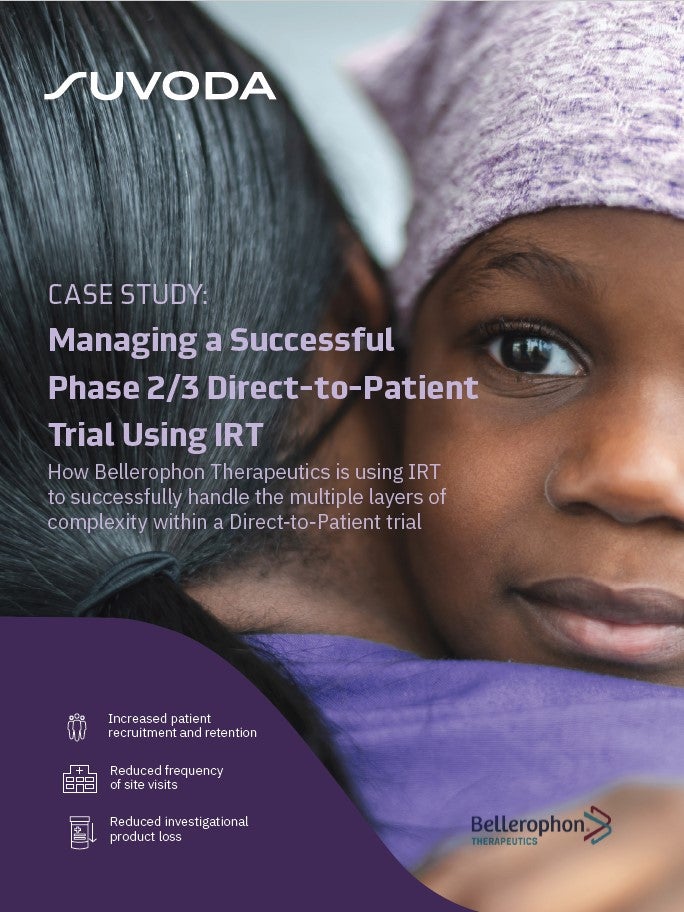 Direct-to-Patient Trials: How IRT Plays an Important Role in Bellerophon's Direct-to-Patient Trials
As the industry strengthens its focus on patient centricity, Direct-to-Patient clinical trials have emerged as a popular trial design that have the potential to increase patient recruitment and retention. IRT plays a crucial role in the success of a Direct-to-Patient trial. Because drug supplies are being managed and shipped from distribution facilities directly to patients' homes, a sponsor must have a high-quality system in place to accurately track the chain of custody, ensure patient-blinding and handle other logistical challenges. What You Will Learn Benefits and challenges associated with the Direct-to-Patient model Bellerophon's top considerations when implementing this trial design How IRT can equip study teams to successfully track chain of custody, ensure patient blinding, and handle logistical challenges
by Suvoda