Sun Pharmaceutical Industries has secured approval from the Drugs Controller General of India (DCGI) to conduct a clinical trial of pancreatitis drug, Nafamostat Mesilate, to treat Covid-19 patients in the country.
Free Case Study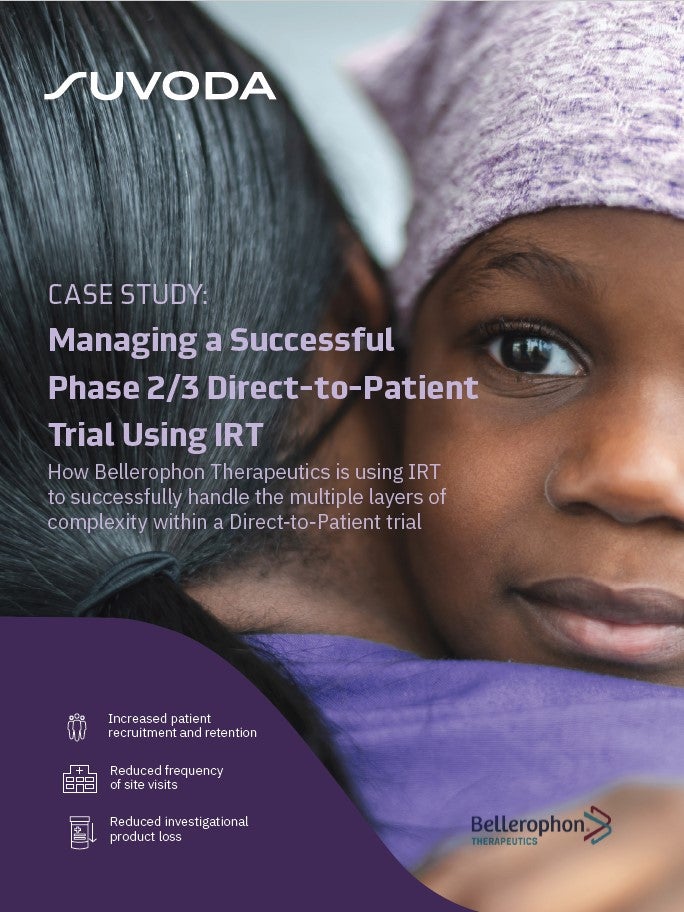 Direct-to-Patient Trials: How IRT Plays an Important Role in Bellerophon's Direct-to-Patient Trials
As the industry strengthens its focus on patient centricity, Direct-to-Patient clinical trials have emerged as a popular trial design that have the potential to increase patient recruitment and retention. IRT plays a crucial role in the success of a Direct-to-Patient trial. Because drug supplies are being managed and shipped from distribution facilities directly to patients' homes, a sponsor must have a high-quality system in place to accurately track the chain of custody, ensure patient-blinding and handle other logistical challenges. What You Will Learn Benefits and challenges associated with the Direct-to-Patient model Bellerophon's top considerations when implementing this trial design How IRT can equip study teams to successfully track chain of custody, ensure patient blinding, and handle logistical challenges
by Suvoda
The drug holds approval in Japan to improve acute symptoms of pancreatitis and treat Disseminated Intravascular Coagulation (DIC).
Researchers at the University of Tokyo, Japan and Leibniz Institute for Primate Research, Germany have identified Nafamostat as a potential Covid-19 treatment. This comes after very low concentrations of the drug suppressed TMPRSS2 protein required by the coronavirus for entry into human lung cells.
Researchers from South Korea compared antiviral efficacy of 24 drugs and Nafamostat against Covid-19 in-vitro in human lung epithelial derived cells.
During these Korean studies, Nafamostat was observed to be the most potent drug and showed ability to block virus entry at very low concentrations. The findings are consistent with those from Japan and German labs.
Three clinical trials of the drug are currently ongoing in Covid-19 patients.
The studies are being led by the University of Tokyo Hospital in Japan, Gyeongsang National University Hospital in South Korea, and a collaborative trial by University Hospital in Italy, University of Zurich in Switzerland, and Yokohoma City University in Japan.
Sun Pharma managing director Dilip Shanghvi said: "Sun Pharma is constantly evaluating potential targets that can be explored for treating Covid-19 patients.
"Nafamostat has shown promising data against SARS-CoV-2 virus in in-vitro studies conducted by three independent groups of scientists in Europe, Japan and South Korea. We believe it holds promise in the treatment of Covid-19 patients."
Sun Pharma intends to launch the clinical trials soon. The company has started manufacturing the API and the finished product of the drug in India using technology from its subsidiary, Pola Pharma Japan.
Free Case Study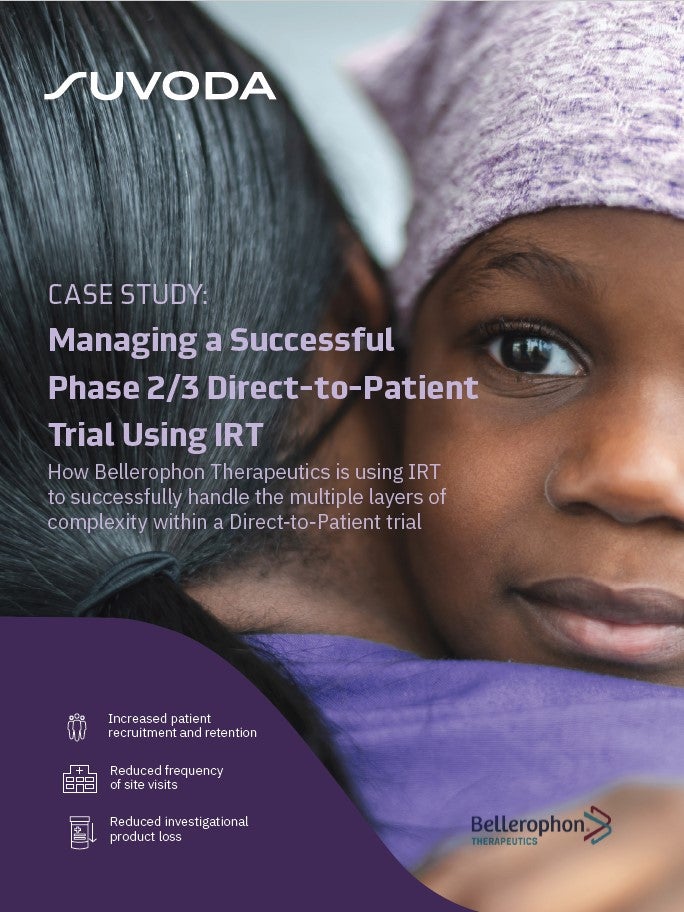 Direct-to-Patient Trials: How IRT Plays an Important Role in Bellerophon's Direct-to-Patient Trials
As the industry strengthens its focus on patient centricity, Direct-to-Patient clinical trials have emerged as a popular trial design that have the potential to increase patient recruitment and retention. IRT plays a crucial role in the success of a Direct-to-Patient trial. Because drug supplies are being managed and shipped from distribution facilities directly to patients' homes, a sponsor must have a high-quality system in place to accurately track the chain of custody, ensure patient-blinding and handle other logistical challenges. What You Will Learn Benefits and challenges associated with the Direct-to-Patient model Bellerophon's top considerations when implementing this trial design How IRT can equip study teams to successfully track chain of custody, ensure patient blinding, and handle logistical challenges
by Suvoda