India-based Sun Pharma Advanced Research (SPARC) has reported top-line results from two Phase III clinical trials of Baclofen GRS to treat spasticity in patients suffering from multiple sclerosis.
Free Case Study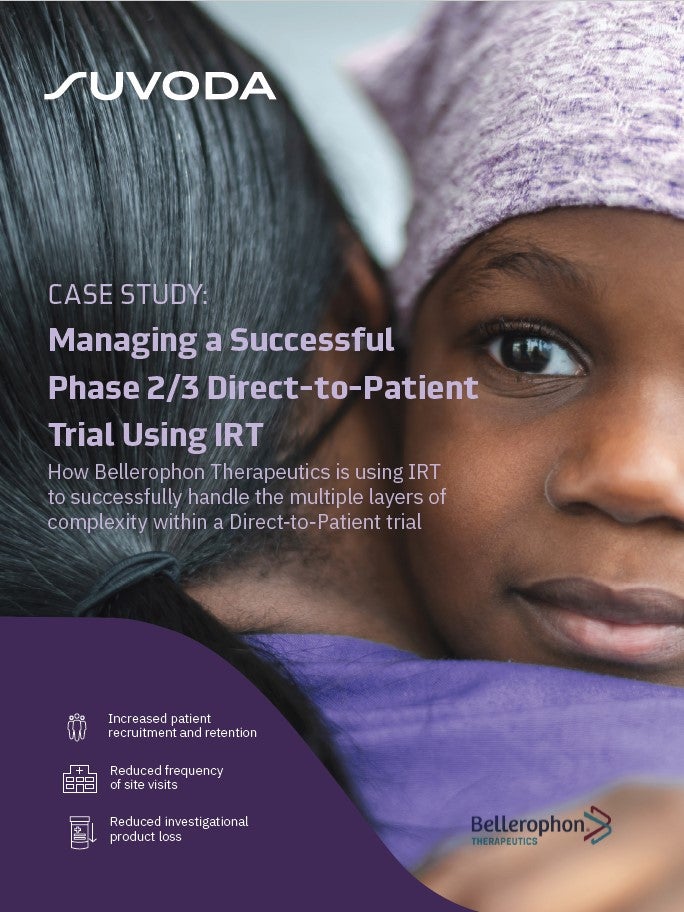 Direct-to-Patient Trials: How IRT Plays an Important Role in Bellerophon's Direct-to-Patient Trials
As the industry strengthens its focus on patient centricity, Direct-to-Patient clinical trials have emerged as a popular trial design that have the potential to increase patient recruitment and retention. IRT plays a crucial role in the success of a Direct-to-Patient trial. Because drug supplies are being managed and shipped from distribution facilities directly to patients' homes, a sponsor must have a high-quality system in place to accurately track the chain of custody, ensure patient-blinding and handle other logistical challenges. What You Will Learn Benefits and challenges associated with the Direct-to-Patient model Bellerophon's top considerations when implementing this trial design How IRT can equip study teams to successfully track chain of custody, ensure patient blinding, and handle logistical challenges
by Suvoda
Baclofen GRS is a new once-daily formulation developed using the firm's gastro-retentive system (GRS) technology, which combines size expansion, adhesion and flotation techniques to allow once-a-day administration.
The results from the CLR_09_21 and CLR_11_03 trials indicated that the drug candidate did not achieve statistical significance, even though a difference in treatment failure rates was observed when compared to placebo.
However, Baclofen GRS is reported to have demonstrated statistically significant secondary endpoint of severity score (SGIS), along with positive data for various other endpoints such as spasm frequency and night-time awakenings.
Sun Pharma Advanced Research CEO Anil Raghavan said: "We are disappointed with the outcomes of these studies and will evaluate the data in greater detail to decide on our next steps."
"We are disappointed with the outcomes of these studies and will evaluate the data in greater detail to decide on our next steps."
The placebo-controlled, randomised, discontinuation Phase III CLR_09_21 trial assessed the efficacy and safety of Baclofen GRS in a total of 293 patients.
The primary outcome of the trial was proportion of patients who experienced loss of efficacy after discontinuation of Baclofen GRS.
In an additional 135 subjects, the double-blind, randomised, placebo-controlled, parallel group CLR_09_21 trial investigated duration of action of 30mg and 60mg of Baclofen GRS.
During this trial, duration of effect was measured using the total modified Ashworth score over time.
SPARC is currently conducting an open-label extension study with participants from the efficacy and duration of action studies.
Free Case Study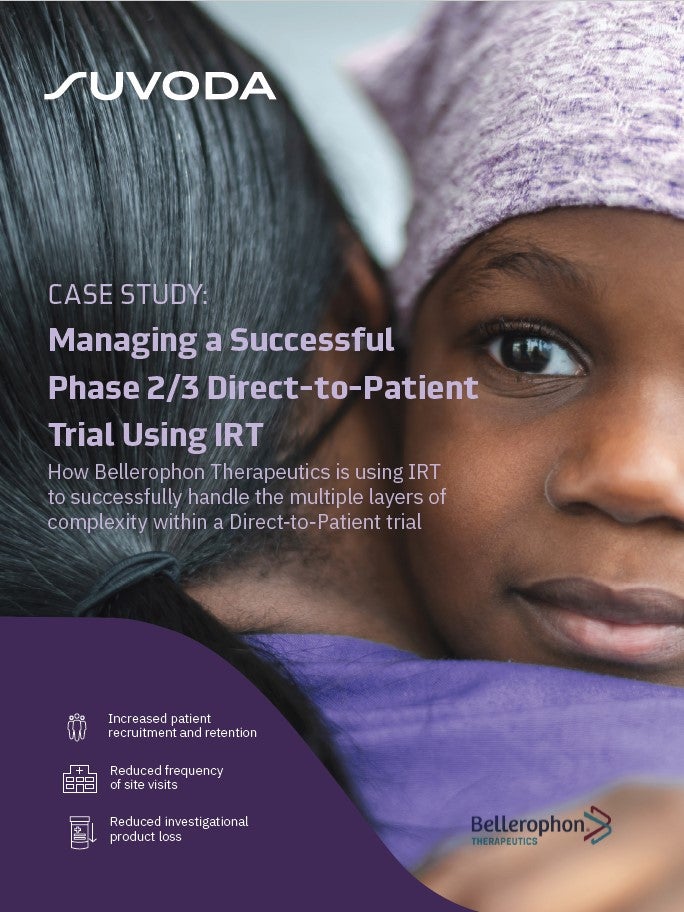 Direct-to-Patient Trials: How IRT Plays an Important Role in Bellerophon's Direct-to-Patient Trials
As the industry strengthens its focus on patient centricity, Direct-to-Patient clinical trials have emerged as a popular trial design that have the potential to increase patient recruitment and retention. IRT plays a crucial role in the success of a Direct-to-Patient trial. Because drug supplies are being managed and shipped from distribution facilities directly to patients' homes, a sponsor must have a high-quality system in place to accurately track the chain of custody, ensure patient-blinding and handle other logistical challenges. What You Will Learn Benefits and challenges associated with the Direct-to-Patient model Bellerophon's top considerations when implementing this trial design How IRT can equip study teams to successfully track chain of custody, ensure patient blinding, and handle logistical challenges
by Suvoda