UK-based respiratory drug discovery and development firm Synairgen has confirmed the launch of a home-based clinical trial of its inhaled interferon-beta-1a in patients with coronavirus (Covid-19).
Free Case Study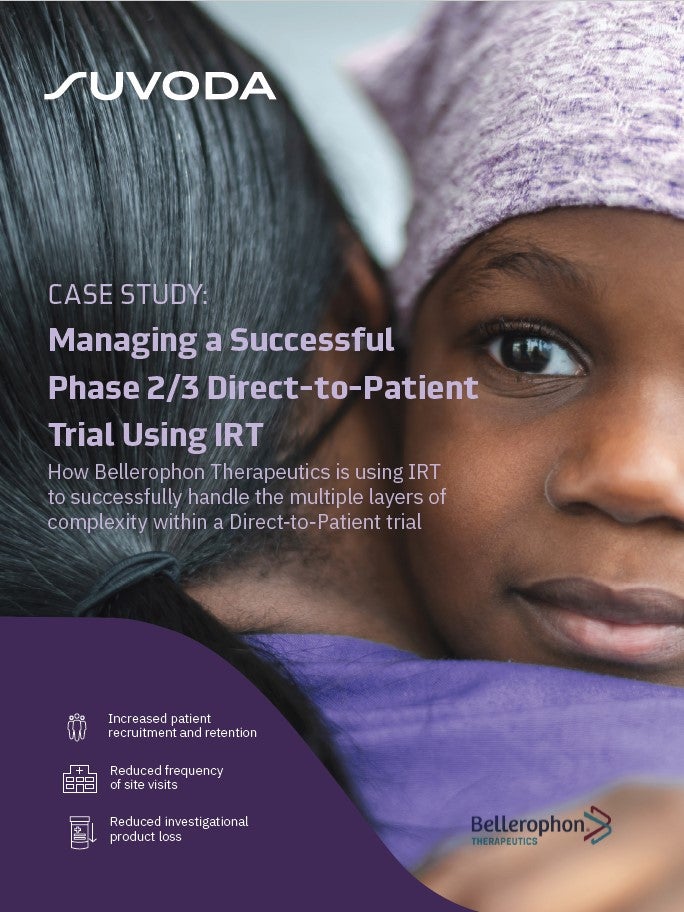 Direct-to-Patient Trials: How IRT Plays an Important Role in Bellerophon's Direct-to-Patient Trials
As the industry strengthens its focus on patient centricity, Direct-to-Patient clinical trials have emerged as a popular trial design that have the potential to increase patient recruitment and retention. IRT plays a crucial role in the success of a Direct-to-Patient trial. Because drug supplies are being managed and shipped from distribution facilities directly to patients' homes, a sponsor must have a high-quality system in place to accurately track the chain of custody, ensure patient-blinding and handle other logistical challenges. What You Will Learn Benefits and challenges associated with the Direct-to-Patient model Bellerophon's top considerations when implementing this trial design How IRT can equip study teams to successfully track chain of custody, ensure patient blinding, and handle logistical challenges
by Suvoda
The new trial is an expansion of the original hospital-based SG016 study. An extra 120 people will receive Synairgen's SNG001 medication at their homes as part of this study.
Synairgen noted that the launch of the expansion phase follows the receipt of 'necessary approvals'.
SNG001 is an inhaled formulation of interferon-beta-1a, a natural protein associated with the body's antiviral responses.
Coronaviruses supress endogenous IFN-beta production to help the virus affect the innate immune system.
Synairgen CEO Richard Marsden said: "We are really pleased to be able to expand the SG016 trial to patients in the home environment, which enables us to test the drug much earlier in the course of the illness.
"If successful, we would hope to protect the lungs and prevent the development of the severe lower respiratory tract illness, which puts the healthcare system under such strain. We have also been pleased with the progress of the SG016 trial in the hospital environment, having dosed 98 of 100 patients, and look forward to announcing top line data in July."
Synairgen's Phase II trial in coronavirus (Covid-19) patients is a double-blind, placebo-controlled study.
University of Southampton professor and trial chief investigator Tom Wilkinson said: "Expansion of the SG016 placebo controlled trial where we will be treating patients at the first sign of Covid-19 symptoms is something of a first and reflects the ingenuity and expertise of Synairgen and our researchers here at the University of Southampton.
"This novel approach is designed to reduce infection risks for both patients and front-line workers. Critically, it also allows us to gather clinical evidence for SNG001 more quickly, a treatment we believe could play a crucial role in tackling the Covid-19 pandemic."
In March this year, Synairgen obtained the country's the Medicines and Healthcare products Regulatory Agency (MHRA) and Health Research Authority (HRA) approval to trial SNG001 in Covid-19 patients.
In February 2018, Synairgen dosed the first patient in a Phase II trial of inhaled SNG001 for the treatment of patients with chronic obstructive pulmonary disease (COPD).
Free Case Study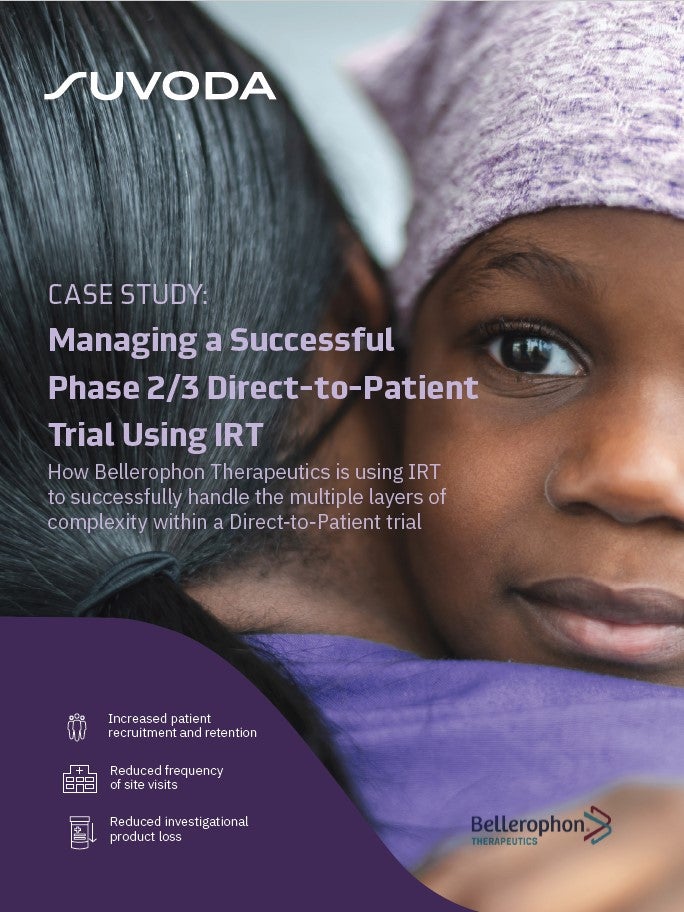 Direct-to-Patient Trials: How IRT Plays an Important Role in Bellerophon's Direct-to-Patient Trials
As the industry strengthens its focus on patient centricity, Direct-to-Patient clinical trials have emerged as a popular trial design that have the potential to increase patient recruitment and retention. IRT plays a crucial role in the success of a Direct-to-Patient trial. Because drug supplies are being managed and shipped from distribution facilities directly to patients' homes, a sponsor must have a high-quality system in place to accurately track the chain of custody, ensure patient-blinding and handle other logistical challenges. What You Will Learn Benefits and challenges associated with the Direct-to-Patient model Bellerophon's top considerations when implementing this trial design How IRT can equip study teams to successfully track chain of custody, ensure patient blinding, and handle logistical challenges
by Suvoda