Synairgen has temporarily halted the ACTIV-2 Phase III clinical trial of its therapy SNG001 for Covid-19.
Free Case Study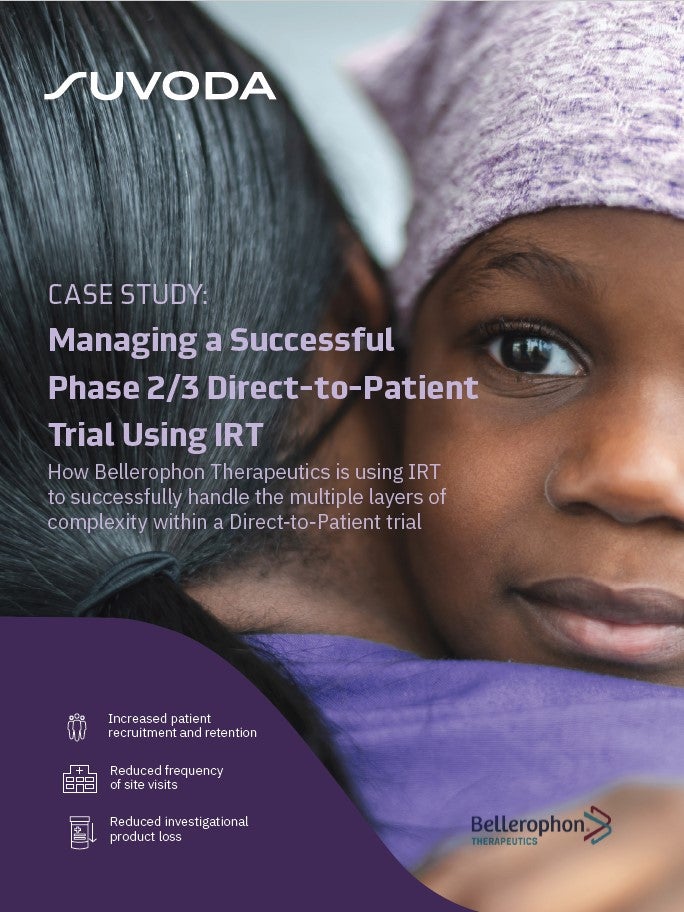 Direct-to-Patient Trials: How IRT Plays an Important Role in Bellerophon's Direct-to-Patient Trials
As the industry strengthens its focus on patient centricity, Direct-to-Patient clinical trials have emerged as a popular trial design that have the potential to increase patient recruitment and retention. IRT plays a crucial role in the success of a Direct-to-Patient trial. Because drug supplies are being managed and shipped from distribution facilities directly to patients' homes, a sponsor must have a high-quality system in place to accurately track the chain of custody, ensure patient-blinding and handle other logistical challenges. What You Will Learn Benefits and challenges associated with the Direct-to-Patient model Bellerophon's top considerations when implementing this trial design How IRT can equip study teams to successfully track chain of custody, ensure patient blinding, and handle logistical challenges
by Suvoda
The latest move comes after the requirement to modify the trial design due to the emergence of the SARS-CoV-2 virus' Omicron variant.
Furthermore, the team of the US National Institutes of Health (NIH) ACTIV-2 trial asked the company to provisionally halt activities to ready clinical supplies for ACTIV-2 Phase III until the timeline for the activation of SNG001 in the study is clarified.
Synairgen is awaiting results from the Phase II part of the US NIH ACTIV-2 trial conducted on Covid-19 patients in the at-home setting. The data is anticipated in the middle of this year.
An inhaled formulation, SNG001 contains the broad-spectrum antiviral protein interferon beta.
According to data from in vitro studies carried out at Viroclinics-DDL in the Netherlands, SNG001 demonstrated to possess potent antiviral activity against Delta and Omicron viral variants at doses that are easily achievable after inhaled administration of interferon-beta.
As reported in February this year, the company is assessing the top-line as well full dataset from the Phase III SPRINTER clinical trial to attain a better understanding of the results.
Synairgen will report the findings of this assessment soon in compliance with regulatory requirements.
The SPRINTER trial showed a favourable trend in preventing progression to severe disease and morality with a 36% decline in the pre-defined per-protocol population.
Synairgen and its clinical advisors believe that the data warrants additional analysis in a platform trial, which the company is currently studying.
Synairgen reported in February this year that the international Phase III trial of SNG001 in Covid-19 patients admitted to the hospital failed to meet the primary or secondary efficacy endpoints.
Free Case Study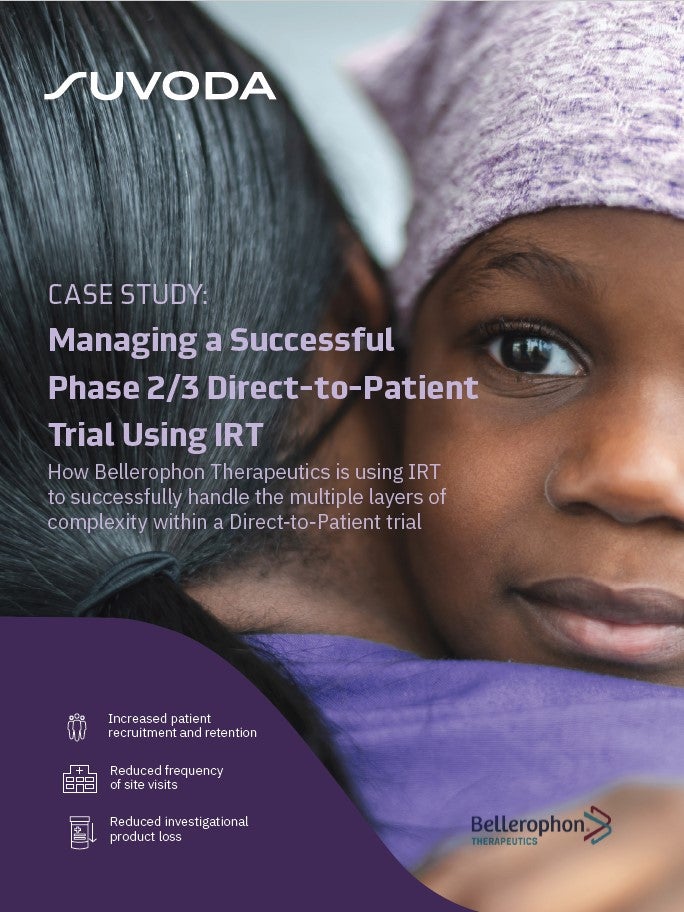 Direct-to-Patient Trials: How IRT Plays an Important Role in Bellerophon's Direct-to-Patient Trials
As the industry strengthens its focus on patient centricity, Direct-to-Patient clinical trials have emerged as a popular trial design that have the potential to increase patient recruitment and retention. IRT plays a crucial role in the success of a Direct-to-Patient trial. Because drug supplies are being managed and shipped from distribution facilities directly to patients' homes, a sponsor must have a high-quality system in place to accurately track the chain of custody, ensure patient-blinding and handle other logistical challenges. What You Will Learn Benefits and challenges associated with the Direct-to-Patient model Bellerophon's top considerations when implementing this trial design How IRT can equip study teams to successfully track chain of custody, ensure patient blinding, and handle logistical challenges
by Suvoda