Synthetic Biologics has initiated enrolment and dosed eight subjects in a Phase I clinical trial of SYN-020 intestinal alkaline phosphatase (IAP) to potentially prevent and treat gastrointestinal (GI) diseases.
Free Case Study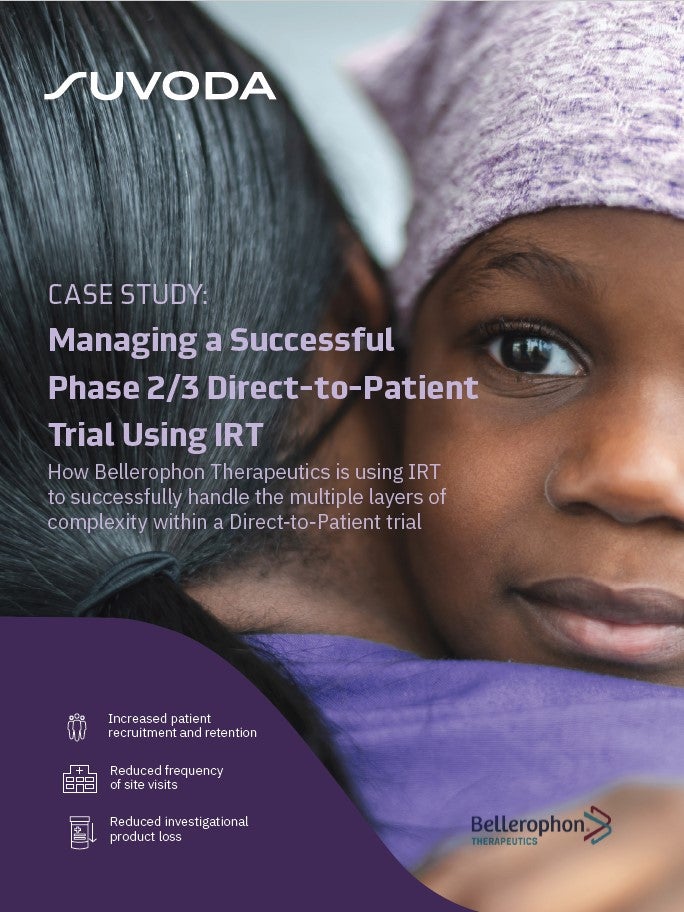 Direct-to-Patient Trials: How IRT Plays an Important Role in Bellerophon's Direct-to-Patient Trials
As the industry strengthens its focus on patient centricity, Direct-to-Patient clinical trials have emerged as a popular trial design that have the potential to increase patient recruitment and retention. IRT plays a crucial role in the success of a Direct-to-Patient trial. Because drug supplies are being managed and shipped from distribution facilities directly to patients' homes, a sponsor must have a high-quality system in place to accurately track the chain of custody, ensure patient-blinding and handle other logistical challenges. What You Will Learn Benefits and challenges associated with the Direct-to-Patient model Bellerophon's top considerations when implementing this trial design How IRT can equip study teams to successfully track chain of custody, ensure patient blinding, and handle logistical challenges
by Suvoda
Formulated for oral delivery to the small intestine, SYN-020 is a recombinant bovine IAP.
The ongoing, placebo-controlled, multiple-ascending dose (MAD) Phase I trial will assess the safety, tolerability and biodistribution of repeated doses of SYN-020 in up to 32 healthy adult subjects.
They will be categorised into four sequential arms of eight each to receive either oral twice-daily 5mg, 15mg, 45mg or 75mg doses of SYN-020 for 14 days.
Synthetic will conduct a safety analysis, on concluding each arm, to assess if advancing to higher doses is feasible.
Topline results from the trial are expected in the second quarter of next year.
A Phase I single-ascending dose (SAD) clinical trial of SYN-020 that enrolled 24 healthy adult subjects concluded recently.
These participants were categorised into four arms to receive single oral doses of SYN-020 ranging from 5mg to 150mg.
Initial data analyses showed that SYN-020 had a favourable safety profile and was well-tolerated at all tested doses in the trial.
Furthermore, no adverse events and serious adverse events linked to the treatment were reported.
Synthetic Biologics CEO and chief financial officer Steven Shallcross said: "We are excited to announce the initiation of the Phase I multiple-ascending dose clinical study, which is an important milestone in furthering the clinical development of SYN-020 for multiple potential indications.
"SYN-020 is a promising, versatile programme that we believe has enormous potential to help address a considerable need for innovative new therapies targeting disorders that stem from immune and inflammatory damage to the intestine, including celiac disease, non-alcoholic fatty liver disease (NAFLD), age-related metabolic and inflammatory diseases, and radiation enteropathy."
Free Case Study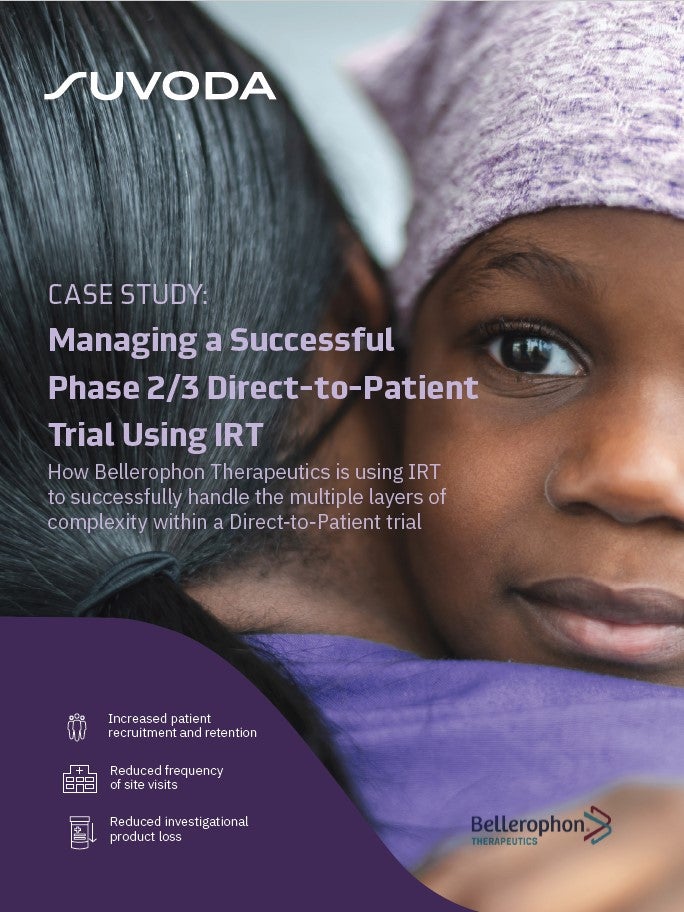 Direct-to-Patient Trials: How IRT Plays an Important Role in Bellerophon's Direct-to-Patient Trials
As the industry strengthens its focus on patient centricity, Direct-to-Patient clinical trials have emerged as a popular trial design that have the potential to increase patient recruitment and retention. IRT plays a crucial role in the success of a Direct-to-Patient trial. Because drug supplies are being managed and shipped from distribution facilities directly to patients' homes, a sponsor must have a high-quality system in place to accurately track the chain of custody, ensure patient-blinding and handle other logistical challenges. What You Will Learn Benefits and challenges associated with the Direct-to-Patient model Bellerophon's top considerations when implementing this trial design How IRT can equip study teams to successfully track chain of custody, ensure patient blinding, and handle logistical challenges
by Suvoda