TC Biopharm is set to begin the Phase IIb/III clinical trial of gamma-delta T cell therapy, OmnImmune, to treat acute myeloid leukaemia (AML).
The move comes after the UK Medicines and Healthcare products Regulatory Agency (MHRA) and Research Ethics Committee have granted approvals to commence the trials.
Subject enrolment in the trial is anticipated to begin in the first half of this year in the UK and will be subsequently extended to the US.
An allogeneic unmodified cell therapy, OmnImmune comprises activated and extended gamma delta T cells.
The therapy previously obtained orphan drug designation from the US Food and Drug Administration to treat blood and bone marrow cancer patients.
TC BioPharm CEO Bryan Kobel said: "We are extremely pleased to receive MHRA and Research Ethics approvals, which marks the final step in our protocol submission and commencing through the clinical trial process of our proprietary AML therapy.
"On the heels of announcing our Orphan Drug Designation from the FDA, we have now further demonstrated our ability to run parallel processes for clinical trials in both the US and UK/EU.
"The positive results demonstrated by OmnImmune in Phase Ib/IIa clinical trials are encouraging and bolsters our belief in its potential as an effective therapy for acute myeloid leukaemia."
Naturally occurring immune cells, the gamma-delta T cells, possess traits of the innate, as well as adaptive immune systems. They can distinguish healthy tissues from diseased tissues. 
To detect, act on and destroy liquid and solid tumours, TC BioPharm leverages an allogeneic approach in unmodified and CAR-modified gamma-delta T cells.
Currently, the company is carrying out an investigator-initiated Phase I trial of an unmodified gamma-delta T cell product, ImmuniStim, to treat Covid-19.
In April 2019, TC BioPharm started a Phase I trial of new allogeneic cell therapy, TCB002, to treat AML.
Cell & Gene Therapy coverage on Clinical Trials Arena is supported by Cytiva.
Editorial content is independently produced and follows the highest standards of journalistic integrity. Topic sponsors are not involved in the creation of editorial content.
Free Whitepaper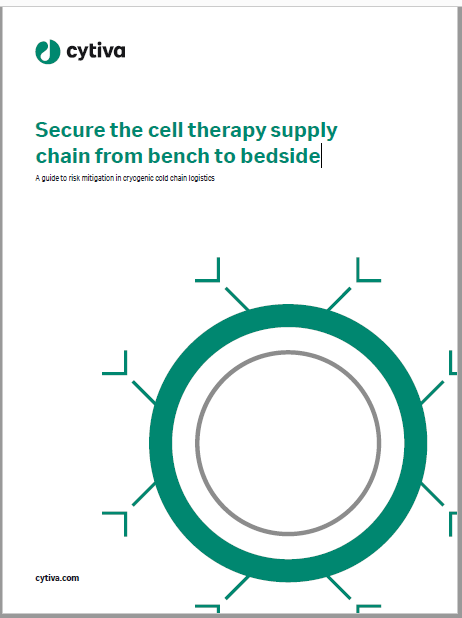 Secure the cell therapy supply chain from bench to bedside
The development of cell therapies is changing healthcare, delivering new hope to thousands of patients around the world. The vein-to-vein workflow for these therapies, however, is not without challenges, many of which will increase as we scale up to treat more patients. Download this free guide from Cytiva to learn more about the challenges and risks associated with the cryogenic supply chain for cell therapies, and how supply chain disruptions can best be mitigated.
by Cytiva Thematic
By clicking the Download Free Whitepaper button, you accept the terms and conditions and acknowledge that your data will be used as described in the Cytiva Thematic privacy policy By downloading this Whitepaper, you acknowledge that we may share your information with our white paper partners/sponsors who may contact you directly with information on their products and services.

Visit our privacy policy for more information about our services, how we may use, process and share your personal data, including information on your rights in respect of your personal data and how you can unsubscribe from future marketing communications. Our services are intended for corporate subscribers and you warrant that the email address submitted is your corporate email address.