Tizona Therapeutics has commenced the Phase Ib clinical trial of its lead experimental therapy, TTX-080, in patients with advanced refractory or resistant malignancies.
Free Case Study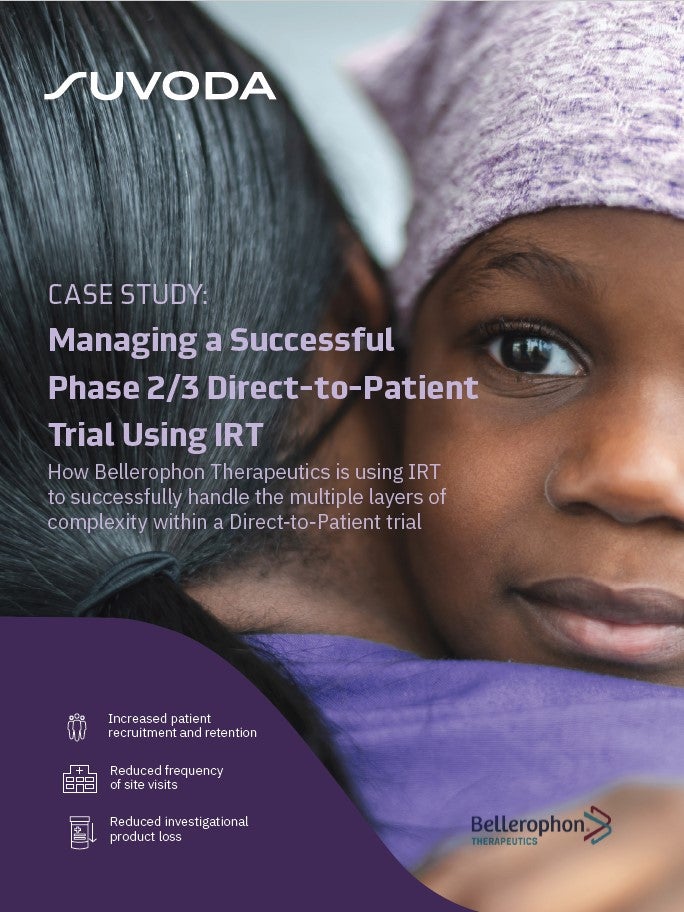 Direct-to-Patient Trials: How IRT Plays an Important Role in Bellerophon's Direct-to-Patient Trials
As the industry strengthens its focus on patient centricity, Direct-to-Patient clinical trials have emerged as a popular trial design that have the potential to increase patient recruitment and retention. IRT plays a crucial role in the success of a Direct-to-Patient trial. Because drug supplies are being managed and shipped from distribution facilities directly to patients' homes, a sponsor must have a high-quality system in place to accurately track the chain of custody, ensure patient-blinding and handle other logistical challenges. What You Will Learn Benefits and challenges associated with the Direct-to-Patient model Bellerophon's top considerations when implementing this trial design How IRT can equip study teams to successfully track chain of custody, ensure patient blinding, and handle logistical challenges
by Suvoda
TTX-080 is a new antibody that acts on human leukocyte antigen G (HLA-G), an immune checkpoint expressed across various kinds of tumours.
The investigational therapy hinders HLA-G interaction with its receptors to avert innate and adaptive immune activity suppression.
It also possesses the potential to boost anti-tumour responses, the company noted.
The Phase Ib dose-expansion trial will assess the safety and efficacy of TTX-080 as a single agent and along with either pembrolizumab or cetuximab in subjects with advanced refractory or resistant solid tumour malignancies.
Individuals with head and neck squamous cell carcinoma, colorectal cancer, non-small cell lung cancer and triple-negative breast cancer will be part of the trial.
Apart from assessing TTX-080's anti-tumour activity, the trial will continue to analyse the safety, pharmacokinetics and immunogenicity of the therapy.
Furthermore, exploratory pharmacodynamic and biomarker assessments will be carried out.
Tizona Therapeutics CEO Christine O'Brien said: "The initiation of the Phase I dose expansion study is an important milestone for the TTX-080 clinical development programme.
"As a novel checkpoint inhibitor, the TTX-080 program offers an opportunity to apply new understandings of immune regulation within the tumour microenvironment in solid tumour indications where patient outcomes remain a major unmet medical need."
The company started the Phase Ib expansion trial following the multicentre, open-label, dose-escalation Phase Ia trial investigating the safety and tolerability of TTX-080 as a single agent.
The Phase Ia trial has concluded subject enrolment and selected a recommended dose of TTX-080 monotherapy for the Phase II trial.
Free Case Study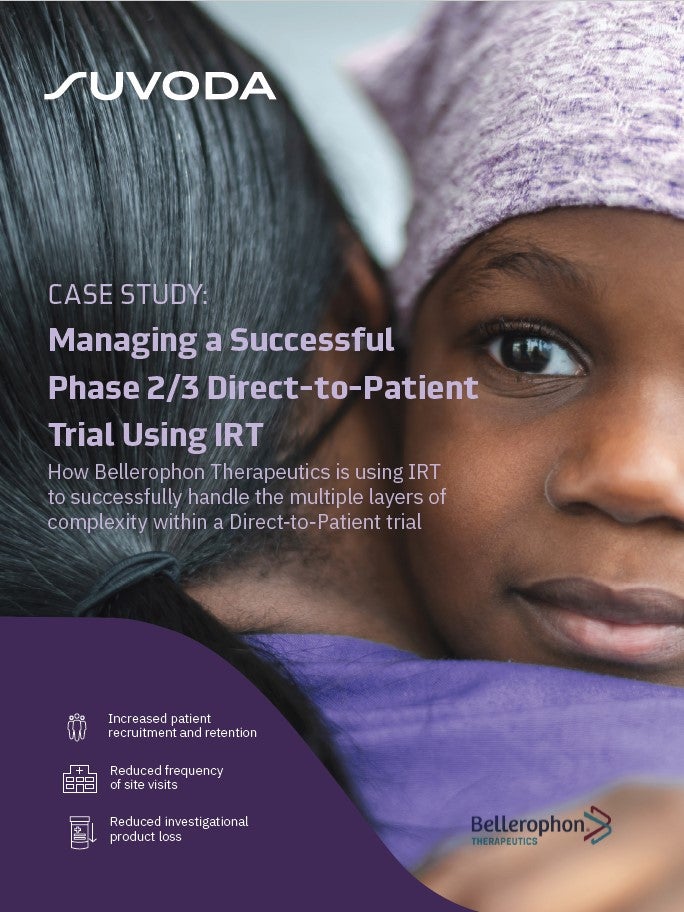 Direct-to-Patient Trials: How IRT Plays an Important Role in Bellerophon's Direct-to-Patient Trials
As the industry strengthens its focus on patient centricity, Direct-to-Patient clinical trials have emerged as a popular trial design that have the potential to increase patient recruitment and retention. IRT plays a crucial role in the success of a Direct-to-Patient trial. Because drug supplies are being managed and shipped from distribution facilities directly to patients' homes, a sponsor must have a high-quality system in place to accurately track the chain of custody, ensure patient-blinding and handle other logistical challenges. What You Will Learn Benefits and challenges associated with the Direct-to-Patient model Bellerophon's top considerations when implementing this trial design How IRT can equip study teams to successfully track chain of custody, ensure patient blinding, and handle logistical challenges
by Suvoda