Todos Medical and NLC Pharma have reported that Tollovir met its primary and key secondary endpoints in a Phase II clinical trial to treat hospitalised patients with severe and critical Covid-19.  
Free Case Study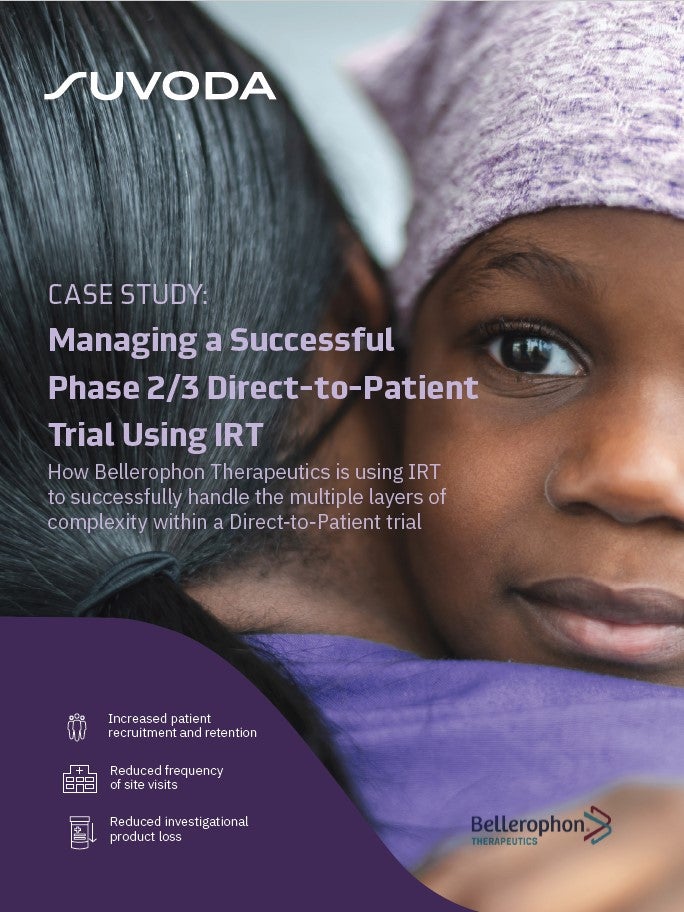 Direct-to-Patient Trials: How IRT Plays an Important Role in Bellerophon's Direct-to-Patient Trials
As the industry strengthens its focus on patient centricity, Direct-to-Patient clinical trials have emerged as a popular trial design that have the potential to increase patient recruitment and retention. IRT plays a crucial role in the success of a Direct-to-Patient trial. Because drug supplies are being managed and shipped from distribution facilities directly to patients' homes, a sponsor must have a high-quality system in place to accurately track the chain of custody, ensure patient-blinding and handle other logistical challenges. What You Will Learn Benefits and challenges associated with the Direct-to-Patient model Bellerophon's top considerations when implementing this trial design How IRT can equip study teams to successfully track chain of custody, ensure patient blinding, and handle logistical challenges
by Suvoda
Named Study NLC-V-01, the double-blind, placebo-controlled, randomised Phase II trial analysed the efficacy and safety of NLC-V (Tollovir) in adult subjects admitted to hospital due to Covid-19.
The trial intended to randomise nearly 78 subjects into a 1:1 ratio and stratified by weight to receive either Tollovir or placebo, apart from the standard of care.
Participants requiring mechanical ventilation were given the randomised therapy using liquid syrup.
In November last year, the companies concluded enrolment following the recruitment of 31 subjects to carry out an interim assessment to analyse Tollovir's safety and efficacy.
The trial was carried out in two parts with Part 1 enrolling subjects from December 2020 to February last year when there were cases of Alpha and Beta variants of the SARS-CoV-2 virus.
Part 2 had subjects enrolled from May to November last year during the prevalence of the Delta variant.
According to the positive interim results, Tollovir met its primary goal of lowering time to clinical improvement as well as various crucial secondary clinical endpoints, including a complete decline in Covid-19 deaths.
Tollovir arm of Part 2 of the trial had an average decline of 2.7 days in time to clinical improvement, as assessed by the National Emergency Warning System 2 (NEWS2) versus placebo.
Furthermore, no cases of deaths linked to Covid-19 were reported in the Tollovir arm as against 22% in the placebo arm.
The Phase II trial was closed by the company early due to positive interim efficacy results.
Todos Medical president and CEO Gerald Commissiong said: "We are extremely pleased with the results from this clinical study in the hospital setting of our dual mechanism antiviral and anti-cytokine oral drug candidate Tollovir.
"We have already begun preparing manufacturing for commercial quantities of Tollovir so that we will be able to deliver shipments in jurisdictions where we expect to be granted accelerated Emergency Use Authorization (EUA) and are in the process of fine-tuning our proposed Phase II/III clinical study protocol for hospitalised Covid-19 patients."
Tollovir is an oral antiviral inhibitor of 3CL protease. It is also an anti-cytokine therapy candidate to treat nidovirus subcategory of coronaviruses comprising SARS-CoV-2, Covid-19, SARS-CoV-1, MERS and 229E.
Free Case Study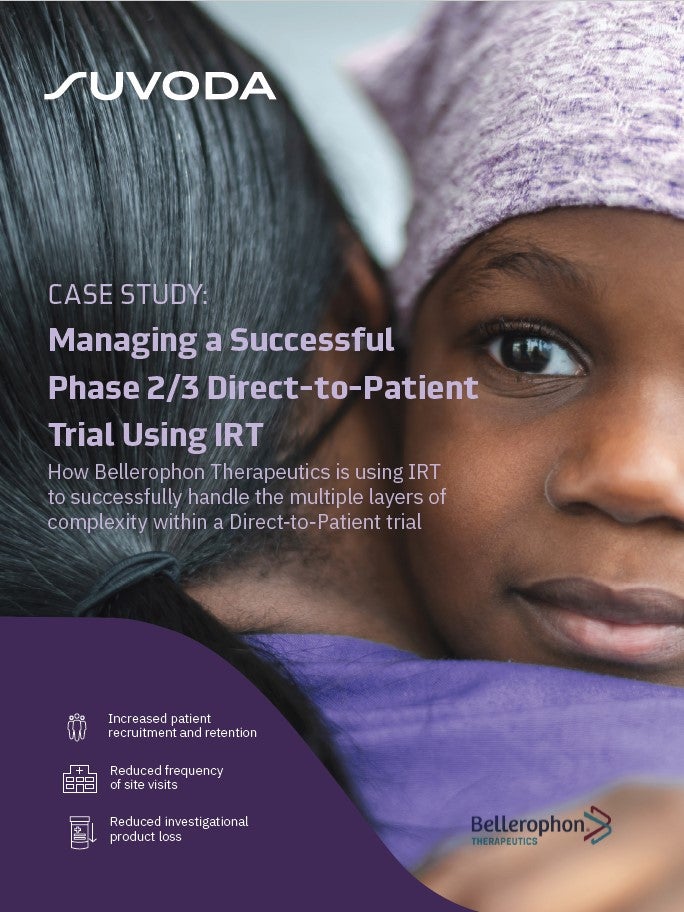 Direct-to-Patient Trials: How IRT Plays an Important Role in Bellerophon's Direct-to-Patient Trials
As the industry strengthens its focus on patient centricity, Direct-to-Patient clinical trials have emerged as a popular trial design that have the potential to increase patient recruitment and retention. IRT plays a crucial role in the success of a Direct-to-Patient trial. Because drug supplies are being managed and shipped from distribution facilities directly to patients' homes, a sponsor must have a high-quality system in place to accurately track the chain of custody, ensure patient-blinding and handle other logistical challenges. What You Will Learn Benefits and challenges associated with the Direct-to-Patient model Bellerophon's top considerations when implementing this trial design How IRT can equip study teams to successfully track chain of custody, ensure patient blinding, and handle logistical challenges
by Suvoda