A trial led by the London School of Hygiene & Tropical Medicine has shown that tranexamic acid (TXA) could help cut the number of deaths among traumatic brain injury patients.
Free Case Study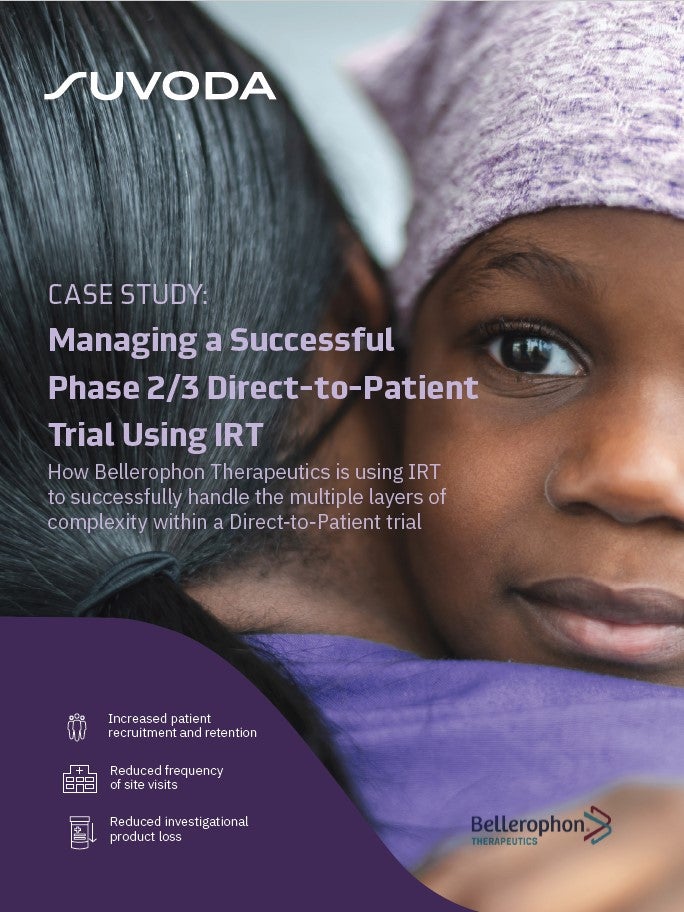 Direct-to-Patient Trials: How IRT Plays an Important Role in Bellerophon's Direct-to-Patient Trials
As the industry strengthens its focus on patient centricity, Direct-to-Patient clinical trials have emerged as a popular trial design that have the potential to increase patient recruitment and retention. IRT plays a crucial role in the success of a Direct-to-Patient trial. Because drug supplies are being managed and shipped from distribution facilities directly to patients' homes, a sponsor must have a high-quality system in place to accurately track the chain of custody, ensure patient-blinding and handle other logistical challenges. What You Will Learn Benefits and challenges associated with the Direct-to-Patient model Bellerophon's top considerations when implementing this trial design How IRT can equip study teams to successfully track chain of custody, ensure patient blinding, and handle logistical challenges
by Suvoda
TXA inhibits blood clot breakdown and prevents bleeding into the brain.
The CRASH-3 trial showed that the drug led to a 20% reduction in head injury deaths compared to placebo.
During the trial, more than 12,000 head injury patients were administered with an intravenous formulation of the drug or placebo at 175 hospitals across 29 countries.
It was observed that TXA given within three hours of injury decreased the number of deaths. The effect was found to be higher in mild and moderate traumatic brain injury patients, with no clear benefit in people who were most severely injured.
Investigators did not report any adverse effects or increase in disability in survivors treated with TXA.
London School of Hygiene & Tropical Medicine clinical trials professor Ian Roberts said: "This hugely exciting new result shows that early treatment with TXA also cuts deaths from head injury. It's an important breakthrough and the first neuroprotective drug for patients with head injury.
"We believe that if our findings are widely implemented, they will boost the chances of people surviving head injuries in both high-income and low-income countries around the world."
Early treatment with TXA is considered important as the drug could prevent bleeds from getting worse but cannot reverse the damage that has already occurred.
The trial found a 10% decrease in treatment effectiveness for every 20-minute delay.
CRASH-3 builds on previous research findings that administration of TXA within three hours could reduce deaths due to bleeding outside of the skull by around 33%.
Free Case Study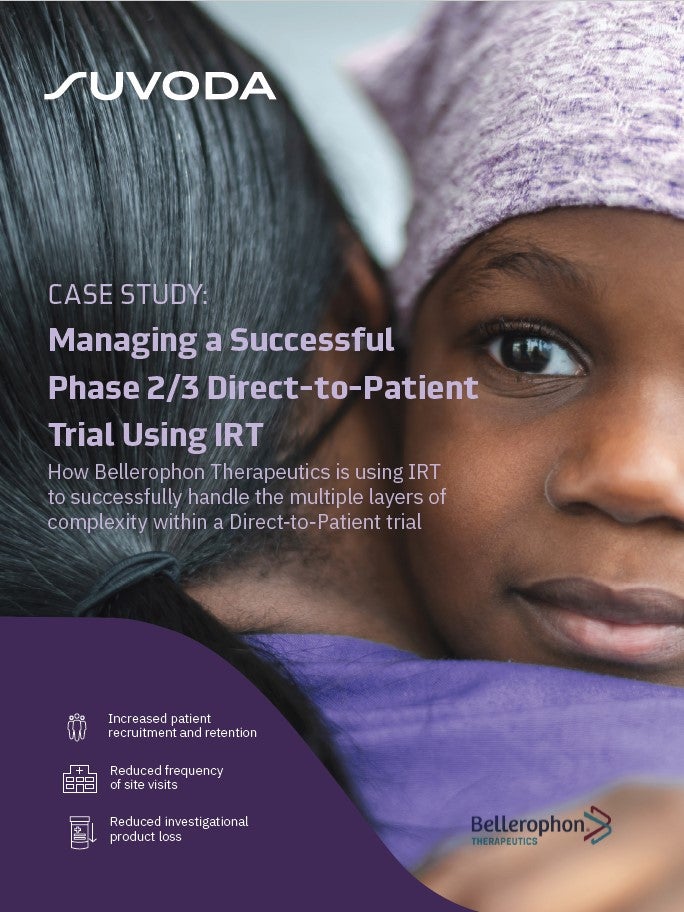 Direct-to-Patient Trials: How IRT Plays an Important Role in Bellerophon's Direct-to-Patient Trials
As the industry strengthens its focus on patient centricity, Direct-to-Patient clinical trials have emerged as a popular trial design that have the potential to increase patient recruitment and retention. IRT plays a crucial role in the success of a Direct-to-Patient trial. Because drug supplies are being managed and shipped from distribution facilities directly to patients' homes, a sponsor must have a high-quality system in place to accurately track the chain of custody, ensure patient-blinding and handle other logistical challenges. What You Will Learn Benefits and challenges associated with the Direct-to-Patient model Bellerophon's top considerations when implementing this trial design How IRT can equip study teams to successfully track chain of custody, ensure patient blinding, and handle logistical challenges
by Suvoda