Trevena has announced that its novel AT1 receptor-selective agonist, TRV027, will become part of an international Phase II/III trial in Covid-19 patients.
Free Case Study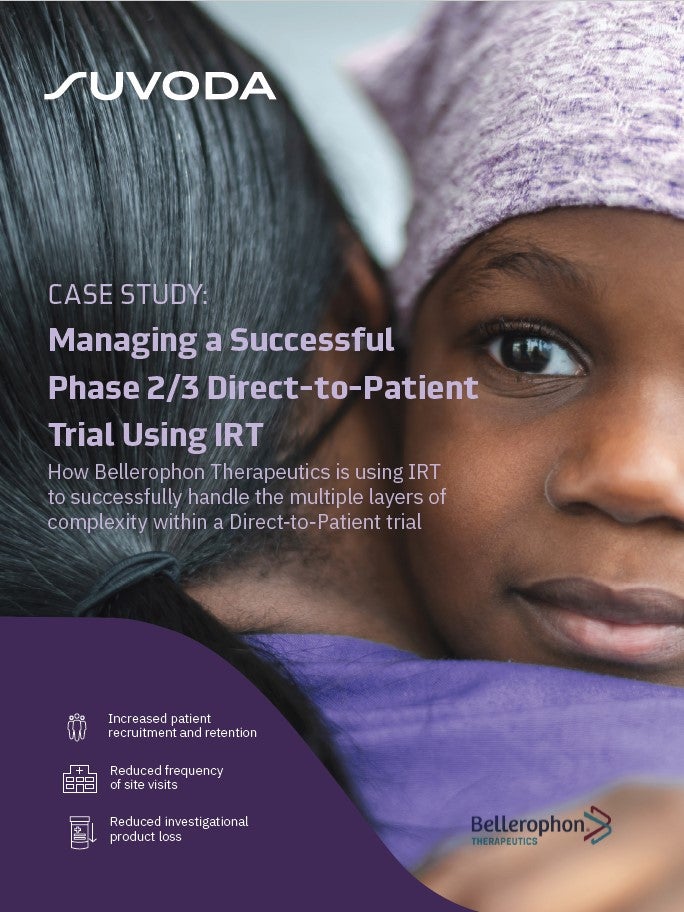 Direct-to-Patient Trials: How IRT Plays an Important Role in Bellerophon's Direct-to-Patient Trials
As the industry strengthens its focus on patient centricity, Direct-to-Patient clinical trials have emerged as a popular trial design that have the potential to increase patient recruitment and retention. IRT plays a crucial role in the success of a Direct-to-Patient trial. Because drug supplies are being managed and shipped from distribution facilities directly to patients' homes, a sponsor must have a high-quality system in place to accurately track the chain of custody, ensure patient-blinding and handle other logistical challenges. What You Will Learn Benefits and challenges associated with the Direct-to-Patient model Bellerophon's top considerations when implementing this trial design How IRT can equip study teams to successfully track chain of custody, ensure patient blinding, and handle logistical challenges
by Suvoda
TRV027 fights disruption within the renin-angiotensin system (RAS) by attaching to and rebalancing AT1 receptor activation, hindering the damaging pathway that causes acute lung damage and abnormal blood clotting.
This multi-site, adaptive trial is being carried out and funded as part of a worldwide network of clinicians, institutions and research facilities called 'Randomised, Embedded, Multi-factorial, Adaptive Platform Trial for Community-Acquired Pneumonia' (REMAP-CAP).
The REMAP-CAP trial is intended for analysing treatments that can lower mortality, ICU use, and morbidity in severely ill Covid-19 patients.
Named the 'REMAP-CAP COVID-19 ACE2 RAS Modulation Domain', the randomised, Phase II/III clinical trial will assess therapies targeting the RAS and analyse if the RAS modulation can effectively avert multiorgan failure and mortality in hospitalised Covid-19 patients.
Four active treatments are part of the study protocol, including TRV027. It will enrol 200-300 subjects into each arm while TRV027 will be given along with an ACE inhibitor.
A composite of in-hospital mortality and provision of organ failure support in an ICU within 21 days following randomisation will form the trial's primary outcome.
Furthermore, the trial will assess clinical outcomes such as ICU and hospital stay time, ventilator-free days and organ failure-free days.
Trevena president and CEO Carrie Bourdow said: "I am pleased with the addition of TRV027 to REMAP-CAP, a globally recognised research network that is leading the search for cutting-edge Covid-19 therapies.
"TRV027 holds immense potential as a treatment for the severe multi-organ damage and blood clotting caused by Covid-19, and I look forward to supporting the investigation of our novel asset in this innovative and expansive trial."
Free Case Study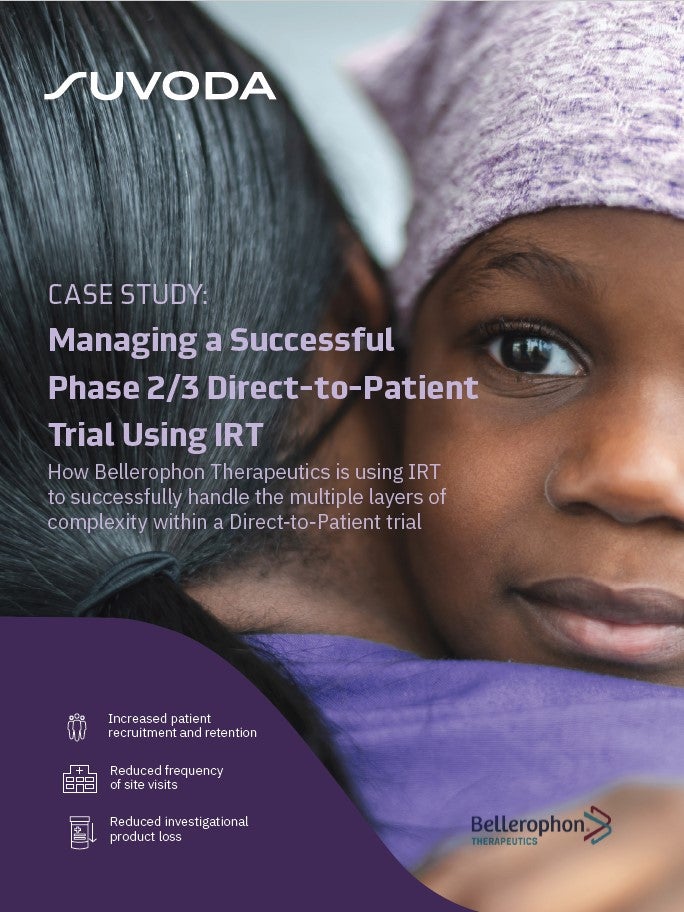 Direct-to-Patient Trials: How IRT Plays an Important Role in Bellerophon's Direct-to-Patient Trials
As the industry strengthens its focus on patient centricity, Direct-to-Patient clinical trials have emerged as a popular trial design that have the potential to increase patient recruitment and retention. IRT plays a crucial role in the success of a Direct-to-Patient trial. Because drug supplies are being managed and shipped from distribution facilities directly to patients' homes, a sponsor must have a high-quality system in place to accurately track the chain of custody, ensure patient-blinding and handle other logistical challenges. What You Will Learn Benefits and challenges associated with the Direct-to-Patient model Bellerophon's top considerations when implementing this trial design How IRT can equip study teams to successfully track chain of custody, ensure patient blinding, and handle logistical challenges
by Suvoda