Trevi Therapeutics has announced the conclusion of subject enrolment in the Phase IIb/III PRISM clinical trial of its investigational therapy Haduvio (nalbuphine ER) to treat pruritus linked with prurigo nodularis (PN).
Free Case Study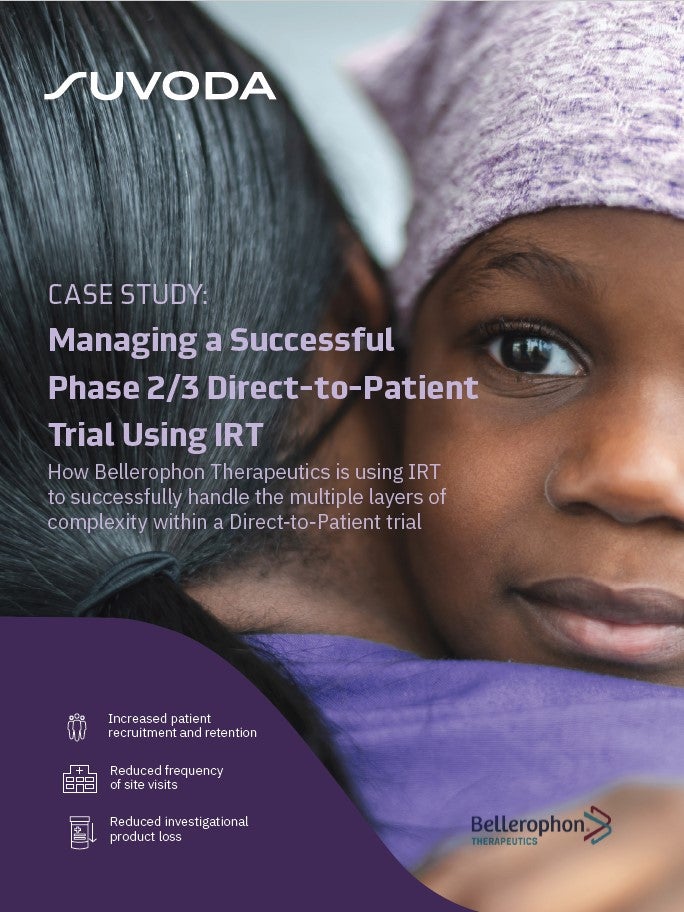 Direct-to-Patient Trials: How IRT Plays an Important Role in Bellerophon's Direct-to-Patient Trials
As the industry strengthens its focus on patient centricity, Direct-to-Patient clinical trials have emerged as a popular trial design that have the potential to increase patient recruitment and retention. IRT plays a crucial role in the success of a Direct-to-Patient trial. Because drug supplies are being managed and shipped from distribution facilities directly to patients' homes, a sponsor must have a high-quality system in place to accurately track the chain of custody, ensure patient-blinding and handle other logistical challenges. What You Will Learn Benefits and challenges associated with the Direct-to-Patient model Bellerophon's top considerations when implementing this trial design How IRT can equip study teams to successfully track chain of custody, ensure patient blinding, and handle logistical challenges
by Suvoda
Nearly 360 PN patients were enrolled in the trial and the company anticipates reporting top-line results in the second quarter of this year.
Haduvio is nalbuphine's oral extended-release (ER) formulation.
A combined ĸ-opioid and µ-opioid receptor antagonist, nalbuphine is approved and sold as an injectable for pain indications in the US and Europe for over two decades.
The randomised, double-blind, placebo-controlled trial will analyse the safety and efficacy of Haduvio to treat severe pruritus in PN patients.
Participants in the trial are randomised equally into two arms to receive a 162mg oral dose of Haduvio or placebo twice a day, including a preliminary blinded titration period of two weeks.
The proportion of patients attaining a greater than or equal to four-point improvement as assessed by the weekly mean Worst Itch Numerical Rating Scale (WI-NRS) score at week 14 against baseline will be the trial's primary endpoint.
Trevi Therapeutics president and CEO Jennifer Good said: "This is an important milestone in the development of Haduvio which is the lead oral compound in clinical development for pruritus in PN and which we believe may offer an important treatment option to these seriously impacted patients.
"By targeting the pruritus associated with prurigo nodularis, Haduvio is designed to break the itch-scratch cycle which has a significant impact on patients' quality of life."
Earlier, nalbuphine ER obtained Fast Track designation from the US Food and Drug Administration for the proposed indication to lower moderate-to-severe pruritus in PN patients.
Trevi Therapeutics reported positive data from a Phase II trial of oral nalbuphine ER to treat moderate-to-severe PN, in October 2016.
Free Case Study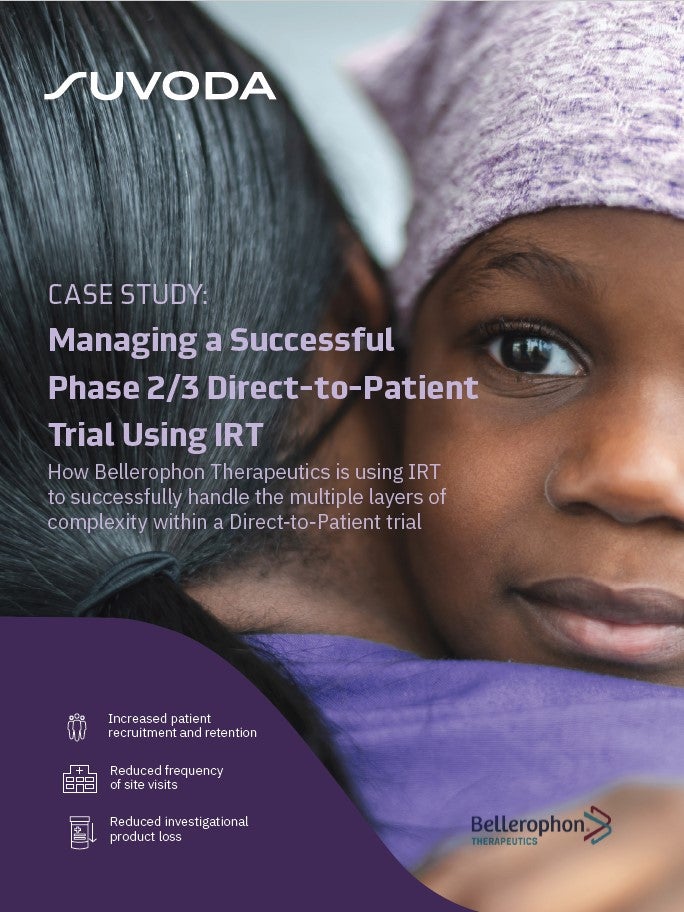 Direct-to-Patient Trials: How IRT Plays an Important Role in Bellerophon's Direct-to-Patient Trials
As the industry strengthens its focus on patient centricity, Direct-to-Patient clinical trials have emerged as a popular trial design that have the potential to increase patient recruitment and retention. IRT plays a crucial role in the success of a Direct-to-Patient trial. Because drug supplies are being managed and shipped from distribution facilities directly to patients' homes, a sponsor must have a high-quality system in place to accurately track the chain of custody, ensure patient-blinding and handle other logistical challenges. What You Will Learn Benefits and challenges associated with the Direct-to-Patient model Bellerophon's top considerations when implementing this trial design How IRT can equip study teams to successfully track chain of custody, ensure patient blinding, and handle logistical challenges
by Suvoda