Triall has collaborated with eClinical software provider Crucial Data Solutions (CDS) for a blockchain-powered first end-to-end eClinical Platform. 
Free Case Study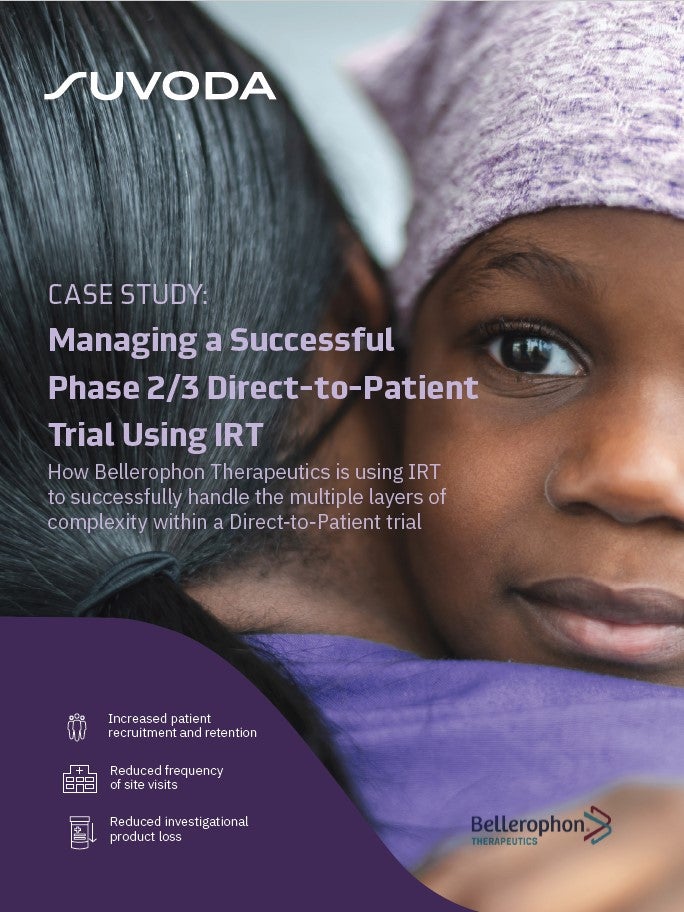 Direct-to-Patient Trials: How IRT Plays an Important Role in Bellerophon's Direct-to-Patient Trials
As the industry strengthens its focus on patient centricity, Direct-to-Patient clinical trials have emerged as a popular trial design that have the potential to increase patient recruitment and retention. IRT plays a crucial role in the success of a Direct-to-Patient trial. Because drug supplies are being managed and shipped from distribution facilities directly to patients' homes, a sponsor must have a high-quality system in place to accurately track the chain of custody, ensure patient-blinding and handle other logistical challenges. What You Will Learn Benefits and challenges associated with the Direct-to-Patient model Bellerophon's top considerations when implementing this trial design How IRT can equip study teams to successfully track chain of custody, ensure patient blinding, and handle logistical challenges
by Suvoda
Triall is a tokenised platform for blockchain-facilitated clinical trial technology.
Under the alliance, Triall will incorporate its blockchain application programming interface (APIs) with CDS' eClinical solutions to offer blockchain-driven eClinical solutions. 
The platform encompasses all fundamental clinical trial functions in order to improve the integrity, auditability and interoperability of data in the worldwide clinical trials industry.
To be provided as part of the Triall ecosystem, the eClinical solutions will use blockchain to produce proof of the integrity of trial data, documents and processes that are verifiable.
Furthermore, to enable interoperability across trial systems and activities, Triall uses decentralised identity technologies and self-sovereign identity (SSI) standards.
The alliance is fully focused on providing a future-proof platform that is compatible with new trends in the clinical trial industry, including collecting real-world data and decentralised trial designs while enhancing reliability.
CDS noted that the collaboration has effects on platform native utility token TRL of Triall's, which gains in value with the company's software stack extension.
Unveiled last year, TRL is used for paying for all software provided in the Triall ecosystem.
Before the token introduction, Triall developed and marketed its Verial eTMF, a blockchain-incorporated document management system marking the first application of blockchain in live and running trials.
Crucial Data Solutions president Jeff Rogers said: "Both CDS and Triall share a common vision where patients and sponsors of clinical research expect and deserve improved data privacy, security, and accountability.
"This partnership brings the future forward by giving patients unprecedented confidence in knowing that their data is secure and their privacy is protected."
Free Case Study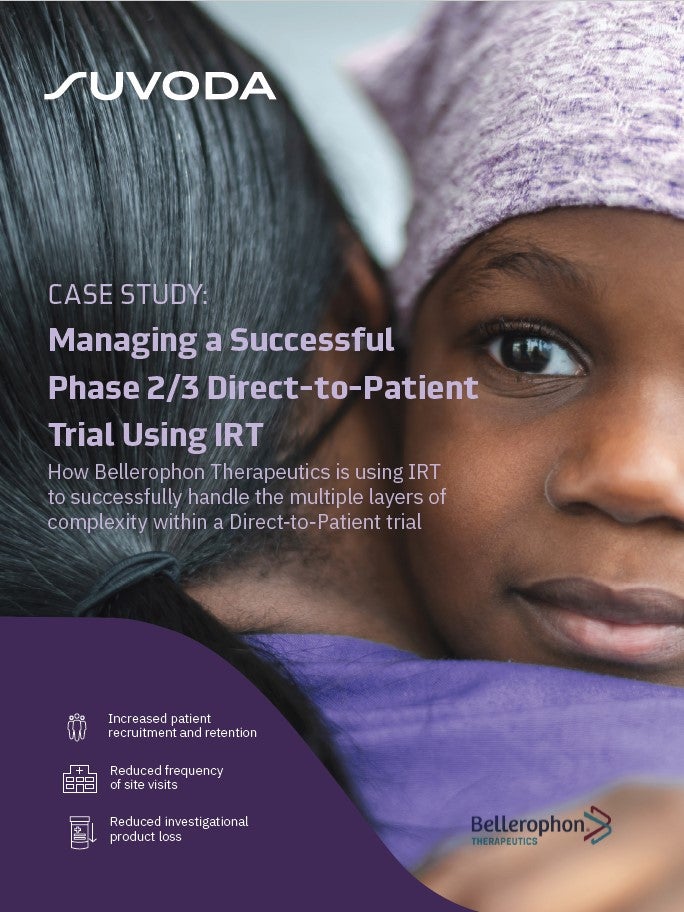 Direct-to-Patient Trials: How IRT Plays an Important Role in Bellerophon's Direct-to-Patient Trials
As the industry strengthens its focus on patient centricity, Direct-to-Patient clinical trials have emerged as a popular trial design that have the potential to increase patient recruitment and retention. IRT plays a crucial role in the success of a Direct-to-Patient trial. Because drug supplies are being managed and shipped from distribution facilities directly to patients' homes, a sponsor must have a high-quality system in place to accurately track the chain of custody, ensure patient-blinding and handle other logistical challenges. What You Will Learn Benefits and challenges associated with the Direct-to-Patient model Bellerophon's top considerations when implementing this trial design How IRT can equip study teams to successfully track chain of custody, ensure patient blinding, and handle logistical challenges
by Suvoda