The University of British Columbia (UBC) has started a clinical study to assess the effects of mixing different brands of approved Covid-19 vaccines in Canada.
Free Case Study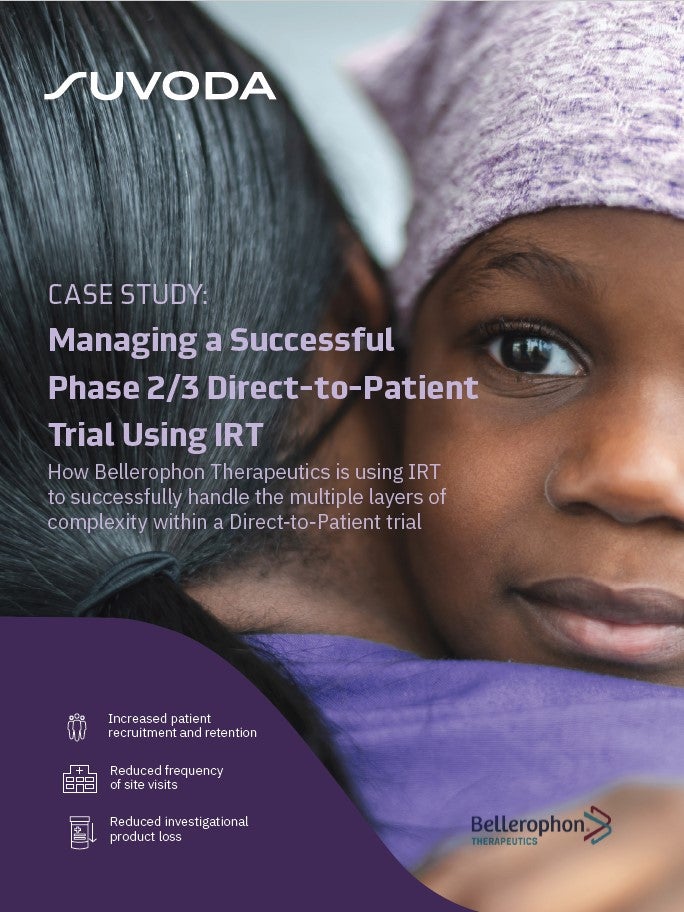 Direct-to-Patient Trials: How IRT Plays an Important Role in Bellerophon's Direct-to-Patient Trials
As the industry strengthens its focus on patient centricity, Direct-to-Patient clinical trials have emerged as a popular trial design that have the potential to increase patient recruitment and retention. IRT plays a crucial role in the success of a Direct-to-Patient trial. Because drug supplies are being managed and shipped from distribution facilities directly to patients' homes, a sponsor must have a high-quality system in place to accurately track the chain of custody, ensure patient-blinding and handle other logistical challenges. What You Will Learn Benefits and challenges associated with the Direct-to-Patient model Bellerophon's top considerations when implementing this trial design How IRT can equip study teams to successfully track chain of custody, ensure patient blinding, and handle logistical challenges
by Suvoda
Named MOSAIC, the study will examine the safety and effectiveness of two separate vaccines for the first and second doses. It is also intended to evaluate increased intervals between two doses.
The study will enrol a total of 1,300 subjects at Canadian Immunization Research Network (CIRN) sites across Nova Scotia, Quebec, Ontario, Manitoba, Alberta and British Columbia.
CIRN principal investigator Dr Scott Halperin said: "Soon after vaccine rollout programmes began, manufacturing interruptions resulted in delayed vaccine shipments to various countries, including Canada.
"This study will give public health officials more information about how to manage their vaccine roll-out strategies going forward."
The Canadian Government is supporting the study with $3.9m (C$4.8m) funding via the COVID-19 Immunity Task Force (CITF) and the Vaccine Surveillance Reference Group (VSRG).
Currently, four Covid-19 vaccines are approved in Canada, including three vaccines distributed by public health programmes. Other vaccines will be added to the study upon approval and availability.
Data from the MOSAIC study will be reported to public health officials to inform vaccine rollout decisions in the country.
UBC faculty of medicine dean and health vice-president Dr Dermot Kelleher said: "This research will provide critical scientific insight into the safety and effectiveness of mixing and matching Covid-19 vaccines, and could pave the way for a more flexible approach to vaccine rollouts taking place across the country."
Similar mix-and-match Covid-19 vaccine studies are ongoing in other countries, including the UK. South Korea has also started a clinical trial to mix Covid-19 vaccines of various companies, including AstraZeneca and Pfizer.
This announcement comes a day after the UK launched a new clinical trial to assess a third 'booster' dose of seven different Covid-19 vaccines.
Free Case Study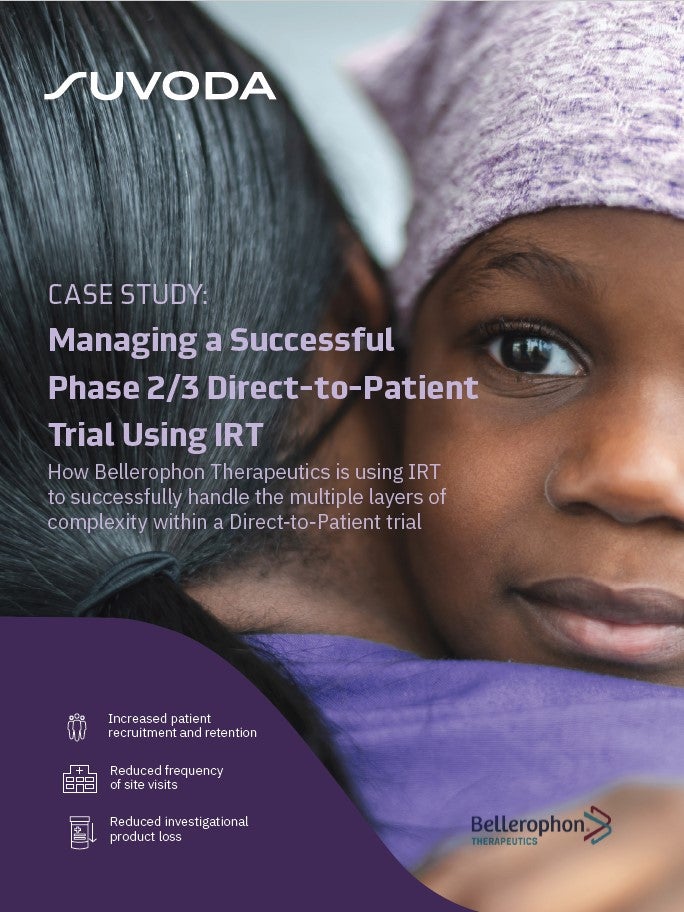 Direct-to-Patient Trials: How IRT Plays an Important Role in Bellerophon's Direct-to-Patient Trials
As the industry strengthens its focus on patient centricity, Direct-to-Patient clinical trials have emerged as a popular trial design that have the potential to increase patient recruitment and retention. IRT plays a crucial role in the success of a Direct-to-Patient trial. Because drug supplies are being managed and shipped from distribution facilities directly to patients' homes, a sponsor must have a high-quality system in place to accurately track the chain of custody, ensure patient-blinding and handle other logistical challenges. What You Will Learn Benefits and challenges associated with the Direct-to-Patient model Bellerophon's top considerations when implementing this trial design How IRT can equip study teams to successfully track chain of custody, ensure patient blinding, and handle logistical challenges
by Suvoda