The University College London Hospitals (UCLH) in the UK has initiated a clinical trial of a new drug candidate, E2814, for the treatment of Alzheimer's disease.
Free Case Study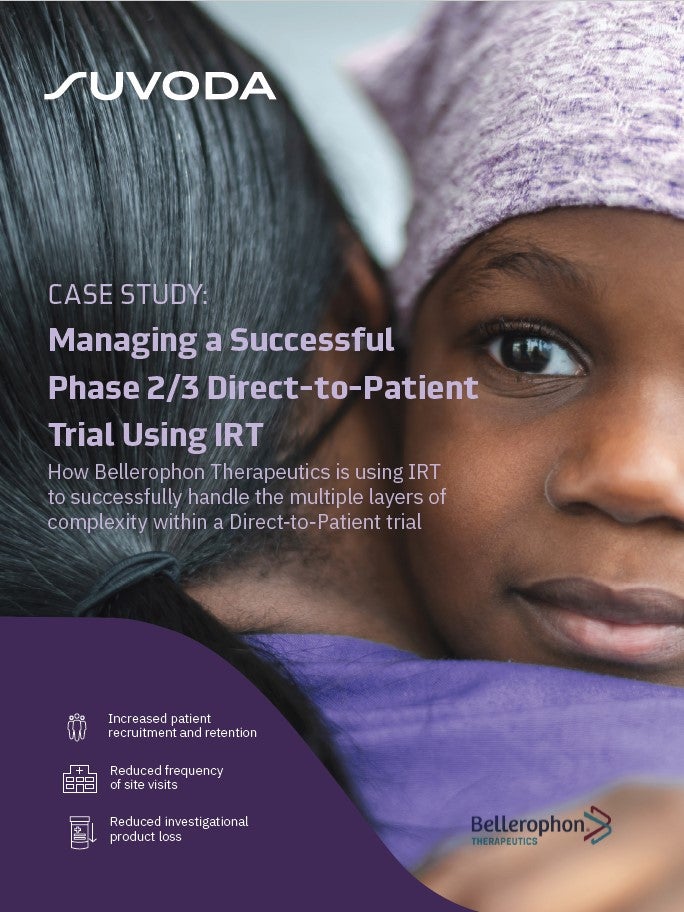 Direct-to-Patient Trials: How IRT Plays an Important Role in Bellerophon's Direct-to-Patient Trials
As the industry strengthens its focus on patient centricity, Direct-to-Patient clinical trials have emerged as a popular trial design that have the potential to increase patient recruitment and retention. IRT plays a crucial role in the success of a Direct-to-Patient trial. Because drug supplies are being managed and shipped from distribution facilities directly to patients' homes, a sponsor must have a high-quality system in place to accurately track the chain of custody, ensure patient-blinding and handle other logistical challenges. What You Will Learn Benefits and challenges associated with the Direct-to-Patient model Bellerophon's top considerations when implementing this trial design How IRT can equip study teams to successfully track chain of custody, ensure patient blinding, and handle logistical challenges
by Suvoda
Developed at University College London (UCL) in collaboration with pharmaceutical company Eisai, E2814 can potentially address tau protein, which is present in the brain and causes disease progression.
UCLH noted that E2814 is the first therapy that targets tau to enter clinal trials in individuals with an inherited form of Alzheimer's.
Subjects with a rare inherited form of the disease will be enrolled at UCLH Leonard Wolfson Experimental Neurology Centre.
The trial is being conducted by the Dominantly Inherited Alzheimer Network Trials Unit (DIAN-TU), a global partnership funded by Washington University School of Medicine to assess new investigational treatments for Alzheimer's.
E2814 is the first therapy to enter the DIAN-TU tau study, UCLH noted.
The DIAN-TU tau programme plans to analyse a total of three anti-tau drugs in clinical trials to check for their ability to reduce or hinder Alzheimer's disease progression.
UCL Dementia Research Centre clinical trials head Dr Cath Mummery said: "As we've learned more about Alzheimer's, we understand that tau plays a critical role in disease progression alongside amyloid; this is the first anti-tau treatment we will study in these families with genetic forms of Alzheimer's disease and this important work advances the field towards our goal of discovering an effective treatment for this devastating disease."
If E2814 shows favourable efficacy in the DIAN-TU trial, it could benefit individuals with the more common, sporadic forms of Alzheimer's in the elderly by slowing disease progression.
UCLH noted that people with inherited mutations that are responsible for Alzheimer's typically develop cognitive impairments at an earlier age or around the same time when their parents did.
In July 2020, Eisai, Biogen and the Alzheimer's Clinical Trials Consortium (ACTC) initiated a Phase III trial of BAN2401 to treat preclinical Alzheimer's in the US.
Free Case Study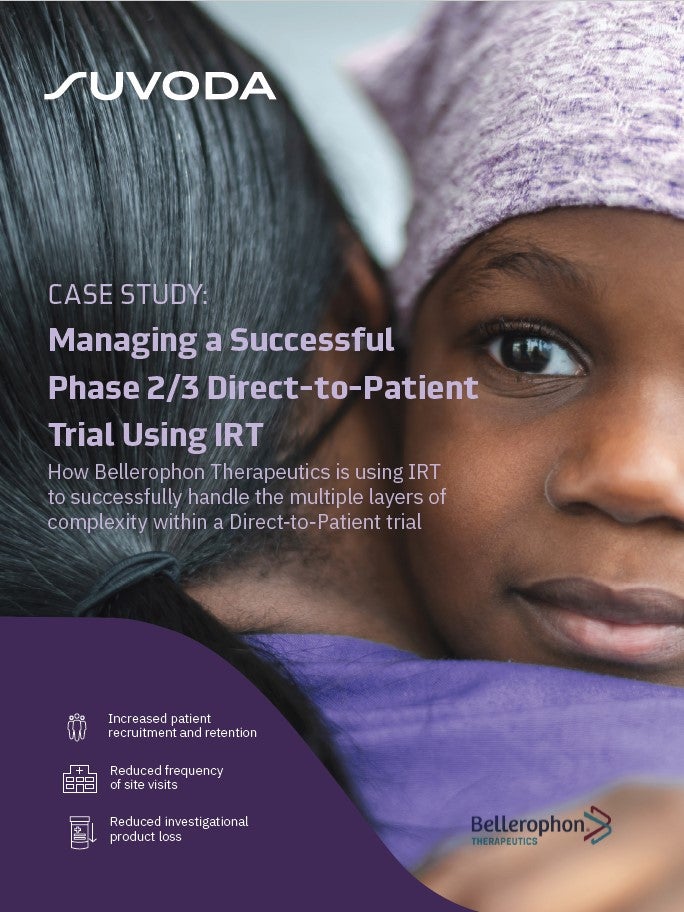 Direct-to-Patient Trials: How IRT Plays an Important Role in Bellerophon's Direct-to-Patient Trials
As the industry strengthens its focus on patient centricity, Direct-to-Patient clinical trials have emerged as a popular trial design that have the potential to increase patient recruitment and retention. IRT plays a crucial role in the success of a Direct-to-Patient trial. Because drug supplies are being managed and shipped from distribution facilities directly to patients' homes, a sponsor must have a high-quality system in place to accurately track the chain of custody, ensure patient-blinding and handle other logistical challenges. What You Will Learn Benefits and challenges associated with the Direct-to-Patient model Bellerophon's top considerations when implementing this trial design How IRT can equip study teams to successfully track chain of custody, ensure patient blinding, and handle logistical challenges
by Suvoda