The UK Government has launched a clinical trial programme to fast-track the development of new drug candidates to treat hospitalised Covid-19 patients.
Free Case Study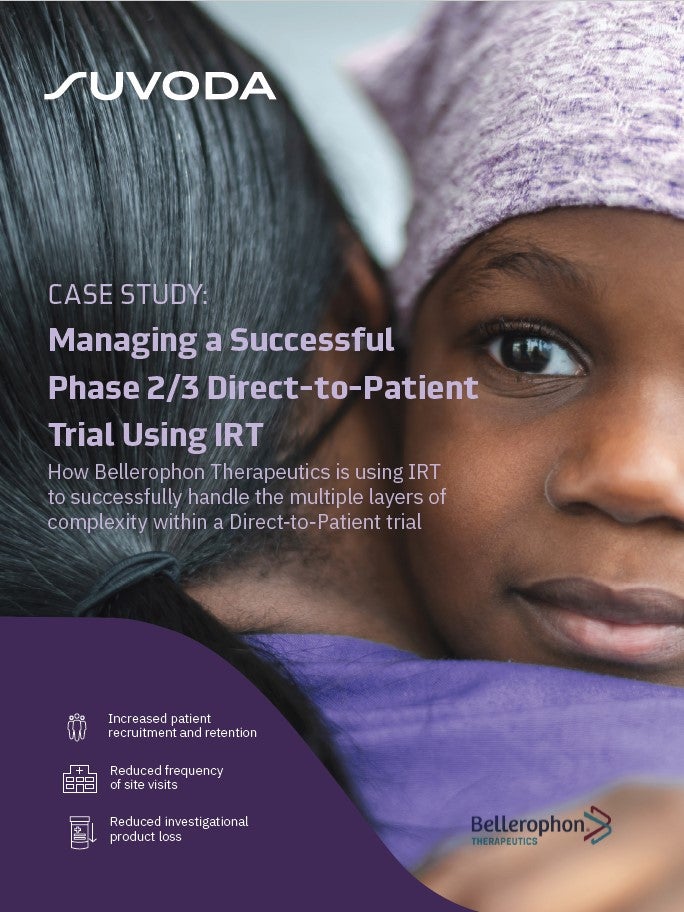 Direct-to-Patient Trials: How IRT Plays an Important Role in Bellerophon's Direct-to-Patient Trials
As the industry strengthens its focus on patient centricity, Direct-to-Patient clinical trials have emerged as a popular trial design that have the potential to increase patient recruitment and retention. IRT plays a crucial role in the success of a Direct-to-Patient trial. Because drug supplies are being managed and shipped from distribution facilities directly to patients' homes, a sponsor must have a high-quality system in place to accurately track the chain of custody, ensure patient-blinding and handle other logistical challenges. What You Will Learn Benefits and challenges associated with the Direct-to-Patient model Bellerophon's top considerations when implementing this trial design How IRT can equip study teams to successfully track chain of custody, ensure patient blinding, and handle logistical challenges
by Suvoda
Named ACCORD, the new initiative is intended to cut time taken to set up clinical trials for new treatments from months to weeks.
Conducted by government, academia and industry partners, the programme will initially involve six Covid-19 drug candidates.
Two of the drug candidates will immediately begin Phase II trials to assess their safety and effectiveness at sites across the UK. Norway-based company BerGenBio's AXL kinase inhibitor bemcentinib is the first candidate to enter the ACCORD programme.
UK Health and Social Care Secretary Matt Hancock said: "Currently no drugs in the world have been clinically proven to treat Covid-19. But our Therapeutics Taskforce has identified a number of promising candidates.
"Currently, six different treatments have been entered into national clinical trials and the first is ready to enter the next stage: a new early phase clinical trial platform that we are launching today."
The new programme is funded by the country's Department of Health and Social Care (DHSC) and the UK Research and Innovation (UKRI). It is intended to offer early indication about drug candidates' effectiveness against Covid-19.
If positive results are obtained, these drugs will be rapidly advanced into the ongoing large-scale trials across the country.
The programme is supported by a nation-wide clinical trial platform provided by IQVIA.
IQVIA will deliver the ACCORD trials through National Institute for Health Research (NIHR)'s network of investigators and research facilities, as well as partner sites in Northern Ireland, Scotland and Wales.
Apart from the six initial candidates, additional treatments will enter the programme over the next few weeks.
AstraZeneca has agreed to support the programme through the rapid upscaling of development and trials.
Free Case Study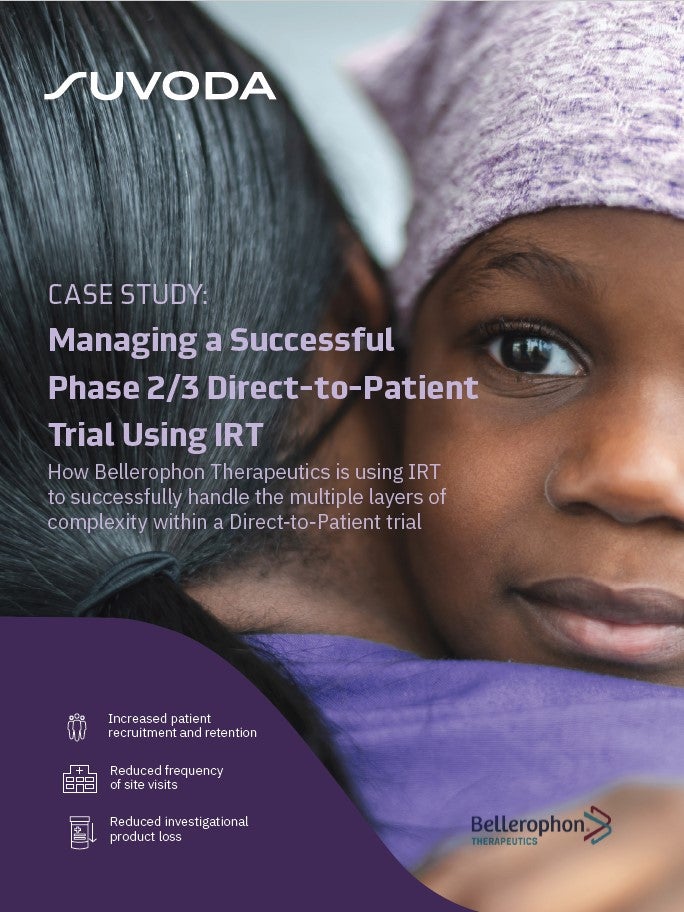 Direct-to-Patient Trials: How IRT Plays an Important Role in Bellerophon's Direct-to-Patient Trials
As the industry strengthens its focus on patient centricity, Direct-to-Patient clinical trials have emerged as a popular trial design that have the potential to increase patient recruitment and retention. IRT plays a crucial role in the success of a Direct-to-Patient trial. Because drug supplies are being managed and shipped from distribution facilities directly to patients' homes, a sponsor must have a high-quality system in place to accurately track the chain of custody, ensure patient-blinding and handle other logistical challenges. What You Will Learn Benefits and challenges associated with the Direct-to-Patient model Bellerophon's top considerations when implementing this trial design How IRT can equip study teams to successfully track chain of custody, ensure patient blinding, and handle logistical challenges
by Suvoda