Researchers in the UK are set to conduct a clinical trial to assess TRV027, which is meant to prevent blood clots and lung damage, as a potential drug treatment for Covid-19 patients.
Free Case Study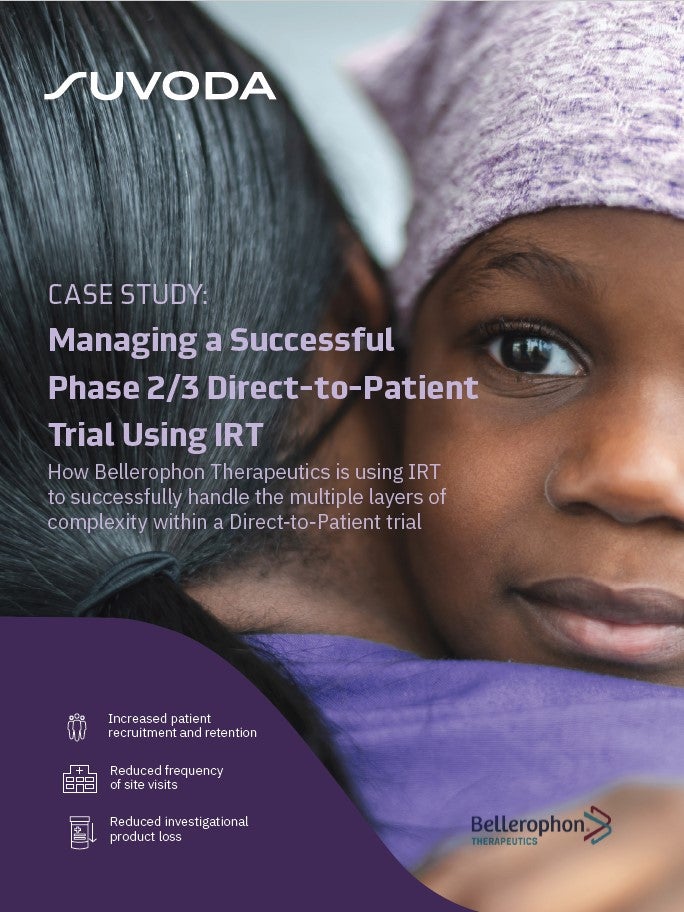 Direct-to-Patient Trials: How IRT Plays an Important Role in Bellerophon's Direct-to-Patient Trials
As the industry strengthens its focus on patient centricity, Direct-to-Patient clinical trials have emerged as a popular trial design that have the potential to increase patient recruitment and retention. IRT plays a crucial role in the success of a Direct-to-Patient trial. Because drug supplies are being managed and shipped from distribution facilities directly to patients' homes, a sponsor must have a high-quality system in place to accurately track the chain of custody, ensure patient-blinding and handle other logistical challenges. What You Will Learn Benefits and challenges associated with the Direct-to-Patient model Bellerophon's top considerations when implementing this trial design How IRT can equip study teams to successfully track chain of custody, ensure patient blinding, and handle logistical challenges
by Suvoda
The trial is supported by the British Heart Foundation Centre of Research Excellence at Imperial College London. It will be conducted at hospitals across the country.
According to researchers, the drug targets cell pathways believed to be major drivers of severe illness associated with Covid-19.
The pilot trial will enrol 60 individuals with confirmed or suspected Covid-19. It will involve follow up of eight days during the critical period when symptoms may worsen and require treatment in ICU and/or ventilation.
Developed by Trevena, TRV027 is designed to return the balance between angiotensin II and angiotensin 1-7 hormones, which regulate blood pressure and affect blood vessels.
This balance is commonly maintained by ACE-2, which is present on cell surfaces and is known to be the entry point for SARS-CoV-2, the novel coronavirus that causes Covid-19.
In Covid-19, angiotensin II is believed to be elevate, making the blood more sticky and resulting in the formation of clots throughout the body, particularly the lungs.
TRV027 is expected to exhibit a dual action by blocking angiotensin II activity, as well as mimicking the activity of angiotensin(1-7), which opposes angiotensin II.
By restoring the balance, the drug could mitigate the virus' ability to cause damage in Covid-19 patients.
Imperial College London honorary consultant Dr Kat Pollock said: "We need to move away from thinking of Covid-19 as solely a respiratory illness. It also has devastating effects on the rest of the body including the blood vessels and heart.
"Our study will play an important role in understanding the mechanisms, which make Covid-19 dangerous and offers a potential treatment."
If this pilot trial yield positive results, researchers intend to seek funding for a larger trial.
Free Case Study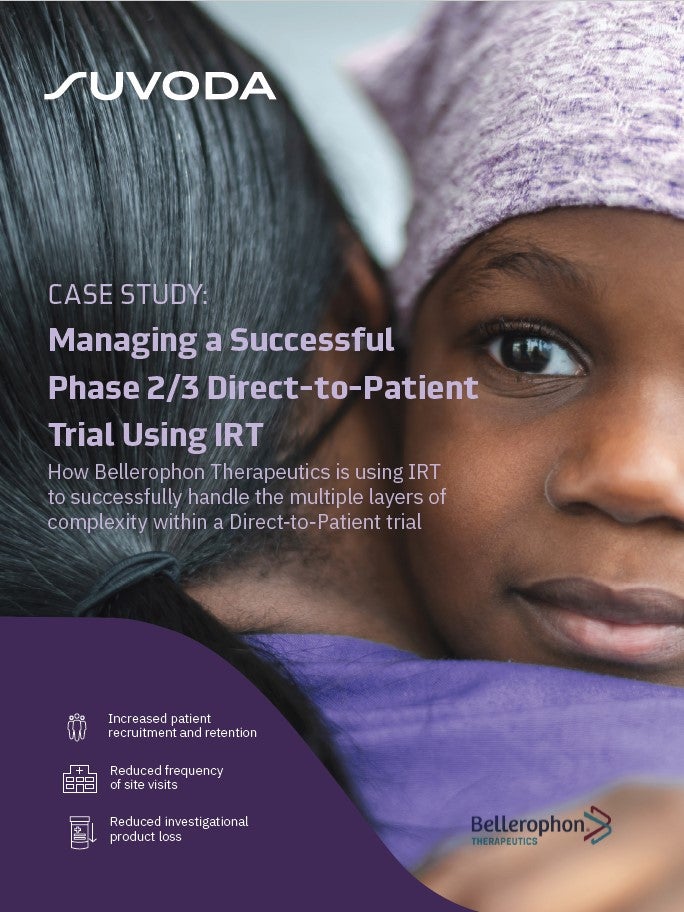 Direct-to-Patient Trials: How IRT Plays an Important Role in Bellerophon's Direct-to-Patient Trials
As the industry strengthens its focus on patient centricity, Direct-to-Patient clinical trials have emerged as a popular trial design that have the potential to increase patient recruitment and retention. IRT plays a crucial role in the success of a Direct-to-Patient trial. Because drug supplies are being managed and shipped from distribution facilities directly to patients' homes, a sponsor must have a high-quality system in place to accurately track the chain of custody, ensure patient-blinding and handle other logistical challenges. What You Will Learn Benefits and challenges associated with the Direct-to-Patient model Bellerophon's top considerations when implementing this trial design How IRT can equip study teams to successfully track chain of custody, ensure patient blinding, and handle logistical challenges
by Suvoda