UNION therapeutics has enrolled the first participant in the IASOS Phase IIb study of oral orismilast in psoriasis patients.
Free Case Study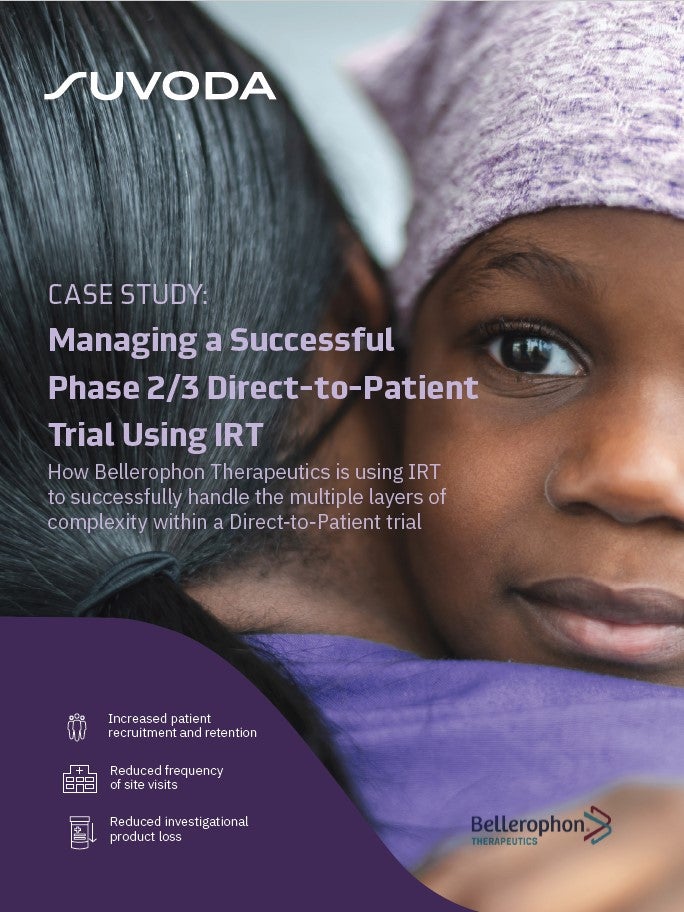 Direct-to-Patient Trials: How IRT Plays an Important Role in Bellerophon's Direct-to-Patient Trials
As the industry strengthens its focus on patient centricity, Direct-to-Patient clinical trials have emerged as a popular trial design that have the potential to increase patient recruitment and retention. IRT plays a crucial role in the success of a Direct-to-Patient trial. Because drug supplies are being managed and shipped from distribution facilities directly to patients' homes, a sponsor must have a high-quality system in place to accurately track the chain of custody, ensure patient-blinding and handle other logistical challenges. What You Will Learn Benefits and challenges associated with the Direct-to-Patient model Bellerophon's top considerations when implementing this trial design How IRT can equip study teams to successfully track chain of custody, ensure patient blinding, and handle logistical challenges
by Suvoda
The latest move comes after the company received Investigational New Drug Program (IND) approval from the US Food and Drug Administration (FDA) in November 2020 to advance orismilast into a Phase IIb study.
With broad anti-inflammatory properties, orismilast is a next-generation phosphodiesterase type-4 (PDE4) inhibitor.
It has been developed as a modified release (MR) tablet to reduce gastrointestinal side effects occurrence.
The double-blind, placebo-controlled, randomised, parallel-group, dose-ranging Phase IIb study will assess orismilast's safety and efficacy in moderate to severe plaque psoriasis patients.
In this study, approximately 200 participants will be recruited and randomised to receive three active doses of orismilast and a placebo administered twice-daily.
It will be conducted in nearly 40 trial sites in North America and Europe.
The safety and efficacy of a modified release orismilast tablet versus placebo will be evaluated as the trial's primary goal.
UNION therapeutics CEO Kim Kjøller said: "Orismilast holds the potential to be a best-in-class treatment and game-changer for psoriasis patients.
"With the first patient enrolled in the Phase IIb study in psoriasis, we are one step closer to offering psoriasis patients a novel oral treatment option."
The IASOS study aims to identify the appropriate dose regimen of oral orismilast for Phase III studies.
Furthermore, orismilast is in development to treat atopic dermatitis (AD) and hidradenitis suppurativa (HS).
Last April, UNION therapeutics reported that its inhaled and intranasal niclosamide (UNI91103 and UNI91104) showed a strong safety profile in a Phase I study.
Free Case Study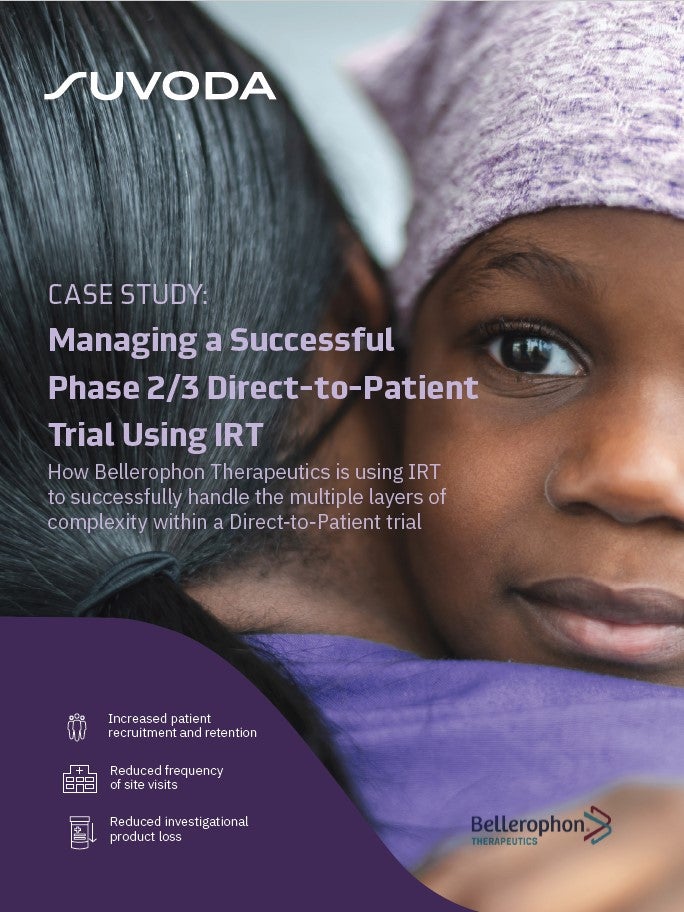 Direct-to-Patient Trials: How IRT Plays an Important Role in Bellerophon's Direct-to-Patient Trials
As the industry strengthens its focus on patient centricity, Direct-to-Patient clinical trials have emerged as a popular trial design that have the potential to increase patient recruitment and retention. IRT plays a crucial role in the success of a Direct-to-Patient trial. Because drug supplies are being managed and shipped from distribution facilities directly to patients' homes, a sponsor must have a high-quality system in place to accurately track the chain of custody, ensure patient-blinding and handle other logistical challenges. What You Will Learn Benefits and challenges associated with the Direct-to-Patient model Bellerophon's top considerations when implementing this trial design How IRT can equip study teams to successfully track chain of custody, ensure patient blinding, and handle logistical challenges
by Suvoda