Unity Biotechnology has expanded its ongoing Phase I trial to evaluate UBX0101 in patients with moderate to severe osteoarthritis (OA) of the knee.
Free Case Study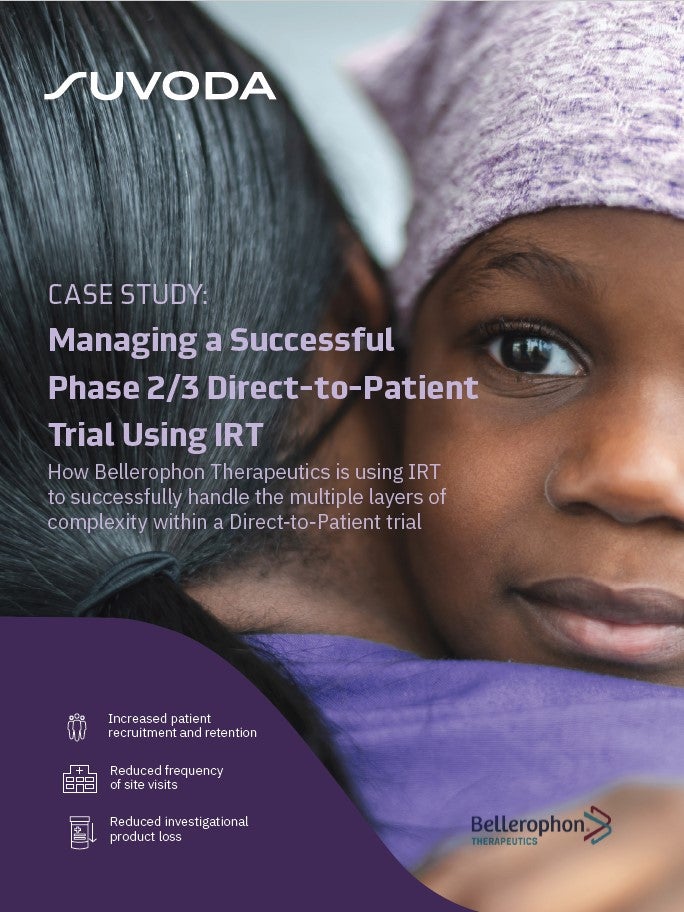 Direct-to-Patient Trials: How IRT Plays an Important Role in Bellerophon's Direct-to-Patient Trials
As the industry strengthens its focus on patient centricity, Direct-to-Patient clinical trials have emerged as a popular trial design that have the potential to increase patient recruitment and retention. IRT plays a crucial role in the success of a Direct-to-Patient trial. Because drug supplies are being managed and shipped from distribution facilities directly to patients' homes, a sponsor must have a high-quality system in place to accurately track the chain of custody, ensure patient-blinding and handle other logistical challenges. What You Will Learn Benefits and challenges associated with the Direct-to-Patient model Bellerophon's top considerations when implementing this trial design How IRT can equip study teams to successfully track chain of custody, ensure patient blinding, and handle logistical challenges
by Suvoda
The company has added a new cohort of 24 patients to examine 4mg UBX0101, the highest evaluated dose.
The Part B expansion is designed to complement the initial Part A of the trial and will further analyse the impact of UBX0101 on certain pro-inflammatory and extracellular matrix modifying factors within the Senescence-Associated Secretory Phenotype (SASP).
Part B will see Unity collect increased volume of synovial fluid samples from the knee joint of patients for SASP assessment.
The company also aims to carry out the lavage procedure in patients who do not have adequate amount of fluid to collect via simple aspiration.
"Around 24 patients are expected to be enrolled and randomised in a 2:1 ratio to receive 4mg UBX0101 or placebo for Part B."
The inclusion of Part B is the result of a review of the blinded safety, tolerability and drug exposure data received in Part A, which has completed patient enrolment and at least two-week of assessments of all patients.
Top-line results from both Part A and B are expected in the second quarter of this year.
The Phase I study features a randomised, double-blind, placebo-controlled, single ascending dose design.
It aims to investigate the safety, tolerability, and pharmacokinetics of a single intra-articular injection of UBX0101.
Part A of the trial saw 48 patients randomly distributed in 3:1 ratio to receive either UBX0101 or placebo.
Around 24 patients are expected to be enrolled and randomised in a 2:1 ratio to receive 4mg UBX0101 or placebo for Part B.
Primary objectives of both parts of the trial are safety and tolerability, while the secondary and exploratory objectives include plasma pharmacokinetics, synovitis as assessed by MRI, as well as pain and SASP factors in synovial fluid.
Free Case Study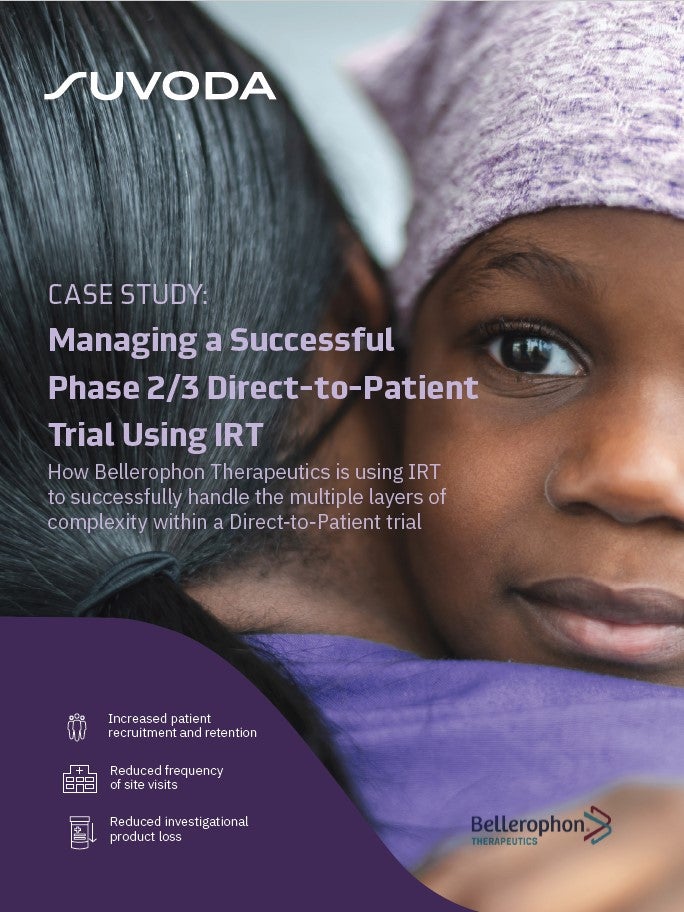 Direct-to-Patient Trials: How IRT Plays an Important Role in Bellerophon's Direct-to-Patient Trials
As the industry strengthens its focus on patient centricity, Direct-to-Patient clinical trials have emerged as a popular trial design that have the potential to increase patient recruitment and retention. IRT plays a crucial role in the success of a Direct-to-Patient trial. Because drug supplies are being managed and shipped from distribution facilities directly to patients' homes, a sponsor must have a high-quality system in place to accurately track the chain of custody, ensure patient-blinding and handle other logistical challenges. What You Will Learn Benefits and challenges associated with the Direct-to-Patient model Bellerophon's top considerations when implementing this trial design How IRT can equip study teams to successfully track chain of custody, ensure patient blinding, and handle logistical challenges
by Suvoda