UroGen Pharma has commenced the Phase III ENVISION clinical trial of its investigational treatment UGN-102 (mitomycin) for intravesical solution, to treat low-grade, intermediate-risk non-muscle invasive bladder cancer (NMIBC) patients.
Free Case Study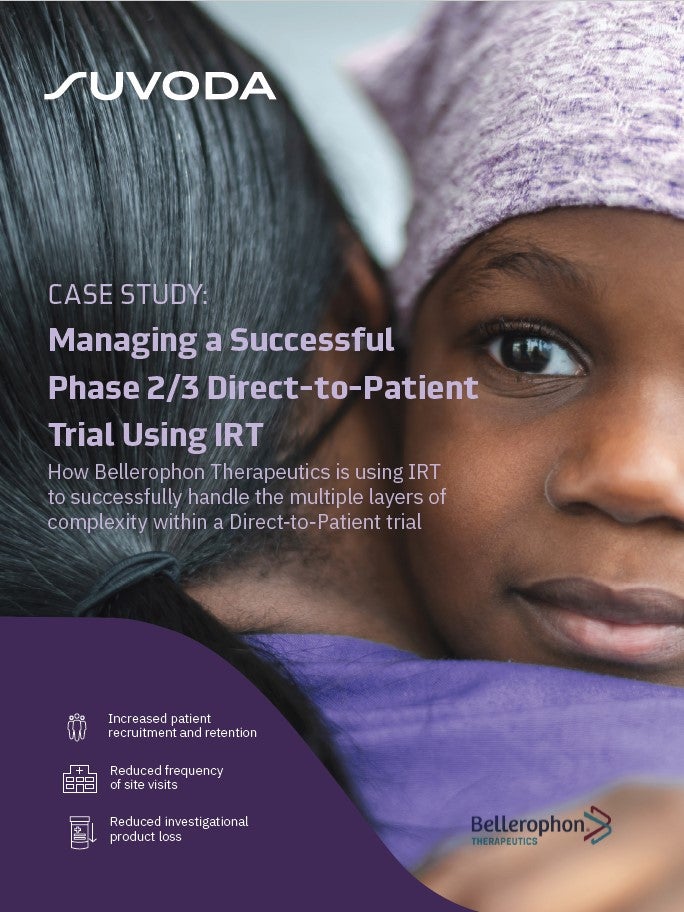 Direct-to-Patient Trials: How IRT Plays an Important Role in Bellerophon's Direct-to-Patient Trials
As the industry strengthens its focus on patient centricity, Direct-to-Patient clinical trials have emerged as a popular trial design that have the potential to increase patient recruitment and retention. IRT plays a crucial role in the success of a Direct-to-Patient trial. Because drug supplies are being managed and shipped from distribution facilities directly to patients' homes, a sponsor must have a high-quality system in place to accurately track the chain of custody, ensure patient-blinding and handle other logistical challenges. What You Will Learn Benefits and challenges associated with the Direct-to-Patient model Bellerophon's top considerations when implementing this trial design How IRT can equip study teams to successfully track chain of custody, ensure patient blinding, and handle logistical challenges
by Suvoda
The first commercial product of the company, UGN-102 for intravesical solution is intended to remove tumours without surgical procedures.
The multinational, single-arm, multicentre trial will analyse UGN-102's efficacy and safety as primary chemoablative treatment in individuals with low-grade, intermediate-risk NMIBC.
It is anticipated to enrol nearly 220 subjects across 90 trial centres. 
In the trial, subjects will be given six once-a-week intravesical instillations of UGN-102.
The complete response rate at three months post initial instillation is the planned primary endpoint of the trial.
Durability over time in subjects who attain complete response at the three-month analysis will be a secondary endpoint.
As per the talks with the US Food and Drug Administration (FDA) and enrolment expected by the end of this year, the company expects to file a New Drug Application for UGN-102 in 2024 on obtaining positive results.
The trial design of ENVISION is identical to the Phase IIb OPTIMA II trial, which will have subjects with the same clinical features, therapy regimen, analysis and qualitative follow up.
However, both trials will have separate endpoints.
UroGen chief medical officer Mark Schoenberg said: "We have achieved consistent results with similar study designs in the past and believe that it increases our probability for technical and regulatory success for UGN-102 in patients with low-grade, intermediate-risk NMIBC.
"We look forward to reporting data from ATLAS and acquiring new scientific evidence from ENVISION as we continue to explore the potential benefits of chemoablation in other types of bladder cancer, including high-grade disease and other specialty cancers."
Free Case Study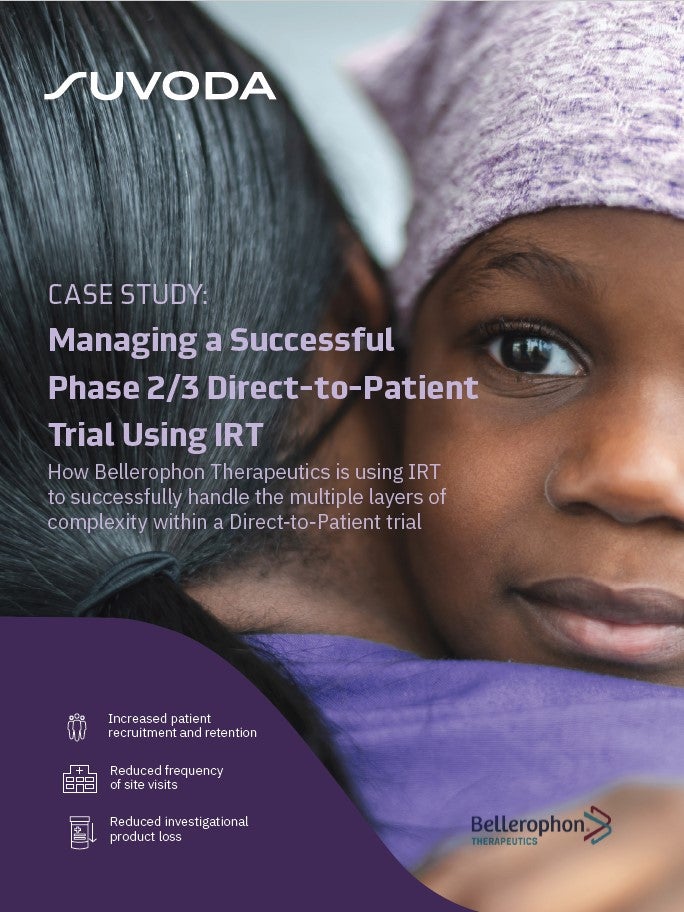 Direct-to-Patient Trials: How IRT Plays an Important Role in Bellerophon's Direct-to-Patient Trials
As the industry strengthens its focus on patient centricity, Direct-to-Patient clinical trials have emerged as a popular trial design that have the potential to increase patient recruitment and retention. IRT plays a crucial role in the success of a Direct-to-Patient trial. Because drug supplies are being managed and shipped from distribution facilities directly to patients' homes, a sponsor must have a high-quality system in place to accurately track the chain of custody, ensure patient-blinding and handle other logistical challenges. What You Will Learn Benefits and challenges associated with the Direct-to-Patient model Bellerophon's top considerations when implementing this trial design How IRT can equip study teams to successfully track chain of custody, ensure patient blinding, and handle logistical challenges
by Suvoda