Northwestern Medicine in the US has started patient enrolment for a global clinical trial of Sanofi and Regeneron Pharmaceutical's rheumatoid arthritis drug sarilumab (Kevzara) to treat severely ill, hospitalised Covid-19 patients.
Free Case Study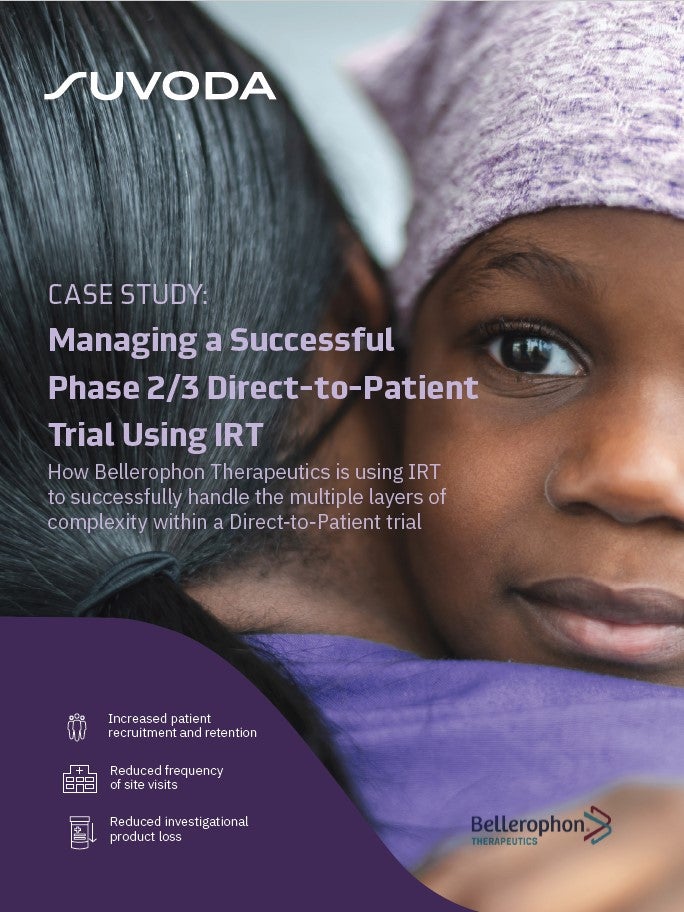 Direct-to-Patient Trials: How IRT Plays an Important Role in Bellerophon's Direct-to-Patient Trials
As the industry strengthens its focus on patient centricity, Direct-to-Patient clinical trials have emerged as a popular trial design that have the potential to increase patient recruitment and retention. IRT plays a crucial role in the success of a Direct-to-Patient trial. Because drug supplies are being managed and shipped from distribution facilities directly to patients' homes, a sponsor must have a high-quality system in place to accurately track the chain of custody, ensure patient-blinding and handle other logistical challenges. What You Will Learn Benefits and challenges associated with the Direct-to-Patient model Bellerophon's top considerations when implementing this trial design How IRT can equip study teams to successfully track chain of custody, ensure patient blinding, and handle logistical challenges
by Suvoda
Kevzara is a fully-human monoclonal antibody designed to inhibit the interleukin-6 (IL-6) pathway via attachment to the IL-6 receptor.
According to preliminary findings, excessive IL-6 may be involved in the development of acute respiratory distress in Covid-19 patients.
The clinical trial will evaluate sarilumab's ability to mitigate the overactive inflammatory responses in the lungs damaged by Covid-19 when compared to placebo.
Northwestern Medicine is leveraging in-house developed diagnostic tests to detect infection in patients being treated with sarilumab.
Northwestern Memorial Hospital Medical Intensive Care Unit medical director Richard Wunderink said: "The drug is being given to people with very severe Covid-19 infection who have a high chance of dying or prolonged critical care requirements without specific therapy.
"Sarilumab blocks the IL-6 receptor in the body, theoretically making cells resistant to the ill effects of excessive IL-6. There is always a concern that this will limit the immune response, so it is important to monitor patients for evidence of infection and treat it."
In late March, Sanofi started a Phase II/III trial of sarilumab to treat patients hospitalised with severe Covid-19 infection outside of the US.
Sanofi's partner, Regeneron Pharmaceuticals, is responsible for performing the study's counterpart in the US, which commenced earlier in March.
The US trial has two parts. In the first part, severe Covid-19 patients will be enrolled at up to 16 sites. It will investigate the drug's impact on fever and the need for supplemental oxygen.
The second will assess longer-term outcomes, such as preventing death and mitigating the need for mechanical ventilation, supplemental oxygen, or hospitalisation.
Northwestern Medicine is conducting an international trial of remdesivir, Gilead Sciences' experimental anti-viral drug for Ebola. It is also assessing other experimental antibiotics for some patients.
Free Case Study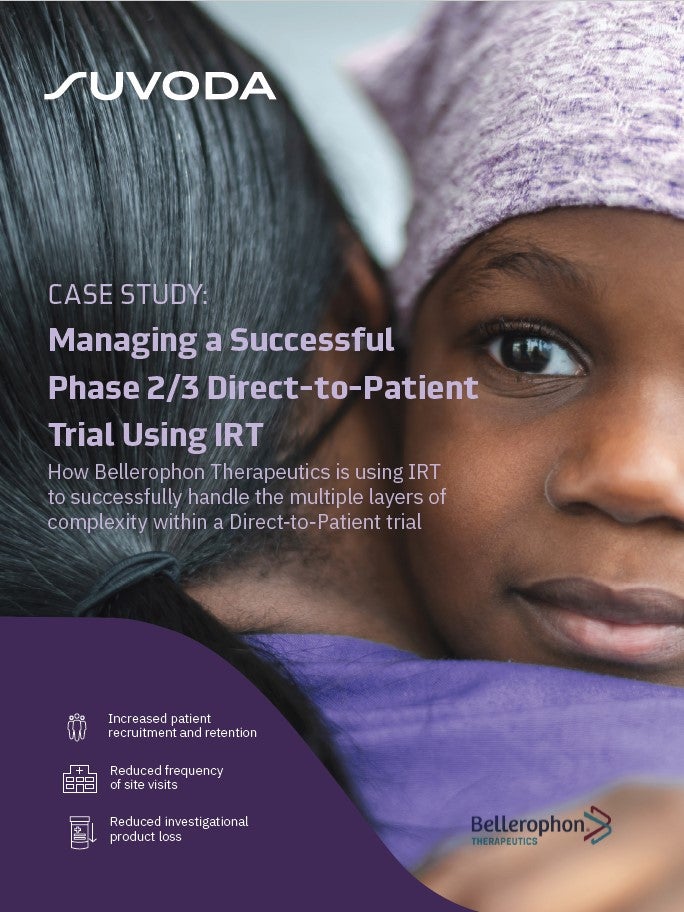 Direct-to-Patient Trials: How IRT Plays an Important Role in Bellerophon's Direct-to-Patient Trials
As the industry strengthens its focus on patient centricity, Direct-to-Patient clinical trials have emerged as a popular trial design that have the potential to increase patient recruitment and retention. IRT plays a crucial role in the success of a Direct-to-Patient trial. Because drug supplies are being managed and shipped from distribution facilities directly to patients' homes, a sponsor must have a high-quality system in place to accurately track the chain of custody, ensure patient-blinding and handle other logistical challenges. What You Will Learn Benefits and challenges associated with the Direct-to-Patient model Bellerophon's top considerations when implementing this trial design How IRT can equip study teams to successfully track chain of custody, ensure patient blinding, and handle logistical challenges
by Suvoda