French company Valbiotis has concluded subject enrolment in the Phase II HEART clinical trial of its therapeutic substance, TOTUM•070, for treating untreated moderate hypercholesterolemia patients.
Free Case Study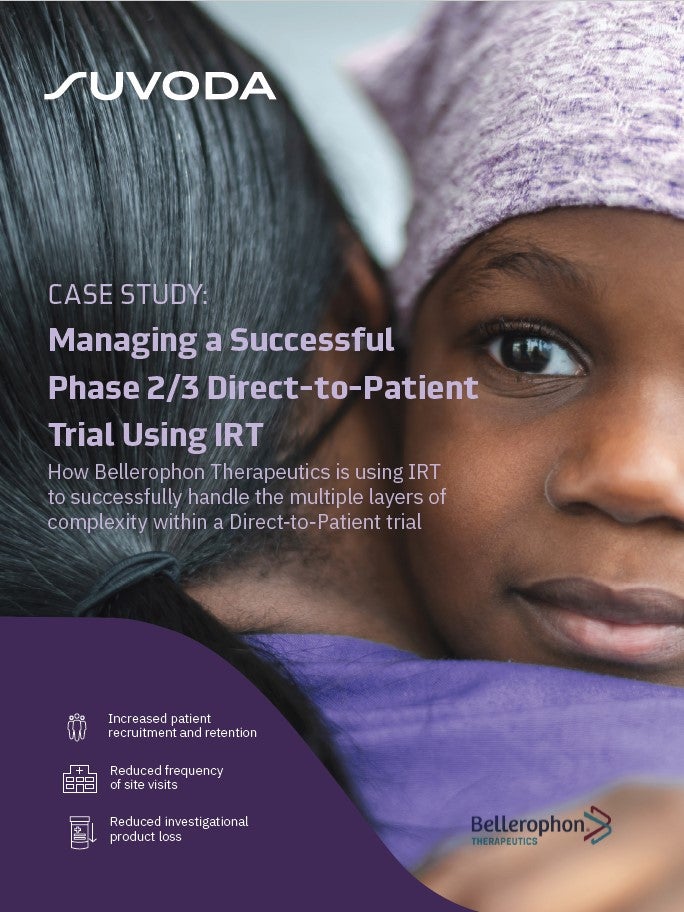 Direct-to-Patient Trials: How IRT Plays an Important Role in Bellerophon's Direct-to-Patient Trials
As the industry strengthens its focus on patient centricity, Direct-to-Patient clinical trials have emerged as a popular trial design that have the potential to increase patient recruitment and retention. IRT plays a crucial role in the success of a Direct-to-Patient trial. Because drug supplies are being managed and shipped from distribution facilities directly to patients' homes, a sponsor must have a high-quality system in place to accurately track the chain of custody, ensure patient-blinding and handle other logistical challenges. What You Will Learn Benefits and challenges associated with the Direct-to-Patient model Bellerophon's top considerations when implementing this trial design How IRT can equip study teams to successfully track chain of custody, ensure patient blinding, and handle logistical challenges
by Suvoda
The company has enrolled 120 subjects in the trial. The last participant was randomised at the beginning of this month according to the trial schedule.
An advanced active substance obtained from food plant extracts, TOTUM•070 has no phytosterols or red yeast rice.
The drug is created to target lipid metabolism in hypercholesterolemia patients, Valbiotis noted.
The multi-centre, international, randomised, placebo-controlled, double-blind Phase II HEART trial is assessing the efficacy of TOTUM•070 in participants with mild to moderate untreated hypercholesterolemia ranging between 130mg/dL and 190mg/dL.
Subjects will be categorised into two equivalent arms comprising 60 people each to receive either TOTUM•070 or a placebo for six months.
The decline in blood low-density lipoprotein (LDL) cholesterol levels will be the primary goal of the trial, which will also have various secondary goals of interest.
LDL-cholesterol is a risk factor for cardiovascular disease and especially for atherosclerosis, the company said.
Data from the HEART trial is anticipated to be available in the second quarter of next year.
Valbiotis Board of Directors member and Development, Medical, Regulatory and Industrial Affairs head Murielle CAZAUBIEL said: "The medical need is real: according to the WHO, nearly 40% of the world's adult population has high cholesterol, a well-known cardiovascular risk factor.
"High-risk patients are generally treated with drug-based approaches. But for more moderate forms, there is a lack of a non-drug, open-label, clinically proven option to reduce excess blood LDL-cholesterol before it becomes too high risk.
"We are developing TOTUM•070 to bring this preventive option to as many people as possible."
On completing the development, TOTUM•070 will be intended for treating LDL-hypercholesterolemia patients with levels up to 190mg/dL and a moderate overall cardiovascular risk.
TOTUM•070 could be used in such individuals who presently lack recommended first-line therapy, the company added.
Free Case Study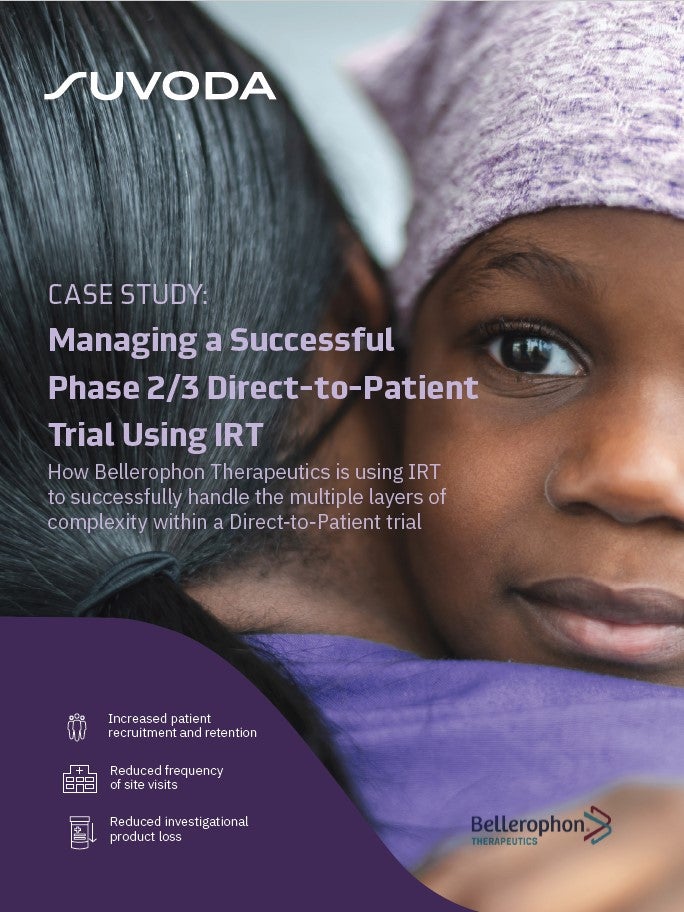 Direct-to-Patient Trials: How IRT Plays an Important Role in Bellerophon's Direct-to-Patient Trials
As the industry strengthens its focus on patient centricity, Direct-to-Patient clinical trials have emerged as a popular trial design that have the potential to increase patient recruitment and retention. IRT plays a crucial role in the success of a Direct-to-Patient trial. Because drug supplies are being managed and shipped from distribution facilities directly to patients' homes, a sponsor must have a high-quality system in place to accurately track the chain of custody, ensure patient-blinding and handle other logistical challenges. What You Will Learn Benefits and challenges associated with the Direct-to-Patient model Bellerophon's top considerations when implementing this trial design How IRT can equip study teams to successfully track chain of custody, ensure patient blinding, and handle logistical challenges
by Suvoda