Valbiotis has received approval to commence the two international multicentre Phase II/III INSIGHT and INSIGHT 2 clinical trials on Totum-854 to reduce blood pressure.
Free Case Study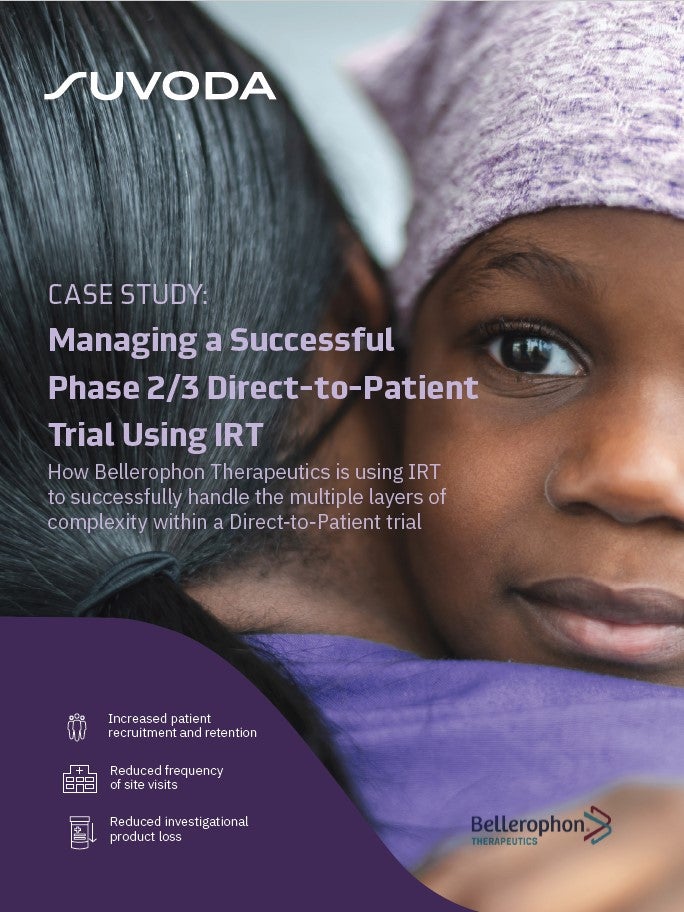 Direct-to-Patient Trials: How IRT Plays an Important Role in Bellerophon's Direct-to-Patient Trials
As the industry strengthens its focus on patient centricity, Direct-to-Patient clinical trials have emerged as a popular trial design that have the potential to increase patient recruitment and retention. IRT plays a crucial role in the success of a Direct-to-Patient trial. Because drug supplies are being managed and shipped from distribution facilities directly to patients' homes, a sponsor must have a high-quality system in place to accurately track the chain of custody, ensure patient-blinding and handle other logistical challenges. What You Will Learn Benefits and challenges associated with the Direct-to-Patient model Bellerophon's top considerations when implementing this trial design How IRT can equip study teams to successfully track chain of custody, ensure patient blinding, and handle logistical challenges
by Suvoda
The company stated that the receipt of authorisations will allow it to launch recruitment for these international studies, which are planned to be concluded in the first half of next year.
It is said that Totum-854 would be the second plant-based active substance in the company's product portfolio to enter Phase II/III clinical trials.
The two multicentre, placebo-controlled, randomised, international studies are designed to include 800 participants with mild-to-moderate elevated blood pressure, with each study comprising 400 subjects.
The INSIGHT Phase II/III clinical study will include two groups, a placebo group and a Totum-854 group with a 3.7 g/day dose.
In the INSIGHT 2 clinical study, the subjects will receive a 2.6 g/day of reduced dose in the Totum-854 group.
A reduction in systolic blood pressure following three months of supplementation between the placebo and the Totum-854 group will be the primary endpoint of both the studies.
One of the secondary endpoints of the INSIGHT Phase II/III clinical trial will include the measurement of 24-hour ambulatory blood pressure.
Valbiotis Medical, Regulatory and Industrial Affairs director and Directors Board member Murielle CAZAUBIEL said: "The approvals received for the INSIGHT and INSIGHT 2 clinical studies are an important milestone for the development of TOTUM•854, which is now entering its final stage.
"In addition, from a medical point of view, the validation of the protocols by the health authorities confirms the innovative positioning of TOTUM•854 in the field of hypertension.
"The INSIGHT and INSIGHT 2 trials, through their methodology, should now provide the clinical evidence that will support the promise of this active substance for the management of the early stages of arterial hypertension."
Free Case Study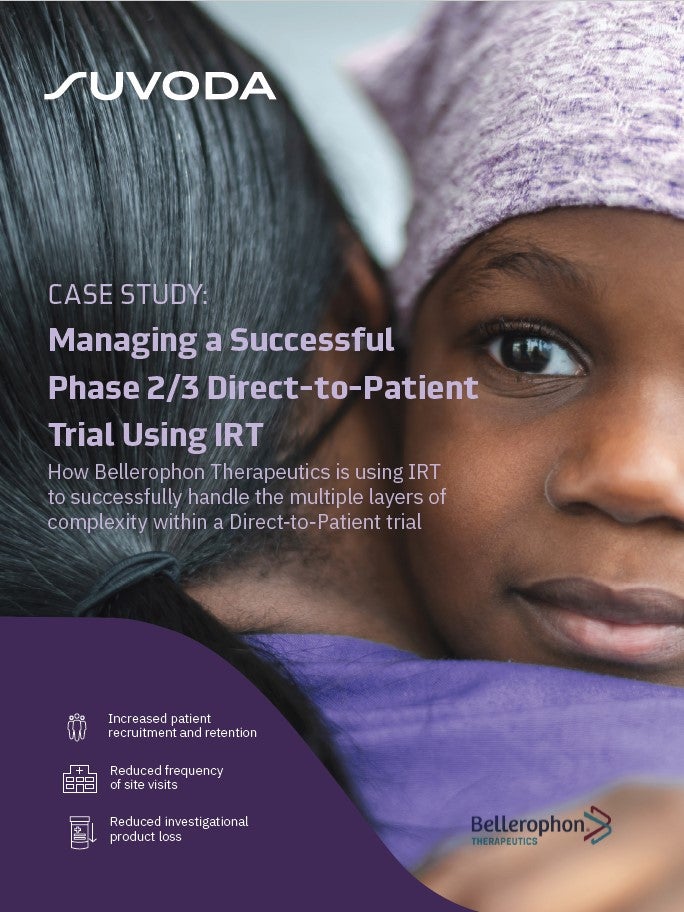 Direct-to-Patient Trials: How IRT Plays an Important Role in Bellerophon's Direct-to-Patient Trials
As the industry strengthens its focus on patient centricity, Direct-to-Patient clinical trials have emerged as a popular trial design that have the potential to increase patient recruitment and retention. IRT plays a crucial role in the success of a Direct-to-Patient trial. Because drug supplies are being managed and shipped from distribution facilities directly to patients' homes, a sponsor must have a high-quality system in place to accurately track the chain of custody, ensure patient-blinding and handle other logistical challenges. What You Will Learn Benefits and challenges associated with the Direct-to-Patient model Bellerophon's top considerations when implementing this trial design How IRT can equip study teams to successfully track chain of custody, ensure patient blinding, and handle logistical challenges
by Suvoda