Valneva has commenced a Phase ll VLA15-201 clinical trial of VLA15 vaccine for the treatment of Lyme disease, a systemic infection caused by Borrelia burgdorferi bacteria.
Free Case Study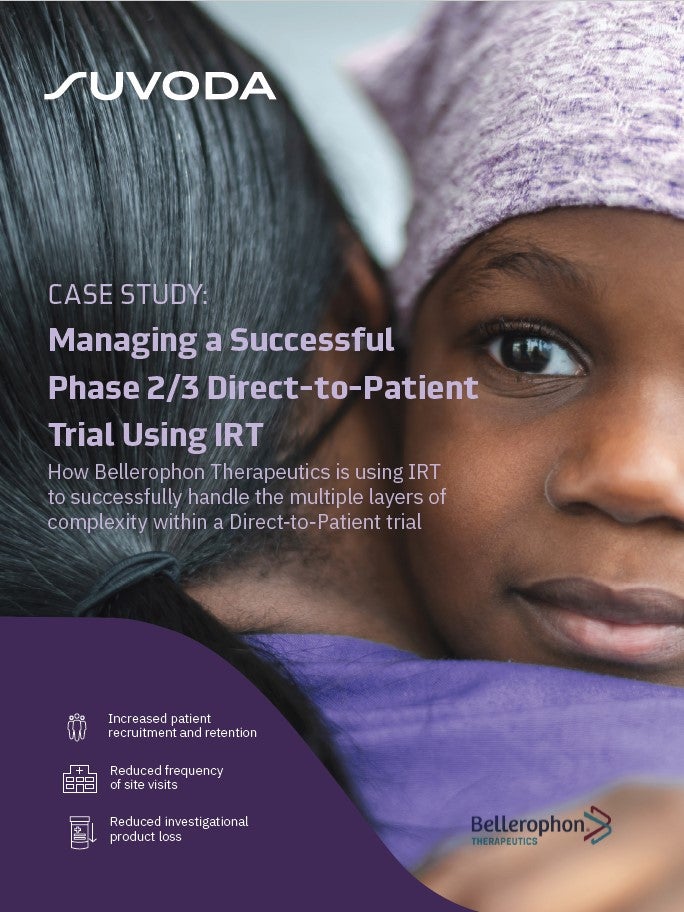 Direct-to-Patient Trials: How IRT Plays an Important Role in Bellerophon's Direct-to-Patient Trials
As the industry strengthens its focus on patient centricity, Direct-to-Patient clinical trials have emerged as a popular trial design that have the potential to increase patient recruitment and retention. IRT plays a crucial role in the success of a Direct-to-Patient trial. Because drug supplies are being managed and shipped from distribution facilities directly to patients' homes, a sponsor must have a high-quality system in place to accurately track the chain of custody, ensure patient-blinding and handle other logistical challenges. What You Will Learn Benefits and challenges associated with the Direct-to-Patient model Bellerophon's top considerations when implementing this trial design How IRT can equip study teams to successfully track chain of custody, ensure patient blinding, and handle logistical challenges
by Suvoda
VLA15-201 is Valneva's first of two parallel Phase ll trials and features a randomised, observer-blind, placebo-controlled setting.
The trial aims to enrol healthy adults aged between 18 and 65 years. It will also enrol subjects with a cleared past infection with Borrelia burgdorferi.
The trial is being conducted at sites in the US and Europe.
It intends to establish the optimal dosage level and schedule for future Phase lll pivotal field efficacy trials using immunogenicity and safety data.
As part of the trial, 120 subjects will initially receive one of three dosages of VLA15 or placebo, followed by a Data Safety Monitoring Board review of safety data.
"As the disease footprint widens, the need for a vaccine to prevent this significant unmet medical need increases."
After the completion of this phase, 450 subjects will be treated with one of two doses of VLA15 or placebo during the main study phase.
Valneva is expected to evaluate VLA15 as alum adjuvanted formulation and will provide it intramuscularly in three injections on days one, 29 and 57.
The company will then follow the subjects for a year for the main immunogenicity readout on day 85, which is the trial's primary endpoint.
Valneva chief medical officer Wolfgang Bender said: "Lyme disease cases in the US have increased dramatically over the last 30 years or so, substantially increasing the costs for healthcare systems.
"The fear of contracting Lyme disease diminishes the quality of life of people of all ages.
"As the disease footprint widens, the need for a vaccine to prevent this significant unmet medical need increases. Valneva is doing everything possible, in consultation with Food and Drug Administration (FDA) and European Medicines Agency (EMA), to develop a safe and effective vaccine under the fast track designation."
Valneva plans to complete the VLA15-201 trial over a period of around two years and expects to provide interim data by mid-2020.
Free Case Study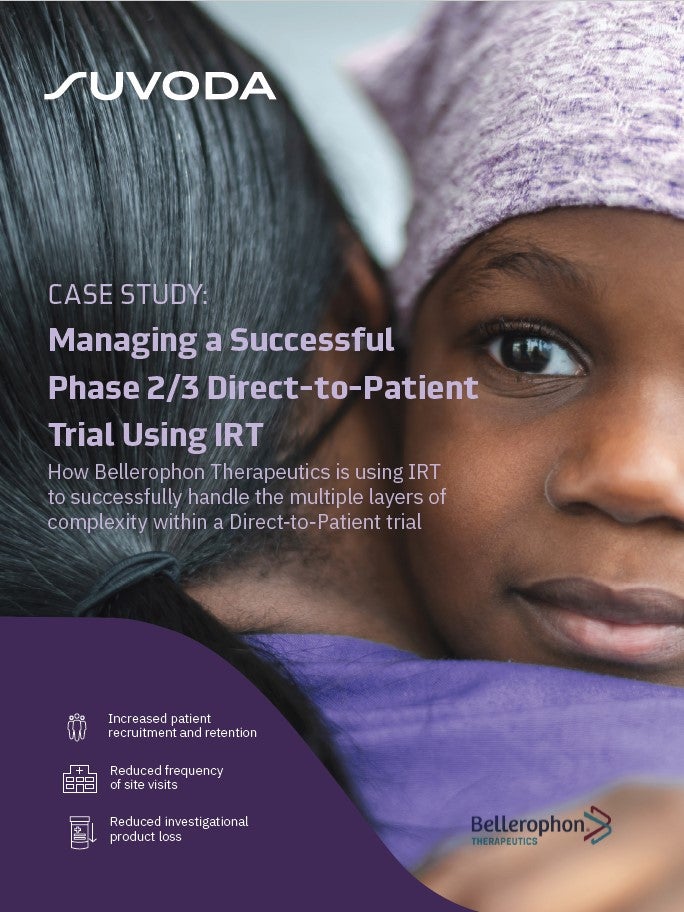 Direct-to-Patient Trials: How IRT Plays an Important Role in Bellerophon's Direct-to-Patient Trials
As the industry strengthens its focus on patient centricity, Direct-to-Patient clinical trials have emerged as a popular trial design that have the potential to increase patient recruitment and retention. IRT plays a crucial role in the success of a Direct-to-Patient trial. Because drug supplies are being managed and shipped from distribution facilities directly to patients' homes, a sponsor must have a high-quality system in place to accurately track the chain of custody, ensure patient-blinding and handle other logistical challenges. What You Will Learn Benefits and challenges associated with the Direct-to-Patient model Bellerophon's top considerations when implementing this trial design How IRT can equip study teams to successfully track chain of custody, ensure patient blinding, and handle logistical challenges
by Suvoda