vasopharm has reported that its Phase III trial of ronopterin (VAS203) failed to meet the pre-specified primary goal in traumatic brain injury (TBI) patients.
Free Case Study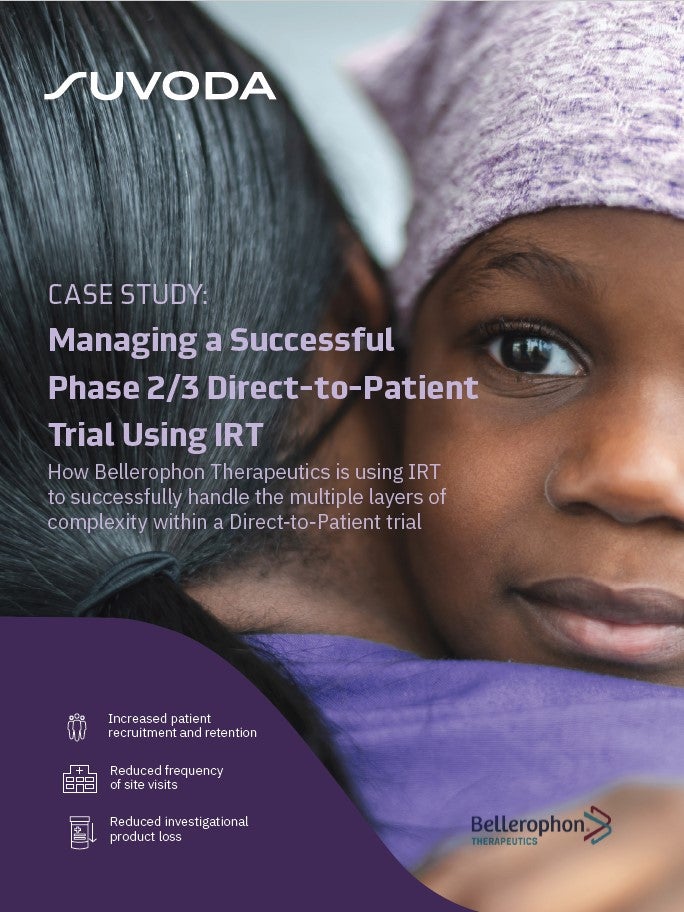 Direct-to-Patient Trials: How IRT Plays an Important Role in Bellerophon's Direct-to-Patient Trials
As the industry strengthens its focus on patient centricity, Direct-to-Patient clinical trials have emerged as a popular trial design that have the potential to increase patient recruitment and retention. IRT plays a crucial role in the success of a Direct-to-Patient trial. Because drug supplies are being managed and shipped from distribution facilities directly to patients' homes, a sponsor must have a high-quality system in place to accurately track the chain of custody, ensure patient-blinding and handle other logistical challenges. What You Will Learn Benefits and challenges associated with the Direct-to-Patient model Bellerophon's top considerations when implementing this trial design How IRT can equip study teams to successfully track chain of custody, ensure patient blinding, and handle logistical challenges
by Suvoda
Ronopterin lowers the increased production of nitric oxide through upregulated inducible NO synthase, targeting both blood vessels and tissue of the injured brain.
The placebo-controlled, randomised, double-blind, multi-centre Phase III NOSTRA III trial analysed the efficacy and safety of ronopterin in moderate and severe TBI patients.
The study was conducted at 29 centres in Austria, France, Germany, Spain and the UK, enrolling a total of 224 subjects.
The extended Glasgow Outcome Scale (eGOS) at six months post-trauma formed the primary goal of the trial, while the eGOS at three months after TBI was one of the secondary goals.
These primary and secondary endpoints permit analysis of the path of neurologic recovery in the first six months after TBI, indicating a clinically significant measure and timeframe.
Data from the trial showed that the primary endpoint of progress in the eGOS at six months after trauma was not reached.
Furthermore, a statistically significant and clinically meaningful rise in eGOS over time was observed in participants on administering ronopterin within 12 hours of trauma, according to a hypothesis driven post-hoc analysis.
vasopharm chief medical officer professor Dr John Stover said: "These post-hoc results of the NOSTRA III trial corroborate the positive results of the dose-finding NOSTRA II study.
"This efficacy, in the opinion of the Data Monitoring Committee, clearly outweighs the known adverse event profile, resulting in a positive benefit-risk assessment.
"We consider these results robust and clinically relevant, and vasopharm will seek scientific advice from competent authorities on the further regulatory pathway for ronopterin."
At present, treatment approaches to acute TBI are mainly supportive measures, started reactively, to lower the increased intracranial pressure in order to cut down chances of mortality and morbidity.
Free Case Study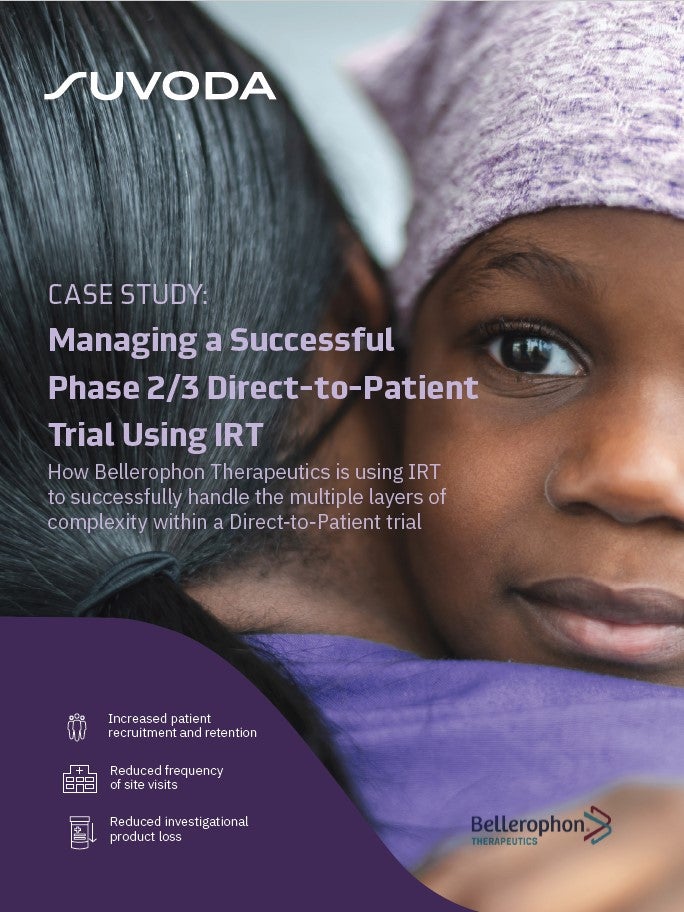 Direct-to-Patient Trials: How IRT Plays an Important Role in Bellerophon's Direct-to-Patient Trials
As the industry strengthens its focus on patient centricity, Direct-to-Patient clinical trials have emerged as a popular trial design that have the potential to increase patient recruitment and retention. IRT plays a crucial role in the success of a Direct-to-Patient trial. Because drug supplies are being managed and shipped from distribution facilities directly to patients' homes, a sponsor must have a high-quality system in place to accurately track the chain of custody, ensure patient-blinding and handle other logistical challenges. What You Will Learn Benefits and challenges associated with the Direct-to-Patient model Bellerophon's top considerations when implementing this trial design How IRT can equip study teams to successfully track chain of custody, ensure patient blinding, and handle logistical challenges
by Suvoda