Vaxart has dosed the first participant in its Phase II clinical trial of an oral tablet vaccine for the treatment of Covid-19.
Free Case Study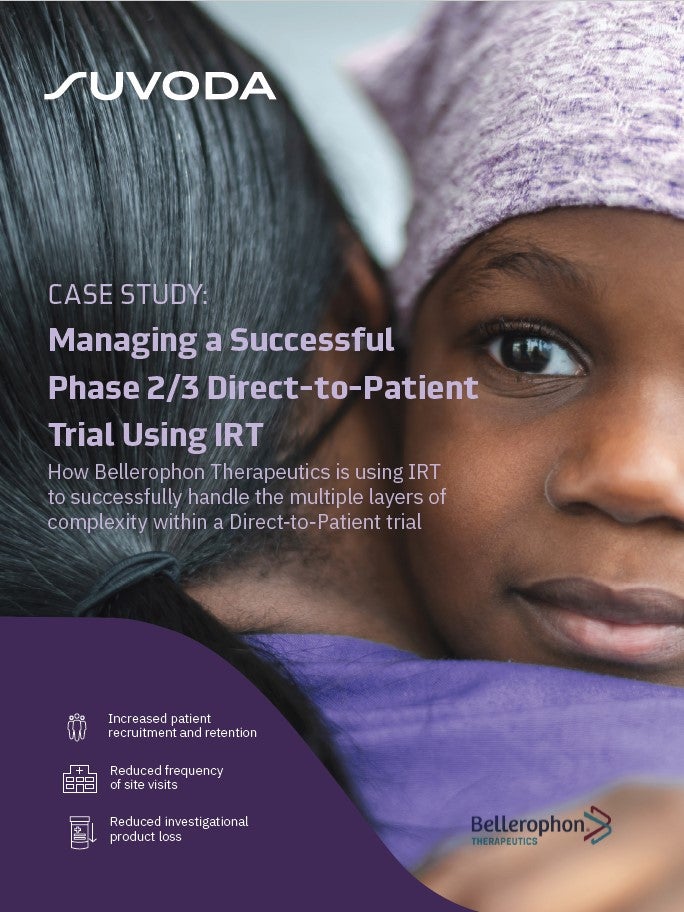 Direct-to-Patient Trials: How IRT Plays an Important Role in Bellerophon's Direct-to-Patient Trials
As the industry strengthens its focus on patient centricity, Direct-to-Patient clinical trials have emerged as a popular trial design that have the potential to increase patient recruitment and retention. IRT plays a crucial role in the success of a Direct-to-Patient trial. Because drug supplies are being managed and shipped from distribution facilities directly to patients' homes, a sponsor must have a high-quality system in place to accurately track the chain of custody, ensure patient-blinding and handle other logistical challenges. What You Will Learn Benefits and challenges associated with the Direct-to-Patient model Bellerophon's top considerations when implementing this trial design How IRT can equip study teams to successfully track chain of custody, ensure patient blinding, and handle logistical challenges
by Suvoda
For the trial's first part, 96 participants will be enrolled at four centres in the US.
The US part will be an open-label, randomised dose and age escalation lead-in segment in untreated and previously inoculated participants.
Participants aged 18-75 years will be categorised into eight arms based on their age, inoculation history, and dosage size to receive either the oral tablet vaccine or placebo on day one and day 29.
Safety, immunogenicity and efficacy are the goals of the trial.
The company anticipates complete results from the US trial in the first quarter of next year.
A global placebo-controlled efficacy trial will be initiated on concluding the US trial.
Vaxart founder and chief scientific officer Dr Sean Tucker said: "A vaccine that can inhibit infection in the mucosal surfaces provides potentially better protection against airborne viruses because the mucosa is the body's first line of defence against these pathogens.
"The mucosa is where the virus invades, and if we can stop it there, we can keep people healthier and fight off this virus and its variants."
The company develops vaccines that can be administered as tablets, which can be stored and transported without requiring refrigeration while eradiating needle-stick injury risks.
Vaxart's development programmes currently comprise tablet vaccines to offer protection against coronavirus, norovirus, seasonal influenza, respiratory syncytial virus and therapeutic vaccine for human papillomavirus.
Earlier this month, Vaxart initiated participant recruitment in the Phase II trial of the S-only oral tablet vaccine candidate to treat Covid-19.
Free Case Study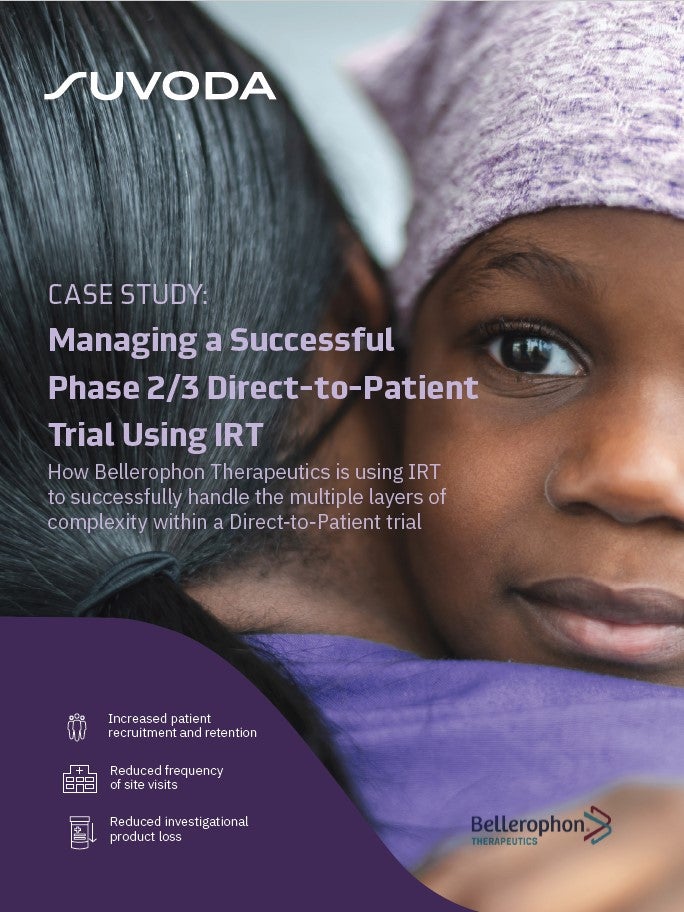 Direct-to-Patient Trials: How IRT Plays an Important Role in Bellerophon's Direct-to-Patient Trials
As the industry strengthens its focus on patient centricity, Direct-to-Patient clinical trials have emerged as a popular trial design that have the potential to increase patient recruitment and retention. IRT plays a crucial role in the success of a Direct-to-Patient trial. Because drug supplies are being managed and shipped from distribution facilities directly to patients' homes, a sponsor must have a high-quality system in place to accurately track the chain of custody, ensure patient-blinding and handle other logistical challenges. What You Will Learn Benefits and challenges associated with the Direct-to-Patient model Bellerophon's top considerations when implementing this trial design How IRT can equip study teams to successfully track chain of custody, ensure patient blinding, and handle logistical challenges
by Suvoda