Biopharmaceutical company VelosBio has dosed the first patient in a Phase II trial of investigational drug VLS-101 in patients with solid tumours.
Free Case Study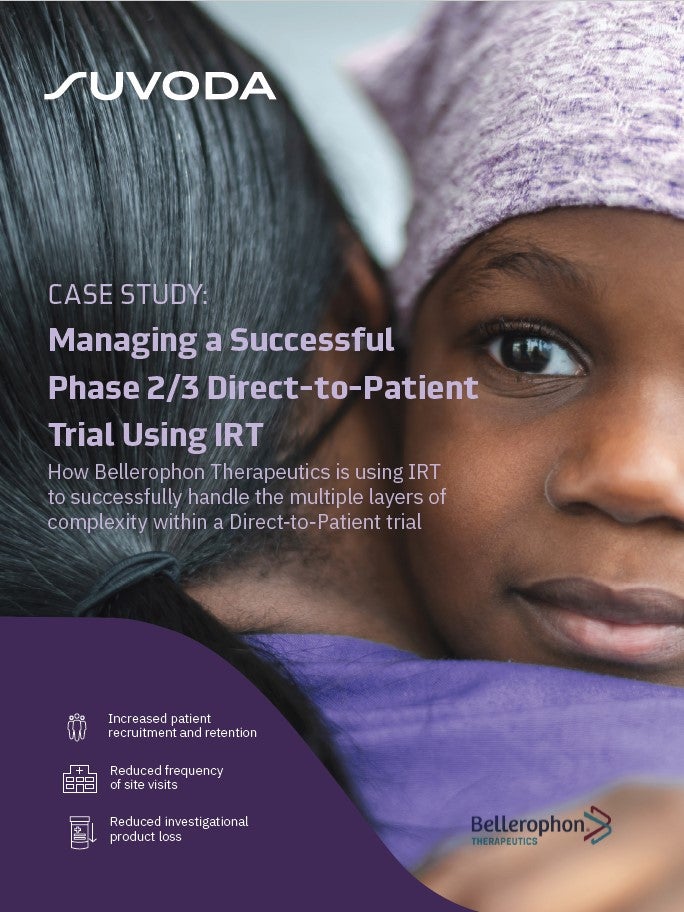 Direct-to-Patient Trials: How IRT Plays an Important Role in Bellerophon's Direct-to-Patient Trials
As the industry strengthens its focus on patient centricity, Direct-to-Patient clinical trials have emerged as a popular trial design that have the potential to increase patient recruitment and retention. IRT plays a crucial role in the success of a Direct-to-Patient trial. Because drug supplies are being managed and shipped from distribution facilities directly to patients' homes, a sponsor must have a high-quality system in place to accurately track the chain of custody, ensure patient-blinding and handle other logistical challenges. What You Will Learn Benefits and challenges associated with the Direct-to-Patient model Bellerophon's top considerations when implementing this trial design How IRT can equip study teams to successfully track chain of custody, ensure patient blinding, and handle logistical challenges
by Suvoda
VLS-101 is an antibody-drug conjugate (ADC) that targets receptor tyrosine kinase-like orphan receptor 1 (ROR1) on cancer cells.
ROR1 is a cell-surface protein, which plays a major role in the formation of the nervous systems, bones, and blood vessels during the embryofoetal stage.
It disappears by the time of birth and is not detected on normal human tissues in childhood or adulthood. It can reappear on malignant tissues such as solid tumours.
VLS-101 targets ROR1 and delivers cancer-fighting treatment to tumour cells without affecting normal cells.
The trial will enrol approximately 90 patients aged 18 or above with previously treated solid tumours such as breast cancer, lung cancer and other cancers that are believed to express ROR1.
Trial participants will be administered VLS-101 2.5mg/kg intravenously once every three weeks until they are safely benefiting from the treatment.
The trial's primary endpoint is objective response rate as determined by standard response criteria.
Furthermore, the study will assess the safety, pharmacokinetics, pharmacodynamics, and immunogenicity of the drug and explore the influence of biomarkers on the outcome.
In preclinical trials, VLS-101 showed significant tumour shrinkage.
VelosBio CEO Dave Johnson said: "VLS-101 dosing of the first patient in our Phase II solid tumour trial represents a key milestone for our lead ROR1-directed clinical programme.
"Based on the broad expression of ROR1across different cancer types, and our pre-clinical data showing VLS-101 antitumor activity in solid tumours, we are excited to advance this investigational candidate as a potential new therapy for difficult-to-treat cancers."
Free Case Study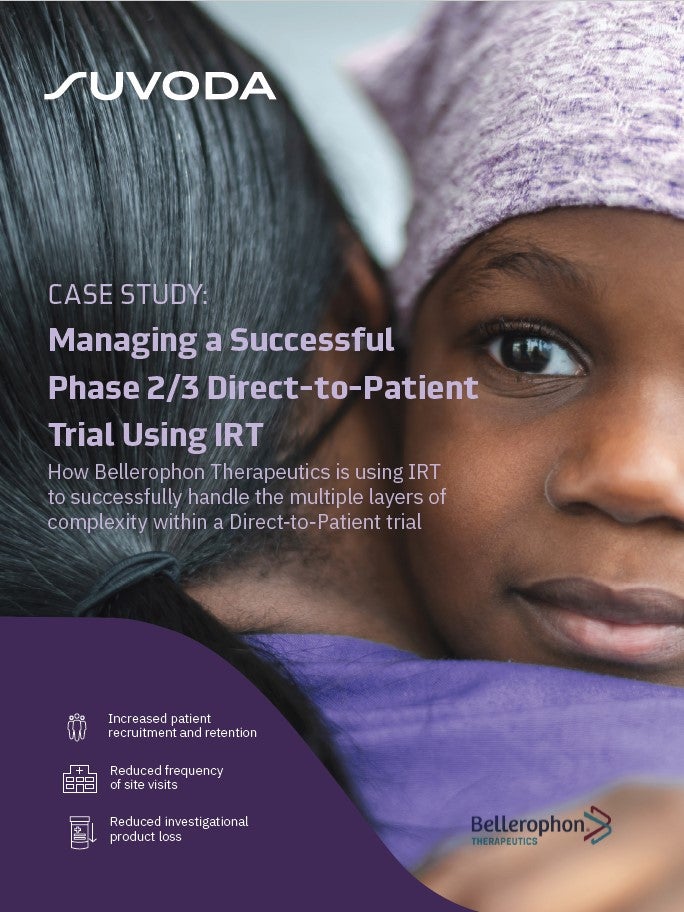 Direct-to-Patient Trials: How IRT Plays an Important Role in Bellerophon's Direct-to-Patient Trials
As the industry strengthens its focus on patient centricity, Direct-to-Patient clinical trials have emerged as a popular trial design that have the potential to increase patient recruitment and retention. IRT plays a crucial role in the success of a Direct-to-Patient trial. Because drug supplies are being managed and shipped from distribution facilities directly to patients' homes, a sponsor must have a high-quality system in place to accurately track the chain of custody, ensure patient-blinding and handle other logistical challenges. What You Will Learn Benefits and challenges associated with the Direct-to-Patient model Bellerophon's top considerations when implementing this trial design How IRT can equip study teams to successfully track chain of custody, ensure patient blinding, and handle logistical challenges
by Suvoda