Vical has reported negative top-line data in a Phase ll clinical trial of its therapeutic bivalent vaccine candidate for herpes simplex virus type 2 (HSV-2) after it failed to meet the trial's primary endpoint.
Free Case Study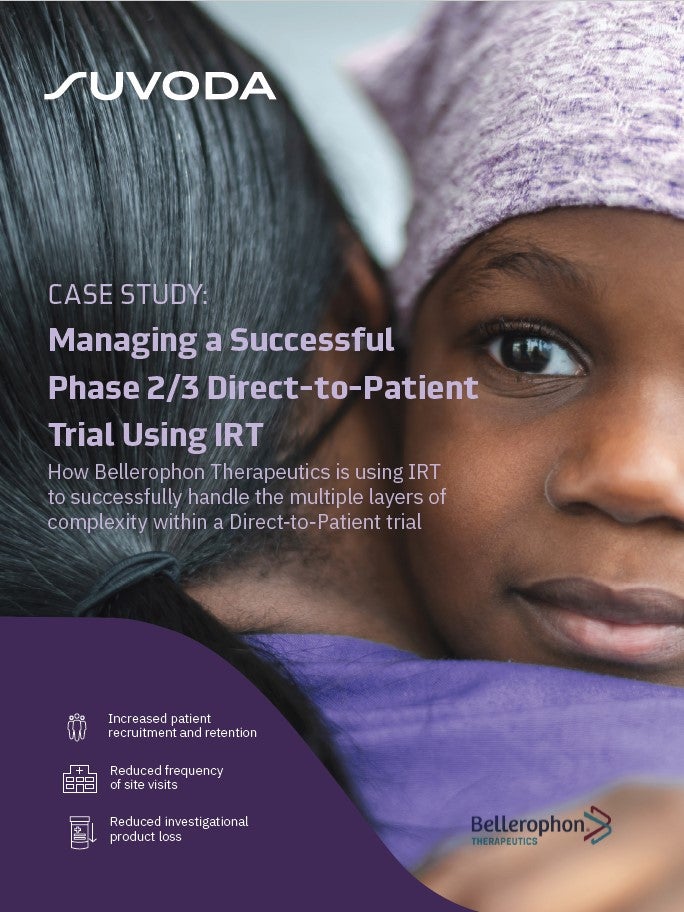 Direct-to-Patient Trials: How IRT Plays an Important Role in Bellerophon's Direct-to-Patient Trials
As the industry strengthens its focus on patient centricity, Direct-to-Patient clinical trials have emerged as a popular trial design that have the potential to increase patient recruitment and retention. IRT plays a crucial role in the success of a Direct-to-Patient trial. Because drug supplies are being managed and shipped from distribution facilities directly to patients' homes, a sponsor must have a high-quality system in place to accurately track the chain of custody, ensure patient-blinding and handle other logistical challenges. What You Will Learn Benefits and challenges associated with the Direct-to-Patient model Bellerophon's top considerations when implementing this trial design How IRT can equip study teams to successfully track chain of custody, ensure patient blinding, and handle logistical challenges
by Suvoda
HSV-2 is the leading cause of frequent development of genital herpes.
The randomised, double-blind, placebo-controlled trial's primary endpoint included annualised lesion recurrence rate calculated on the basis of those genital recurrences that were both clinically and virologically confirmed during at least nine months of surveillance.
The trial enrolled 261 healthy HSV-2 seropositive adults between the ages of 18 and 50, with a self-reported history of four to nine recurrences per year.
As part of the trial, the participants were randomised at a 2:1 ratio to receive either a vaccine or placebo.
The vaccine was reported to be safe and well tolerated, as evaluated by an independent safety monitoring board. No grade four adverse events or serious adverse events were reported related to vaccination during the trial.
"We took careful measures to recruit patients with a self-reported history of four to nine recurrences annually."
Vical president and CEO Vijay Samant said: "We took careful measures to recruit patients with a self-reported history of four to nine recurrences annually.
"Despite that, the annualised recurrence rate during the trial in the placebo group was far less than what was expected based on their self-reported history. As a result, there was significantly less power to show a vaccine effect in this trial.
"We are extremely disappointed with the outcome and based upon these results, we will be terminating the HSV-2 programme.
"The study protocol requires that patients be followed for 12 months after their last dose, and as a result we will continue to follow the active patients until July 2018."
Vical also plans to continue to concentrate on its new antifungal VL‑2397 drug, which has been licensed from Astellas.
Free Case Study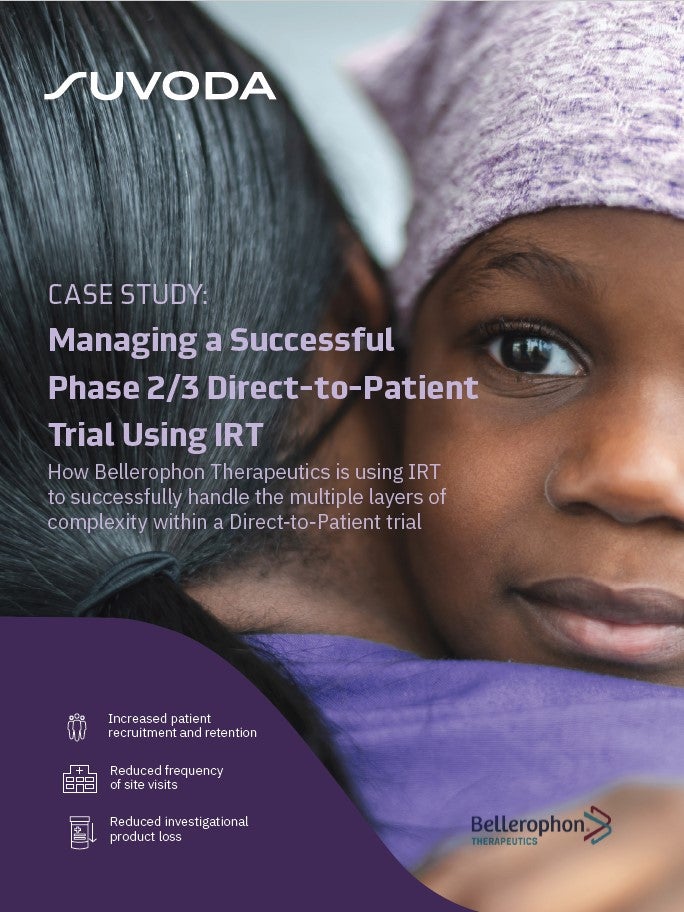 Direct-to-Patient Trials: How IRT Plays an Important Role in Bellerophon's Direct-to-Patient Trials
As the industry strengthens its focus on patient centricity, Direct-to-Patient clinical trials have emerged as a popular trial design that have the potential to increase patient recruitment and retention. IRT plays a crucial role in the success of a Direct-to-Patient trial. Because drug supplies are being managed and shipped from distribution facilities directly to patients' homes, a sponsor must have a high-quality system in place to accurately track the chain of custody, ensure patient-blinding and handle other logistical challenges. What You Will Learn Benefits and challenges associated with the Direct-to-Patient model Bellerophon's top considerations when implementing this trial design How IRT can equip study teams to successfully track chain of custody, ensure patient blinding, and handle logistical challenges
by Suvoda