ViiV Healthcare has reported new positive results from the Phase III GEMINI 1 and 2 clinical trials evaluating Dovato for the treatment of HIV-1 infection.
Free Case Study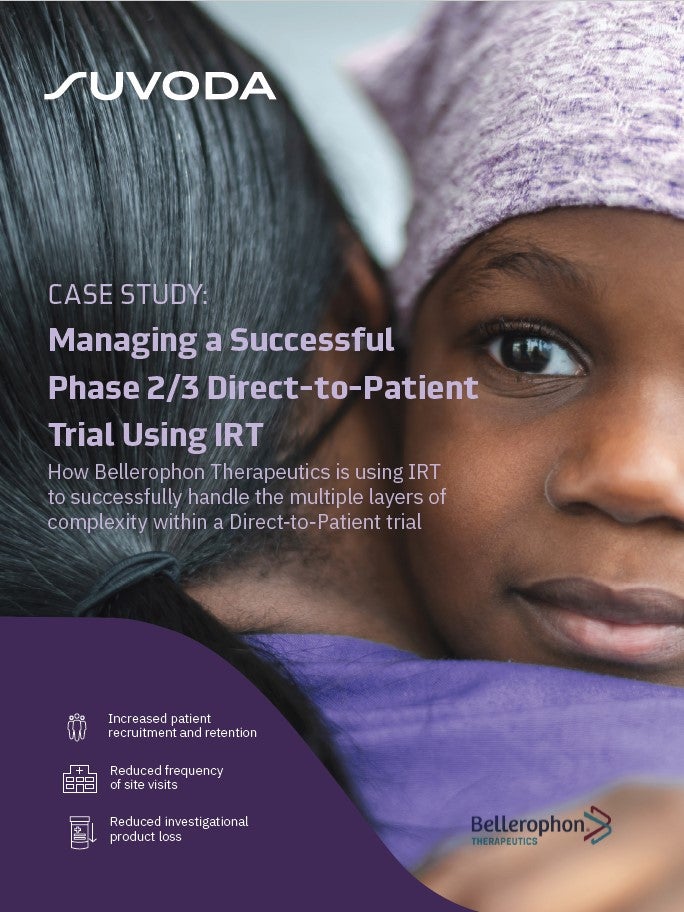 Direct-to-Patient Trials: How IRT Plays an Important Role in Bellerophon's Direct-to-Patient Trials
As the industry strengthens its focus on patient centricity, Direct-to-Patient clinical trials have emerged as a popular trial design that have the potential to increase patient recruitment and retention. IRT plays a crucial role in the success of a Direct-to-Patient trial. Because drug supplies are being managed and shipped from distribution facilities directly to patients' homes, a sponsor must have a high-quality system in place to accurately track the chain of custody, ensure patient-blinding and handle other logistical challenges. What You Will Learn Benefits and challenges associated with the Direct-to-Patient model Bellerophon's top considerations when implementing this trial design How IRT can equip study teams to successfully track chain of custody, ensure patient blinding, and handle logistical challenges
by Suvoda
Dovato is a two-drug regimen of dolutegravir and lamivudine.
Data at 96 weeks showed non-inferior efficacy of the two-drug regimen compared to a three-drug regimen of dolutegravir and tenofovir disoproxil fumarate/emtricitabine (TDF/FTC).
Pooled analysis revealed that 86% of subjects on Dovato had HIV-1 RNA <50 copies per millilitre (c/mL) compared to 90% treated with the three-drug regimen.
Across both trials, 1.5% of patients on dolutegravir and lamivudine regimen and 1% in the dolutegravir plus TDF/FTC arm reached protocol-defined virologic withdrawal criteria up to week 96.
Patients with virologic failure did not experience treatment-emergent resistance, the company noted.
Response rates for viral suppression were observed to be similar in both treatment groups of patients having a baseline viral load of more than 100,000 copies per millilitre of blood plasma.
Data from the pooled study population found nasopharyngitis, diarrhoea, and headache to be the most common drug-related adverse events (AEs) in both groups.
However, drug-related AEs were less frequent in the Dovato arm compared to the three-drug regimen arm.
These findings were consistent with week 48 data, where dolutegravir plus lamivudine met the primary endpoint of non-inferiority in both GEMINI 1 and 2 studies.
ViiV Healthcare Global Research and Medical Strategy head Kimberly Smith said: "The GEMINI 1 and 2 studies have already changed the way we treat people living with HIV, with the combination of dolutegravir plus lamivudine allowing many people to reduce the number of medicines they take and manage their HIV without a third antiretroviral treatment.
"The week 96 data further demonstrate the durable efficacy and tolerability of dolutegravir plus lamivudine."
Earlier this year, Dovato received US regulatory approval for treating HIV-1 in adults without any antiretroviral therapy history or known resistance to dolutegravir or lamivudine.
The two-drug regimen also secured European authorisation to treat HIV-1 infection in adults and adolescents aged above 12 years, weighing at least 40kg, with no known or suspected resistance to lamivudine.
Free Case Study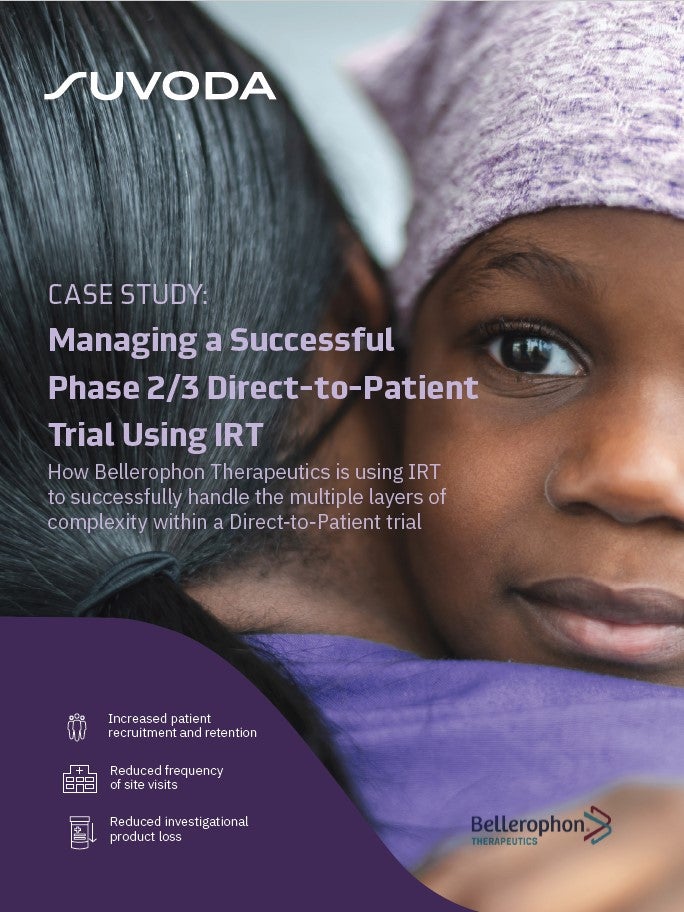 Direct-to-Patient Trials: How IRT Plays an Important Role in Bellerophon's Direct-to-Patient Trials
As the industry strengthens its focus on patient centricity, Direct-to-Patient clinical trials have emerged as a popular trial design that have the potential to increase patient recruitment and retention. IRT plays a crucial role in the success of a Direct-to-Patient trial. Because drug supplies are being managed and shipped from distribution facilities directly to patients' homes, a sponsor must have a high-quality system in place to accurately track the chain of custody, ensure patient-blinding and handle other logistical challenges. What You Will Learn Benefits and challenges associated with the Direct-to-Patient model Bellerophon's top considerations when implementing this trial design How IRT can equip study teams to successfully track chain of custody, ensure patient blinding, and handle logistical challenges
by Suvoda