Xcovery has enrolled the first cohort of patients in a Phase l/ll clinical trial to investigate the safety and efficacy of vorolanib (X-82) in combination with nivolumab (Opdivo) for the treatment of non-small cell lung cancer (NSCLC) or thymic carcinoma.
Free Case Study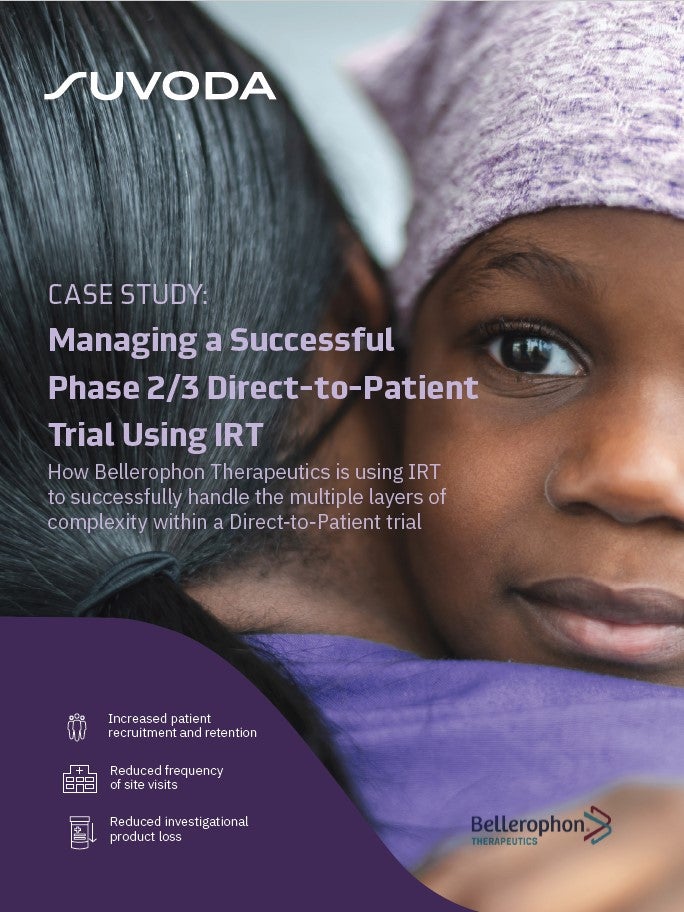 Direct-to-Patient Trials: How IRT Plays an Important Role in Bellerophon's Direct-to-Patient Trials
As the industry strengthens its focus on patient centricity, Direct-to-Patient clinical trials have emerged as a popular trial design that have the potential to increase patient recruitment and retention. IRT plays a crucial role in the success of a Direct-to-Patient trial. Because drug supplies are being managed and shipped from distribution facilities directly to patients' homes, a sponsor must have a high-quality system in place to accurately track the chain of custody, ensure patient-blinding and handle other logistical challenges. What You Will Learn Benefits and challenges associated with the Direct-to-Patient model Bellerophon's top considerations when implementing this trial design How IRT can equip study teams to successfully track chain of custody, ensure patient blinding, and handle logistical challenges
by Suvoda
The open-label, single-group assignment trial aims to enrol around 140 subjects.
Led by Vanderbilt-Ingram Cancer Center representative Dr Leora Horn, the trial is expected to enrol refractory patients with NSCLC naïve to checkpoint inhibitor therapy, as well as NSCLC patients who have progressed on checkpoint inhibitor therapy, or thymic carcinoma.
Primary objectives of the trial are to evaluate the safety and response rate of nivolumab in combination with vorolanib in the enrolled patients.
Secondary objectives of the trial include the anti-tumour activity as measured by response rate for the vorolanib and nivolumab combination, as well as safety, progression-free survival and overall survival.
"The vorolanib combination with nivolumab could be an interesting option."
Horn said: "Despite the success of checkpoint inhibitors, there is a need for new treatment modalities to expand the patient population who would benefit from these immunotherapies and/or to overcome resistance to immunotherapies.
"The vorolanib combination with nivolumab could be an interesting option."
Vorolanib is a next-generation vascular endothelial growth factor (VEGFR) inhibitor developed by Xcovery as a measure to reduce toxicities for combination use.
It is being investigated to treat patients with advanced solid tumours, including non-small cell lung cancer, thoracic tumours, renal cell carcinoma, and melanoma.
Nivolumab is developed by Bristol-Myers Squibb and has already been approved as an anti-PD-1 monoclonal antibody.
The drug has demonstrated significant benefits to a number of cancer patients in recent years by activating the patient's own immune system to attack the tumour.
Free Case Study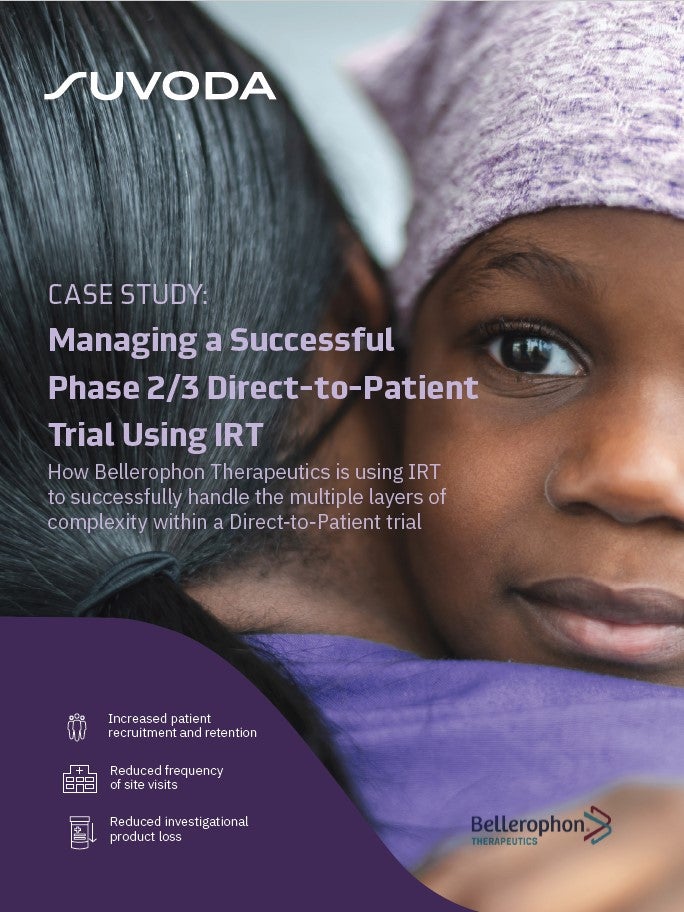 Direct-to-Patient Trials: How IRT Plays an Important Role in Bellerophon's Direct-to-Patient Trials
As the industry strengthens its focus on patient centricity, Direct-to-Patient clinical trials have emerged as a popular trial design that have the potential to increase patient recruitment and retention. IRT plays a crucial role in the success of a Direct-to-Patient trial. Because drug supplies are being managed and shipped from distribution facilities directly to patients' homes, a sponsor must have a high-quality system in place to accurately track the chain of custody, ensure patient-blinding and handle other logistical challenges. What You Will Learn Benefits and challenges associated with the Direct-to-Patient model Bellerophon's top considerations when implementing this trial design How IRT can equip study teams to successfully track chain of custody, ensure patient blinding, and handle logistical challenges
by Suvoda